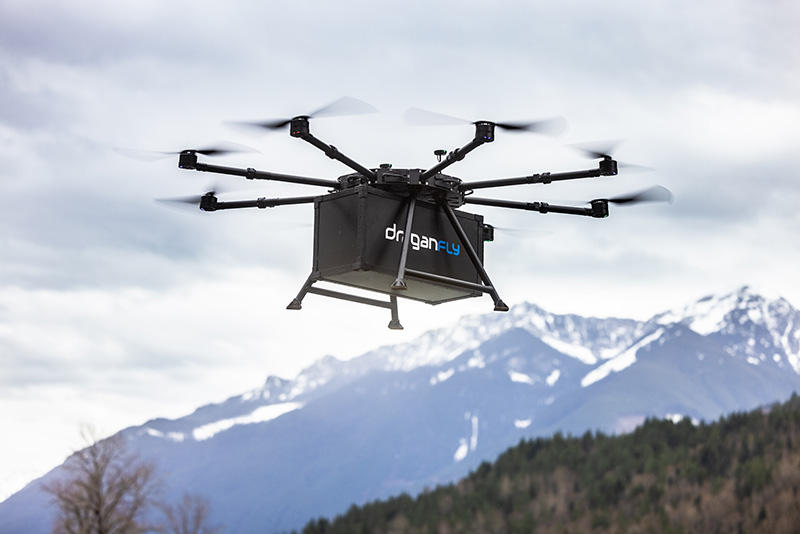 ---
19 May 2023
The Draganfly Heavy Lift Drone is a true game-changer that can effortlessly carry heavy payloads up to 67 pounds with precision and stability—making it an ideal solution for applications such as construction, infrastructure inspections, emergency response, and even transportation of goods in remote or challenging environments. Equipped with cutting-edge flight control systems and intelligent sensors, the drone ensures safe and reliable transportation of heavy loads, reducing the need for human involvement in potentially hazardous tasks. 
In addition, the Heavy Lift Drone features an extended flight time of up to 50 minutes—as well as a range of approximately 19 miles—ensuring it can easily complete complex missions in a single flight. This significantly enhances operational efficiency and reduces potential downtime, making it a valuable asset for time-sensitive operations and large-scale projects. 
Draganfly's Heavy Lift Drone represents a significant advancement in the field of aerial operations, enabling industries to streamline their processes, increase productivity, and enhance safety standards. The drone's versatility, combined with Draganfly's commitment to innovation and expertise in UAV technology, positions it as a game-changer across a multitude of sectors. 
Watch The Droning Company Interview with Cameron Chell at Xponential 2023
See the Heavy Lift Drone in Action
Deals for You! 
[Note: The Droning Company may receive affiliate compensation]