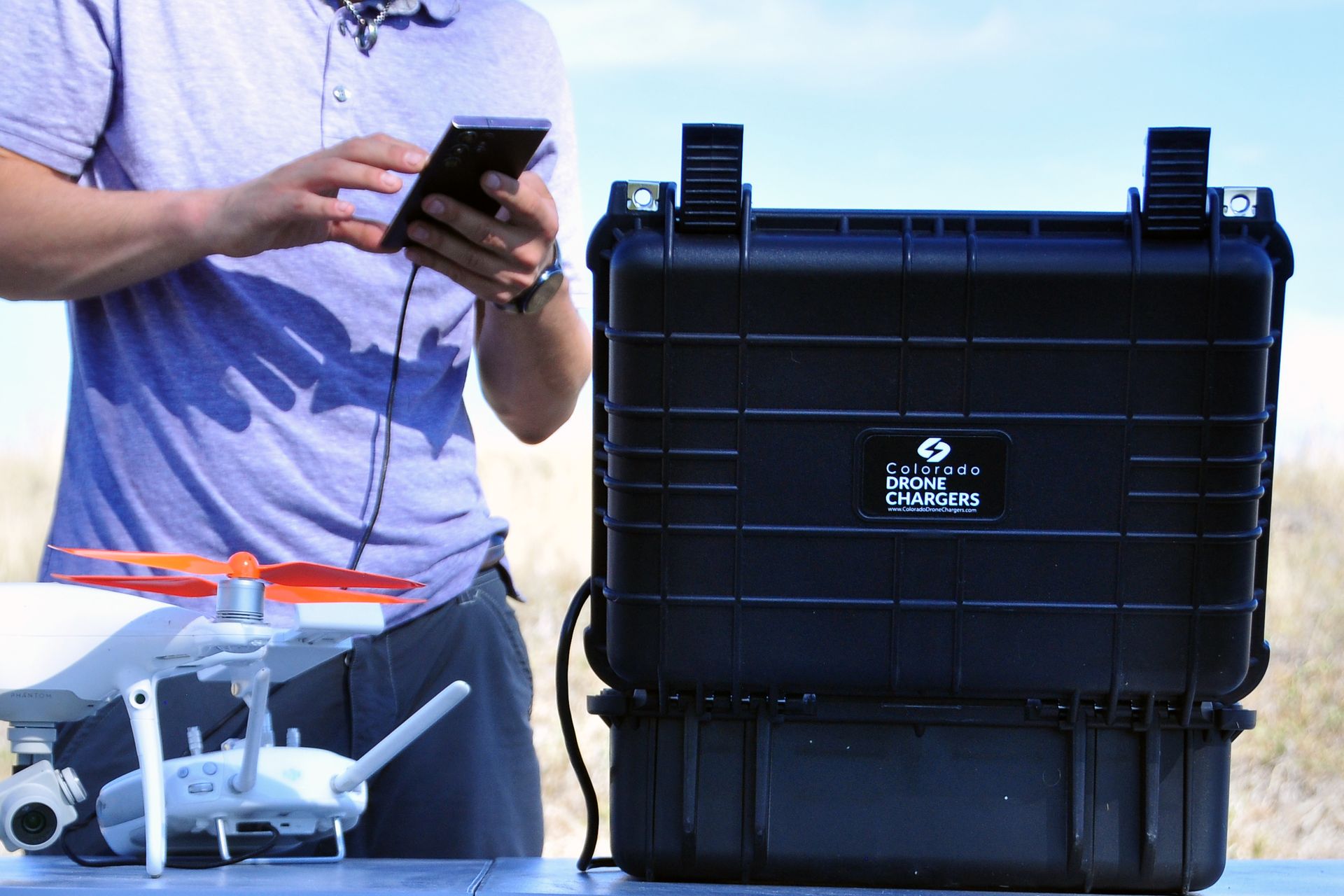 ---
17 April 2023
Colorado Drone Chargers is on a mission to give back something we all desire… time.
 Based in Colorado Springs, and founded in 2017, Colorado Drone Chargers makes drone-charging systems designed to charge four batteries and one flight controller at the same time. And not only does a charging system from Colorado Drone Chargers charge several batteries simultaneously, it charges rapidly. The average charge time for all charger models is a speedy 45 to 75 minutes.
A Problem to Solve
It started with a problem that needed solved. It was a thorn in someone's side––and that someone was company founder, Johnny Podrovitz.
Podrovitz had recently transitioned to a semi-retired season of life after years as an entrepreneur, primarily in the software industry. As a lifelong learner and one that likes to keep busy, Johnny further pursued an interest he had in drones. He became a licensed drone pilot, and that's when he experienced the frustration firsthand. Podrovitz was spending a pretty chunk of cash on batteries, and even more of his valuable time waiting for batteries to charge. For Podrovitz, flying drones was a new hobby, and if waiting for one battery at a time to charge felt frustrating to him, he wondered how this same problem must have felt to someone using drones for business.   
"For our customers across industries, time spent waiting on batteries to charge could mean less profitability or less time spent saving lives. We serve a number of emergency service and law enforcement folks, so time is especially critical," says Podrovitz. "It's a precious resource to all of us."
Podrovitz set out to explore the problem, then developed what is becoming a leading product in the drone industry––the Colorado Drone Chargers Portable Rapid Charging System (PRCS). The drone battery charging systems that give drone users more flight time with less batteries.
"Our drone charging systems are designed to give users more flight time with less batteries," adds Podrovitz. "With our rapid-speed chargers, drone users spend less time waiting on batteries to charge, and they don't need to buy as many batteries. Save time. Save money. It makes sense to me."
The product design and functionality are what set the chargers apart from the rest. Most drone battery chargers are designed to charge one battery at a time, and some taking upwards of 90+ minutes to charge one battery.
"Without the constraint of charging one battery at a time, there's not a need to purchase as many batteries to continue cycling through while others recharge," said Patrick Ahern, Colorado Drone Chargers Director of Operations.
Rapid Speed, Reliable, and Rugged
In addition to simultaneously charging four drone batteries and a flight controller, the charging systems are reliable and they're built to last. Designed for the most rugged and remote environments, Colorado Drone Chargers will "go where you fly."  
"We serve customers all around the world who fly in varying terrains, climates and conditions, and they need products they can rely on," says Podrovitz.
All Colorado Drone Chargers charging systems come with a protective hard case designed to be easily portable, impact resistant, watertight and dust proof.
"We've had customers and reviewers put our cases to the test by literally throwing and dropping them," says Ahern.
Power and Safety
Another important feature of Colorado Drone Chargers charging systems is how the chargers can be powered. Charging systems can be powered from pure and modified sine wave power sources, including inverters and generators.
"With an inverter, you can power the charger from your vehicle, which has been incredibly useful to many of our customers," says Ahern.
Additionally, all charging systems are 100 precent duty cycle. They're easy to use, and even more importantly, they're designed with a safe charging algorithm for safe voltage and temperature management.
"I've said before, our charging systems were not designed to be 'fancy.' They're not made with endless 'bells and whistles.' They're made to work and built to last. They just work…and work…and work," says Podrovitz.
Veteran-Owned and People First
Colorado Drone Chargers is a USA veteran-owned business. The company values its customers, offering a lifetime warranty on all products.
"I believe in our products and the solutions we're offering," says Podrovitz. "Our customers deserve the very best––products and service––and we're doing our best to give that."
Travis Waibel, CEO of Advexure Unmanned Systems shared, "Advexure has partnered with Colorado Drone Chargers (CDC) for many years as a dealer and distributor. Their products and people are world class, and undoubtedly the best in their line of business. Hundreds of our partner agencies rely on CDC daily in their mission critical field operations and CDC's solutions are keeping these operations running and charged."
An Industry Leader
In the past five years the UAV market has exploded, to say the least. And it's certainly not predicted to slow down anytime soon. Colorado Drone Chargers is well-positioned to continue serving the growing and ever-changing market.
"Currently, we primarily serve the commercial industry and government sector, some of those areas include agriculture, construction, insurance, highway and public safety," says Ahern. "We anticipate the need for our products will continue to grow as additional industries continue to find innovative uses for UAVs."
The company currently serves customers in all 50 states of the U.S., along with 16 countries––and counting––around the world.
Colorado Drone Chargers currently offers drone charging systems compatible with global-leading drone brands including: Autel Robotics, DJI, Parrot and Teal. Today, the top selling charging system is the Colorado Drone Chargers DJI Mavic 3 PRCS.
New Product Releases
The Colorado Drone Chargers Skydio X2 PRCS is the latest charging system, which was released in partnership with Gresco UAS in March. The charging system, compatible with Skydio X2 drones, is available to pre-order solely through Gresco until early this summer.
Colorado Drone Chargers will soon release a charging system compatible with Freefly products. Stay tuned for more announcements from the company on both Skydio and Freefly supported products.
"We're grateful for our customers, word of mouth means a lot to us. And we're grateful for the opportunity to fill this critical need in the drone market. We look forward what's ahead," says Podrovitz.
Watch CDC Reviewed on the Let's Talk Drones Podcast