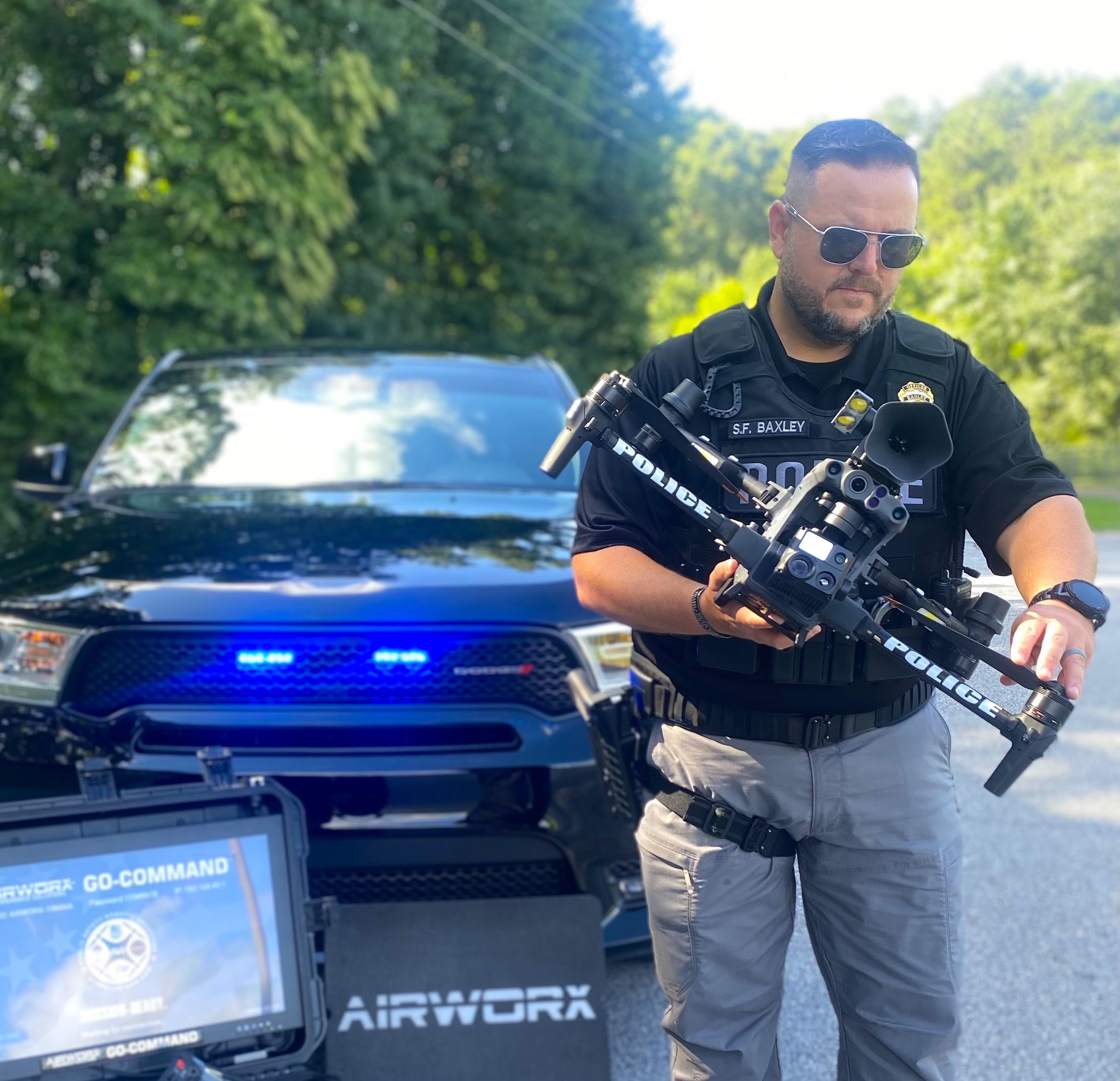 ---
01 January 2023
We sat down with Stephen Baxley, founder and CEO of Airworx Unmanned Solutions, to find out more about Drone First Responder programs and how drones, in general, are being used in public safety today. Airworx is a South Carolina based, end-to-end drone and robotics solutions provider, dedicated and focused on public safety. 
Airworx was launched in 2017, after Baxley—who is a serial entrepreneur and active law-enforcement officer—was given a drone by one of his clients from another business venture.
"I wasn't really interested in drones," he admits. "I didn't understand them, or what they could provide me as a tool, and they didn't interest me as a toy. But after I launched the drone and put it up a couple of hundred feet in the air for the first time, I immediately had an epiphany. This is the future. All I could do was imagine how this can help me and fellow law-enforcement officers with intelligence and search and rescue—how it could reduce risk and save lives."
Supporting Public Safety
Airworx's mission was to learn everything about drone technology, manufacturers, rules, regulations, laws, and use cases±specifically in the public-safety arena. Quickly earning his Part 107 Certificate and building relationships with vendors and manufacturers, Baxley was able to acquire some of the latest technology at the time, and begin to offer demonstrations to public safety to gain knowledge about interest, budgeting, sales cycles, training needs, etc.
In January 2019, Airworx became an end-to-end solutions provider for public safety, offering aircraft systems, payloads, consulting, training—even underwater ROV solutions for forensic recovery.
"Any robotic system we can learn how to effectively use and duplicate success with—that is our main interest and goal," says Baxley. "We integrate that tool to reduce risk and save lives".
As of December 2022, Airworx has assisted hundreds of public safety agencies in 43 states with robotic solutions, consulting, or training. From selling a drone system (Airworx is a ln-Enterprise dealer for DJI, Autel, Teledyne Flir and Paladin, and other solutions and software options)—or the company's own Go-Command monitor case series—to full integration of drone systems, consulting, and training based on their real-world knowledge of active public safety program administration.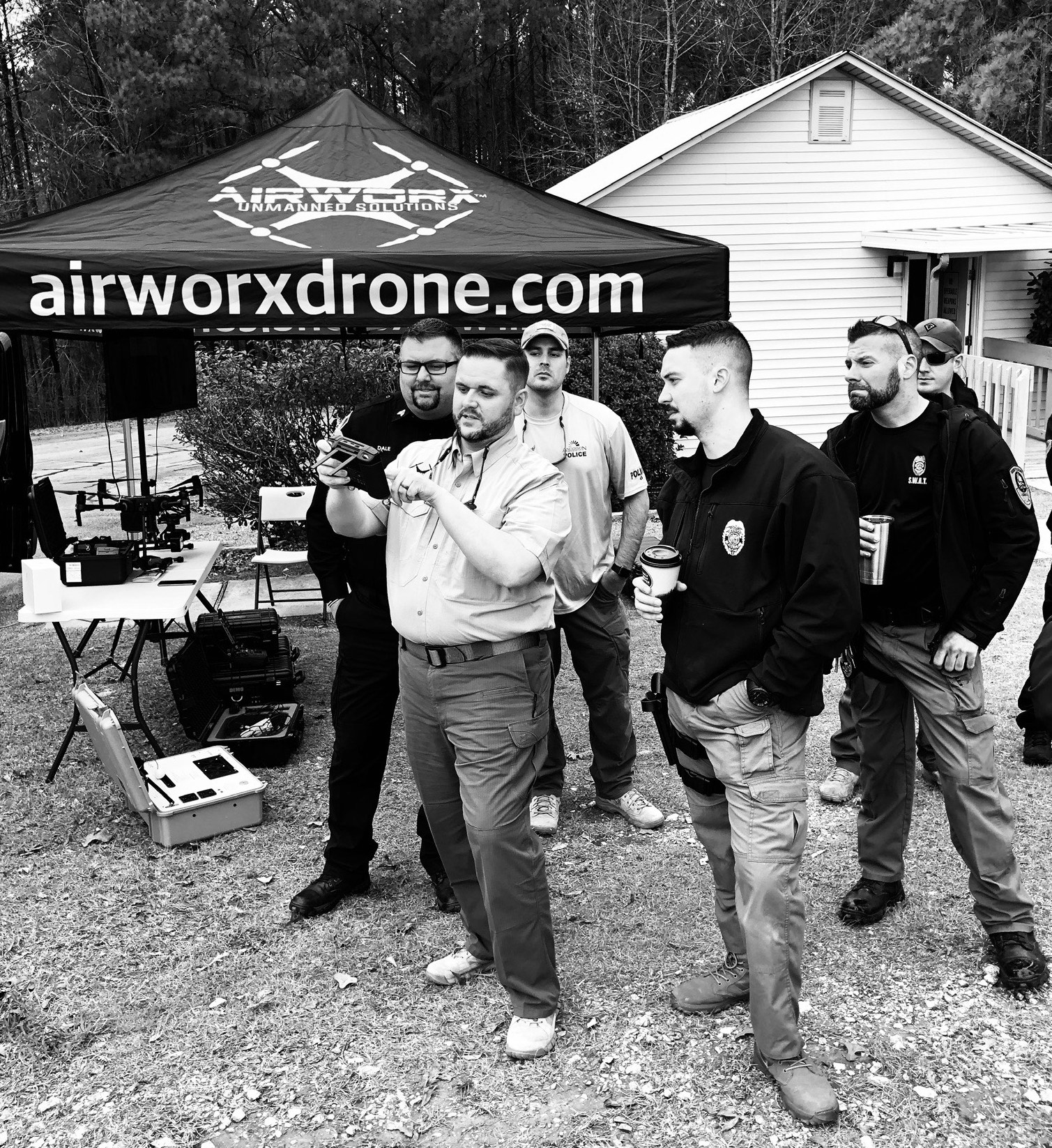 Drone First Responder
In early 2022, while on-duty at Easley Police Department, South Carolina, Baxley walked in to his Chief's office and said, "I want to tell you about something we need here—it's the future of call response. It's called Drone First Responder."
After explaining the theory of DFR, Chief Stan Whitten said "let's do it". In June 2022, a partnership between Airworx and Paladin Drones (Houston, Texas) began to build out a pilot program of Drone First Responder for the City of Easley Police and Fire Departments. Paladin is a software/hardware solution provider that designed a platform—Watchtower—as well as an LTE module used to allow drones to fly beyond visual line of sight over a cellular connection, far beyond the limits of the radio-controlled ground station. Along with this partnership, one of the first dozen or so BVLOS Part 91 COA's was issued by the FAA to the City of Easley.
"This technology and authorization by the FAA allows us to respond to any call for service that comes in to our communication center—be it a fire/rescue call, or a law-enforcement response," explains Baxley. "Any call our pilot feels they can gain intelligence to de-escalate, reduce risk, or save a life on, they launch the DFR drone, Eagle One. We have flown as many as seven calls in one hour with our DFR program." 
Tactical and Traditional Drone Response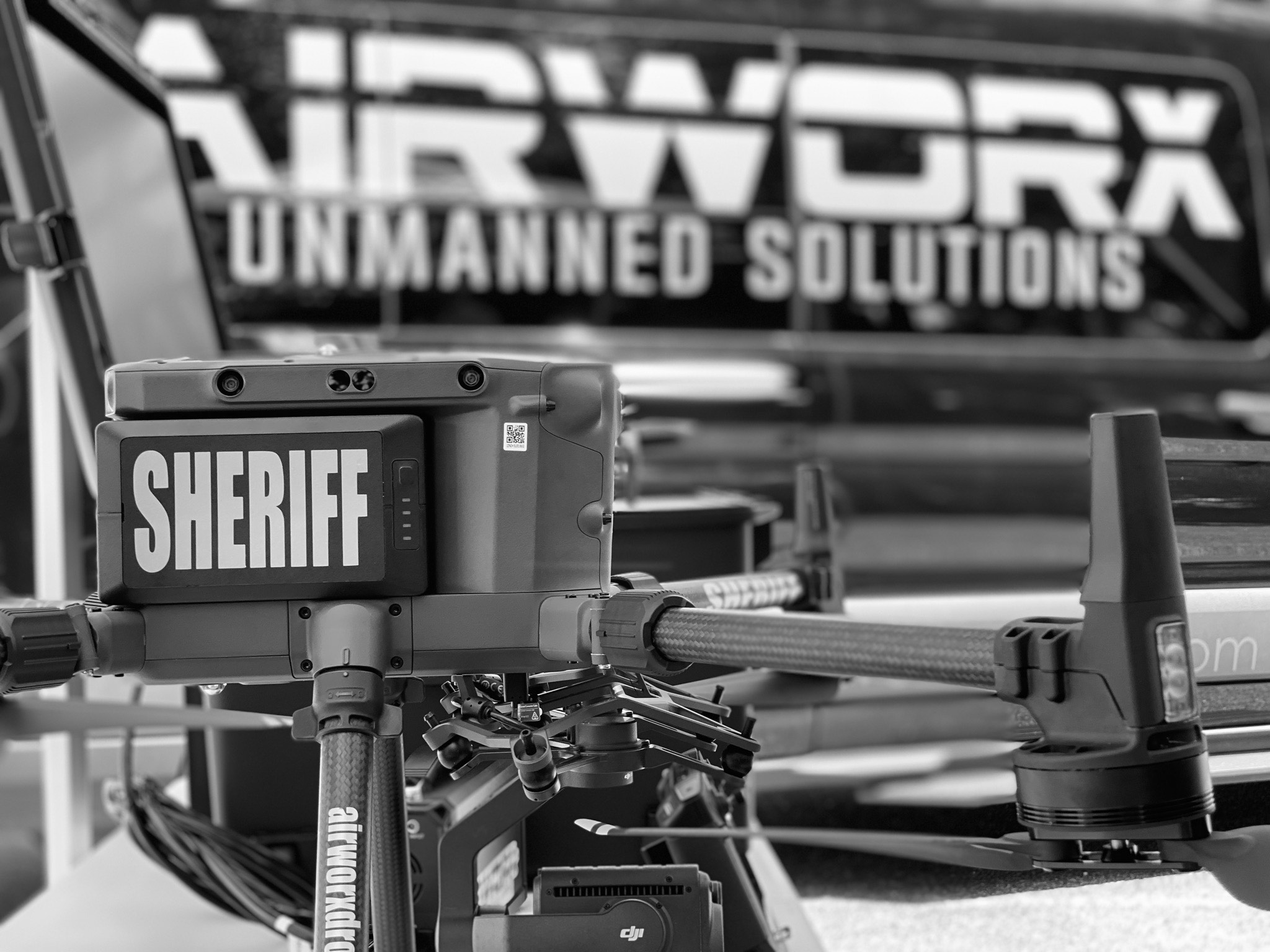 In addition to this DFR program, Easley Police and Fire Departments also have tactical drone programs, as they have split the two DFR operations to better define them. The tactical drone operation is your more traditional drone response operation, where the drone is launched on-scene in VLOS. Easley has six drones assigned to the police department, and one drone assigned to the fire department. The pilots are all active and certified police officers or firefighters, and they're part 107 certificated, as well.
Easley responds to calls such as missing persons, elderly walk-offs, robberies, trespassing, fleeing suspects, alarms, SWAT interior ops, pre-warrant service, traffic collisions, fire scenes, and more. The drone pilots always have a drone with them.
"Just a week ago, I was called out at 4:30 am for a SWAT support mission," says Baxley. "We had a suspect that had shot into a moving vehicle and was possibly holed up in his house. After securing the warrant, we decided to breach the door and fly a small tactical drone in to gain intelligence. This allows us to reduce risk for both our officers and the suspect, and de-escalate from the start. I was able to clear possible threats from the small home in around one minute, and allow our SWAT team to enter with more knowledge." 
The Airworx Advantage  
Partnering with Airworx has an advantage. Not only do you get all the same product and solutions you can find with other large companies—at the same restricted pricing structures—you get the small company, personalized support and aftersales service. You also get the real-world knowledge of several Airworx team members—all of which are active LEO's in multiple states around the country. The entire Airworx team is populated with seasoned public-safety professionals who operate and manage drone programs for their respective agencies.
"We know the operation, how it works, and how to use it—not just the theory," says Baxley. 
In addition to aerial drones and underwater ROV systems, Airworx also offers tactical UGV or robots. With or without arm/claw manipulators, UGV systems can be used for recon and intelligence gathering in everyday calls for patrol officers. No licensing or restrictions make having a small recon robot available to every patrol vehicle less complicated. Robots can be a major asset in risk-reduction and de-escalation.
Learn More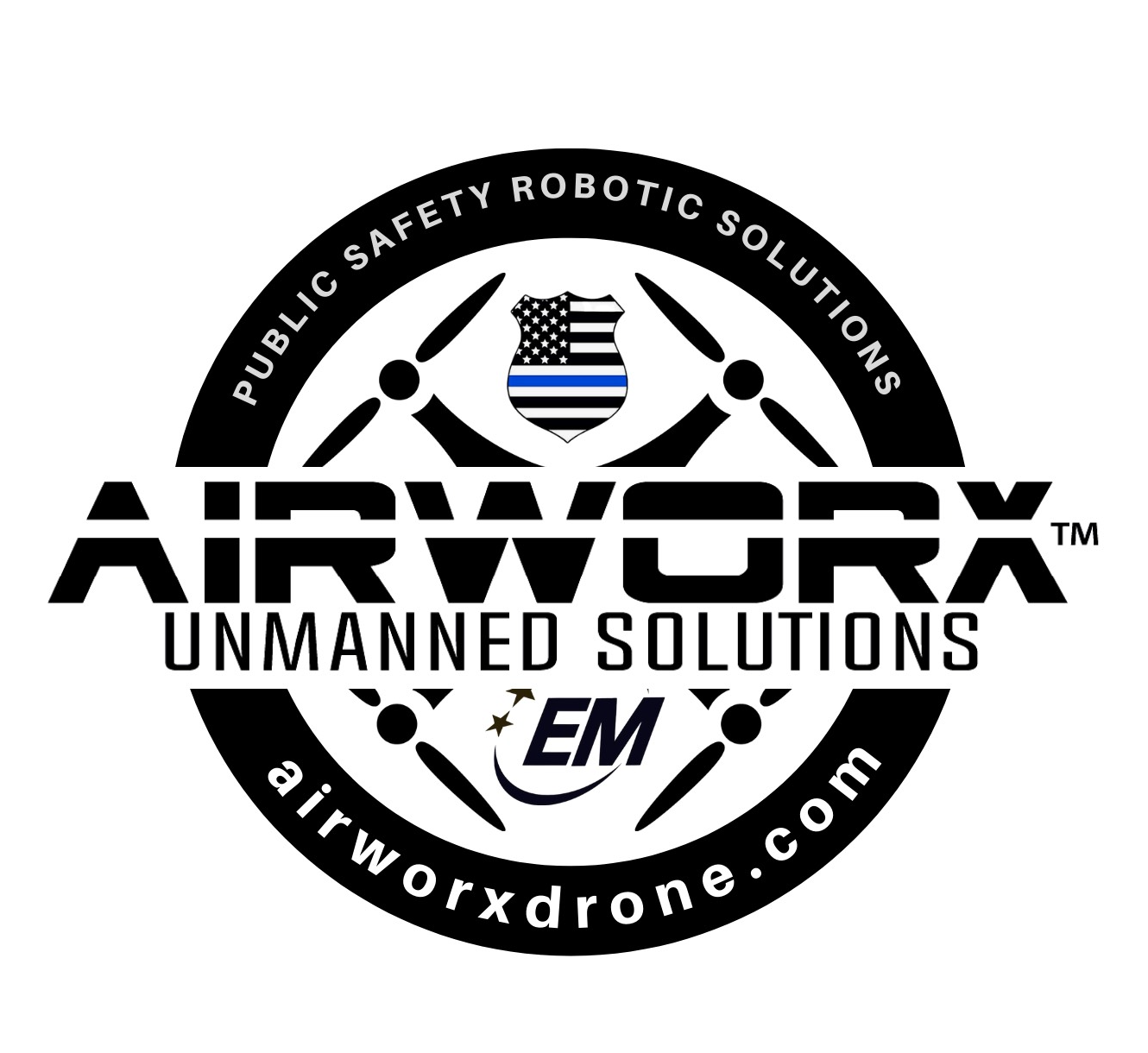 Airworx Unmanned Solutions website.