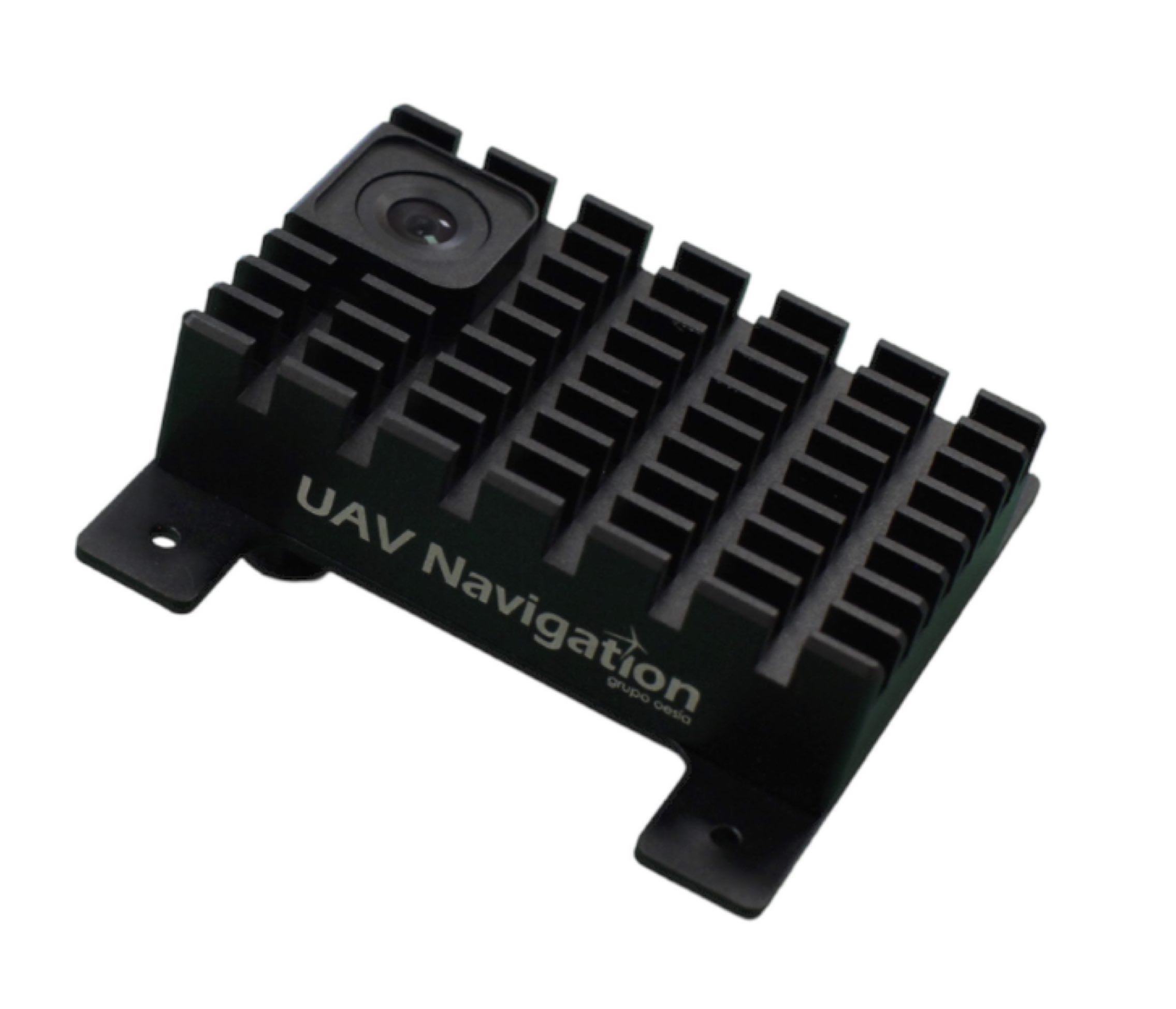 ---
06 April 2023
The Spanish company, UAV Navigation-Grupo Oesía, began its journey in the world of UAS in 2004, when a group of pioneers with complementary backgrounds in aeronautics, electronics and aeromodeling joined forces to provide a solution to the incipient, but still unknown, world of UAVs. It was in this way that they came together to found UAV Navigation.
Since its inception, the company has spread its activity to all parts of the world to become one of the leading manufacturers of autopilots for unmanned aerial systems.
UAV Navigation is part of the Oesía Group, a Spanish group of multinational companies with more than 45 years of experience designing, developing and maintaining state-of-the-art technology for the Security, Defense and Aerospace sectors with a long history of work in avionics for important projects. Oesía Group has been involved during the whole life cycle (design, development, qualification and maintenance) of critical and non-critical flight systems for Eurofighter EF-2000, A-400M, F-18, C-295, P3-B Orion or MH-60R. The group is now involved in the most important UAV projects such as FCAS/NGWS, Eurodrone or SIRTAP.
Grupo Oesía has more than 3,500 employees and more than 15 headquarters in Spain and America, and develops projects in 23 different countries with the main objective of creating a better, more efficient, safe and sustainable world. The company also has a global network of distributors to disseminate these cutting-edge capabilities worldwide.
UAV Navigation-Grupo Oesía is a company specialized in the design and manufacture of guidance, navigation and control solutions for unmanned systems, especially aerial, where it has a high degree of specialization and experience.
The company has a portfolio of products that evolves and improves every year to meet the needs of the sector, which is increasingly looking for more professional, robust and more autonomous systems.
The integral solutions of flight control and mission management of UAV Navigation-Oesia Group allow to execute maneuvers of great complexity even for very experienced pilots of manned aviation in a totally autonomous way and provides advanced capabilities to UAS.
The key of success of UAV Navigation-Oesia Group lies in the people who make up the team, great professionals passionate about technology, from different fields: electronic design, software engineering, aerospace engineering and customer support, allow a total control of the technology and close contact with the sector.
Our technology is present in a wide variety of first level unmanned systems manufacturers (also called Tier1) of the aerospace sector, which find in UAV Navigation-Oesia Group a strategic ally.
Among our products we can find...
Flight Control Computer (FCC)/Autopilots
The VECTOR family of autopilots is a robust and reliable unit with built-in physical and logical redundancy; this allows it to survive all individual sensor failures while maintaining accurate position and heading estimates.
VECTOR-400

: The VECTOR-400 is a robust, reliable, state-of-the-art autopilot with physical and logical redundancy. Designed to meet MIL-STD standards required by many Departments of Defense (DoD), the VECTOR-400 is an ideal Flight Control Computer (FCC) for airborne targets.
VECTOR-600: The VECTOR-600 is UAV Navigation's most advanced autopilot. The VECTOR-600 is a rugged and reliable unit, with built-in physical and logical redundancy; this allows it to survive all individual sensor failures while maintaining accurate position and heading estimates. For this reason, the VECTOR-600 has quickly become the highest value UAV autopilot for both fixed and rotary wing and VTOL UAVs.
Above: Vector 600
The POLAR family of AHRS is a high-end MEMS-based attitude and heading reference system (AHRS) and inertial navigation system (INS). It is perfect for system integration into avionics packages or other attitude sensing applications.
POLAR-300: The POLAR-300 is a high-end, MEMS-based Attitude and Heading Reference System and ADS (ADAHRS) and Inertial Navigation System (INS). It is perfect for system integration into avionics packages or other position sensing applications.
POLAR-500: POLAR-500 is an Air Data Attitude Heading Reference System (AD-AHRS) excellent for aerial systems. Take advantage of the wide experience of UAV Navigation-Oesia Group in the UAS sector. The POLAR-500 includes a Dual GNSS Compass and is able to provide an accurate estimation of attitude and satellite pointing.

Above: POLAR-500

GCS Software Visionair: It is the native software for UAV Navigation (UAVN) Ground Control Station (GCS) for UAV missions. It assists in the planning, execution and post mission analysis of UAV missions.
GCS Hardware: The GHU-100 is UAV Navigation's Ground Station Hub intended to connect various ground devices (PCs, radios, joysticks, etc.) and form a single network. Specially designed to meet increasingly challenging UAS mission scenarios, such as maritime operations, multiple UAV scenarios, multiple GCS control support, etc. It is compatible with all solutions provided by UAV Navigation: Airborne Target, Fixed Wing, Rotary Wing and VTOL, and thanks to the implementation of safety-relevant functionalities in a self-developed Real Time Operating System (RTOS), it increases mission safety.
Mission Control Computer (MCC) :

VECTOR-MCC. The VECTOR-MCC (Mission Control Computer - VECTOR Mission Computer) is intended for projects that require extensive I/O capabilities or peripheral management.
 Peripherals: 

VNS01: UAV Navigation has developed a visual navigation system (VNS) that greatly reduces the accumulated position error during dead reckoning navigation.
DGC01: The DGC01 (Dual GNSS Compass) allows you to accurately estimate true heading, both in static and dynamic conditions, without relying on magnetic sensors.
FDR01: The Flight Data Recorder (FDR) is designed to be installed on board a manned or unmanned air, sea or land vehicle in order to record all data coming from the aircraft sensors, control commands (servos, ECU, etc.), as well as control packets received from the ground control station (GCS).
MG01: The MG01 is a magnetometer designed to provide highly accurate 3D magnetic field readings in highly dynamic environments.

Simulation:

VECTOR-SIL: VECTOR-SIL is a Software In The Loop simulator that can be used to test and learn in depth the basic functions of the UAV Navigation system.
The VECTOR-HIL is the most advanced training simulator developed by UAV Navigation. The HIL allows the simulation of realistic flight conditions using the actual hardware and software (FCC) of the VECTOR and a second computational unit simulating the environment and the data coming from the sensors (SIM).
One of the fundamental focuses is the client and our relationship with him. When we start a project with a client, he gets involved, supported and advised at all times to make it a success. The success of our customers is the success of UAV Navigation-Grupo Oesia.
Our experience during these years in the industry allows us to be the perfect ally of the UAS platforms manufacturers and allows them to reduce costs and increase the quality of their products thanks to a bigger team completely committed to the development of the guidance, navigation and control system.
UAV Navigation-Grupo Oesía has customers from all over the world: United States, the Netherlands, Australia, Czech Republic, Singapore and of course Spain among others.
This international presence has allowed us to demonstrate the exceptional performance of our system in any condition and circumstance.
Our products are in demand in different parts of the world so we have had to generate procedures and a structure that allows us to provide a good service to all of them and maintain customer satisfaction as a fundamental pillar.
The UAS sector has been taking firm steps to achieve a consolidated position. No one doubts its effectiveness and future expansion.
Today's customers no longer demand just to fly, but are looking for increasingly safe, robust solutions with a higher degree of autonomy and interconnectivity. The future of the industry lies in the safe and efficient management of multiple platforms flying in a coordinated manner, completing complex missions in difficult environments. This will require further integration with other developments and technologies, such as tactical communications, "combat cloud", resilient positioning services and of course encryption.
We are delighted to see the UAV industry evolve and professionalize. We see that the potential and the great benefits that these platforms provide are gradually materializing into real products or functionalities.
In addition, the large technological programs in the field of new generation UAS systems, in which we expect to play a very relevant role and in which we have already had the opportunity to start participating, should help us to consolidate, expand and defend the extraordinary national capabilities and competences we have in this field.
Our vocation is to be innovative and to continue leading the sector with cutting-edge technological proposals.
Our commitment is to keep improving our system to offer UAS manufacturers the most advanced capabilities in the market and to keep paving the way in the industry as we have been doing all these years with other capabilities in which we have been worldwide pioneers (autorotation, high speed and low altitude flight above sea level, etc...).
We want Spain to still be a technological reference in this field. We believe that the future of unmanned aerial vehicles and their widespread use is an increasingly tangible reality.
Learn More