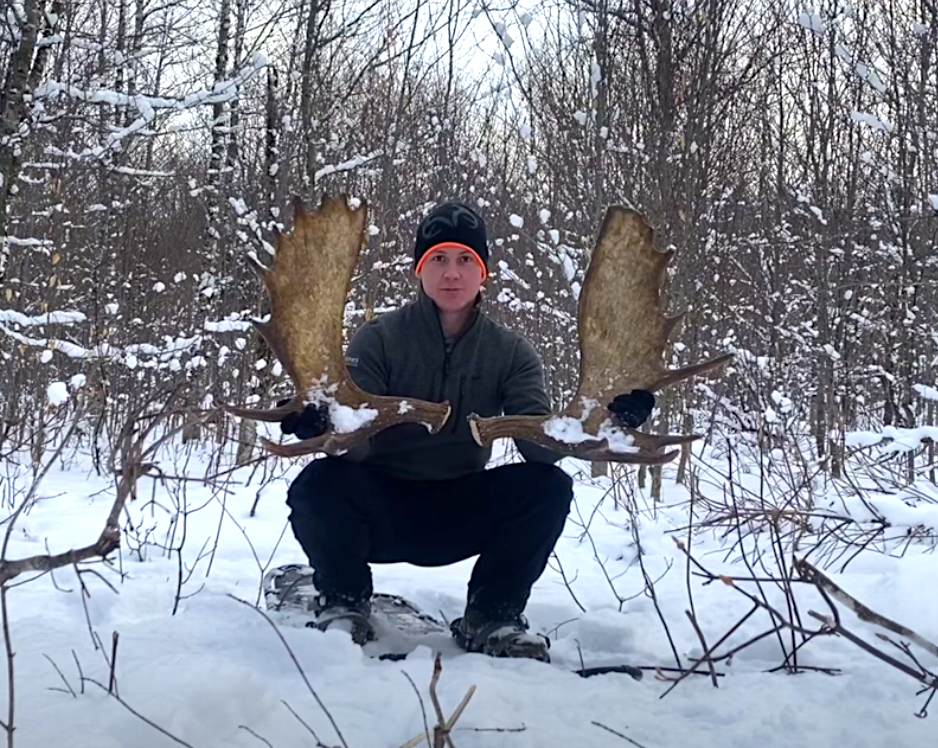 ---
19 January 2023
New Brunswick, Canada videographer Derek Burgoyne captured what he coined as "winning the lottery of wildlife photography" when his drone caught extremely rare footage of a bull moose losing its antlers.
During winter, as temperatures pummet and food becomes scarce, older male moose shed their antlers to save energy. They grow a fresh pair in the spring.
So, when the snow melts, it is common to see shed antlers strewn across the forest. However, actual footage of the shedding process is almost an unseen wonder. 
Burgoyne—who calls himself a "shed hunter"—has been seeking to capture the typically concealed moment for years.
As with many things, luck played a part in his realizing this dream. He was surveying trees with his drone when he noticed three moose resting in a clearing. The noise of the drone disturbed the trio, and when Burgoyne noticed one of the bulls had retained its full set of antlers, he decided to follow it with the drone.
"This will be a moment I will never forget," he said. "This great bull moose sheds not only one side, but both antlers while I was recording with my drone. I feel very fortunate to have this once-in-a-lifetime moment to record this extremely rare and exciting footage. This is like [winning] the lottery when it comes to wildlife photography. It doesn't get any better than this."
For perspective, a doorbell camera documenting a moose shedding its antlers in Alaska made international headlines last month.
Foraging for shed antlers has become a popular and lucrative "sport" in the United States and Canada, as they can bring in thousands of dollars.
Burgoyne's collection—which he admits is stretching the storage space in his house—never had a matched pair of antlers until this latest find. His biggest antler to date is a 33-point mammoth that came from the largest moose Burgoyne had ever seen. This new pair is 17 points and measure 45 inches across. Burgoyne took no chances, and immediately ran through the deep snow to recover the shed seen in the video.
"Each antler you find feels like the first one," he explained. "It never gets old. But they don't get any fresher than this."
See the Shed!