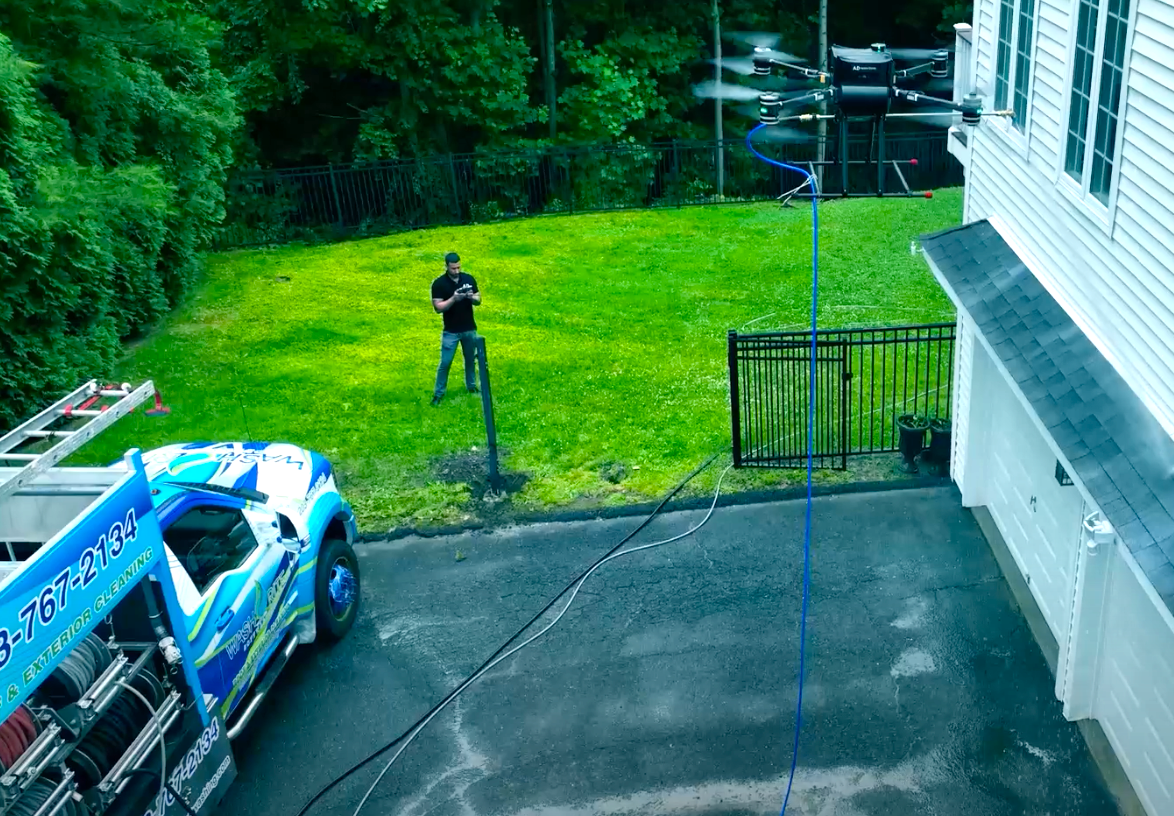 ---
August 18, 2022
Exterior cleaning and washing drones are really coming on strong, as more and more companies seek to elimimate the dangers of humans scampering around on scaffolds (and other suchs apparatus) to make buildings sparkle and shine. Obviously, safety is the number-one concern in the structure and facade cleaning business. In the industry, falls, slips, and trips are the primary causes of injuries and accidents. By eliminating the need for dangerous rappelling and lifts, drone-based operations can keep workers safe on the ground.
Aquiline Drones—a Connecticut-based drone manufacturer—is using autonomous sprayer drones to complete cleaning assignments at a fraction of the time, and at a very competitive cost, compared to traditional-cleaning methods. The goal is working smarter and safer rather than harder. 
Specifically, the company's American-made Spartacus Endure drone is at the forefront of both soft-wash and high-pressure sprayer drone solutions. Depending on the particular structure, a customer may have the option of selecting either method for cleaning. Most small-scale and commercial operations utilize a low-pressure system, while industrial surfaces and civil-infrastructure assets generally require high pressure washing.
"At Aquiline Drones, we have created a specialized spray drone solution that can successfully clean any building, structure, and surface," says Barry Alexander, Founder and CEO. "The list of possible applications is endless, from mirrored office towers to residential roofing and solar panels, to bridges and elevated highways, and even public places, such as streets and stadiums."
The Spartacus Endure

Aquiline Drones' advanced Spartacus Endure is a powerful multi-rotor aircraft with complete accessories. Sitting on a compact 40" x 24", 24 lb. frame, it can carry payloads of up to 33 lbs. Its versatile, lightweight, yet rugged design can achieve speeds of 56 mph and heights up to 400 feet in a variety of elements, including snow and rain. 
How Drone Spraying Works
Using a soft-wash technique that mixes water, chemical solutions, and soap, Spartacus Endure can easily kill dirt, mold, bug residue, and animal waste from windows, exterior walls, roofs, and other structures. The process is followed by a water rinse. The soft-wash method offers a deep and lasting clean, while guaranteeing no damage is inflicted on the structural features of the building.
High-pressure systems are used on rugged industrial surfaces and civil infrastructure, such as storage tanks and bridges. The high-pressure sprayers can be finely calibrated, allowing for a safe and optimal solution. Furthermore, Spartacus Endure can be tethered to a utility truck that uses specialized hoses and a pump to load cleaning liquid and provide sustained spraying for larger and long-lasting jobs.
In either scenario, Aquiline Drones' spray-drone solution delivers crystal clean windows, roofs, and exterior walls in a time-efficient, cost-effective, and safety-enhancing manner.
WATCH!
Improving Health and Safety
By deploying a drone-based exterior-cleaning solution, organizations can significantly improve health and safety for workers as traditional cleaning operations involve high-risk activities, such as rappelling and high-rise lifts. Keeping workers on the ground creates a safer environment.
What's more, some solutions employ machine-vision artificial intelligence for autonomous flight modes and hyper-targeted spraying. This means that workers won't need to operate the drone actively, which is very useful in extremely hazardous environments, such as an offshore oil rig.
This capability allows the drones to identify structural features, window shapes, positioning, and distance, and apply the cleaning material autonomously, while workers focus on the ground part of the operation.
Financial Benefits
Along with improving safety, drone-spray washing can also increase revenue for the industry by enabling companies to complete more jobs in a shorter amount of time. Drones can complete assignments up to five times faster, and with a substantial financial economy when compared to conventional cleaning methods.
In fact, specific drone use cases can create direct cost-savings for the consumer. For example, solar energy has been taking the world by storm and homeowners have been using it to save money on their electricity bills, add value to their property, and, sometimes, make a little money from the utility company. According to Sunbadger.com, 16.4 million American homes currently use solar panels as their primary electricity source and regular cleaning ensures that they are working more efficiently, hence allowing for maximum tax credits, rebates, and other federal and state incentives. 
"Cleaning solar panels with a drone is much safer than traditional methods and could viably save a homeowner money by increasing its efficiency by 15 percent to 25 percent—a welcome bonus with today's economic inflation," says Alexander.
The Future Is Here and Now
The future of high-tech facade and structural cleaning has arrived, and Aquiline Drones offers a range of cutting-edge solutions designed specifically for the industry's needs. By combining specialized sprayer drones, the right chemical products—along with cloud technologies and artificial intelligence—its drones offer time-efficient, economical, and safer solutions for spray washing.