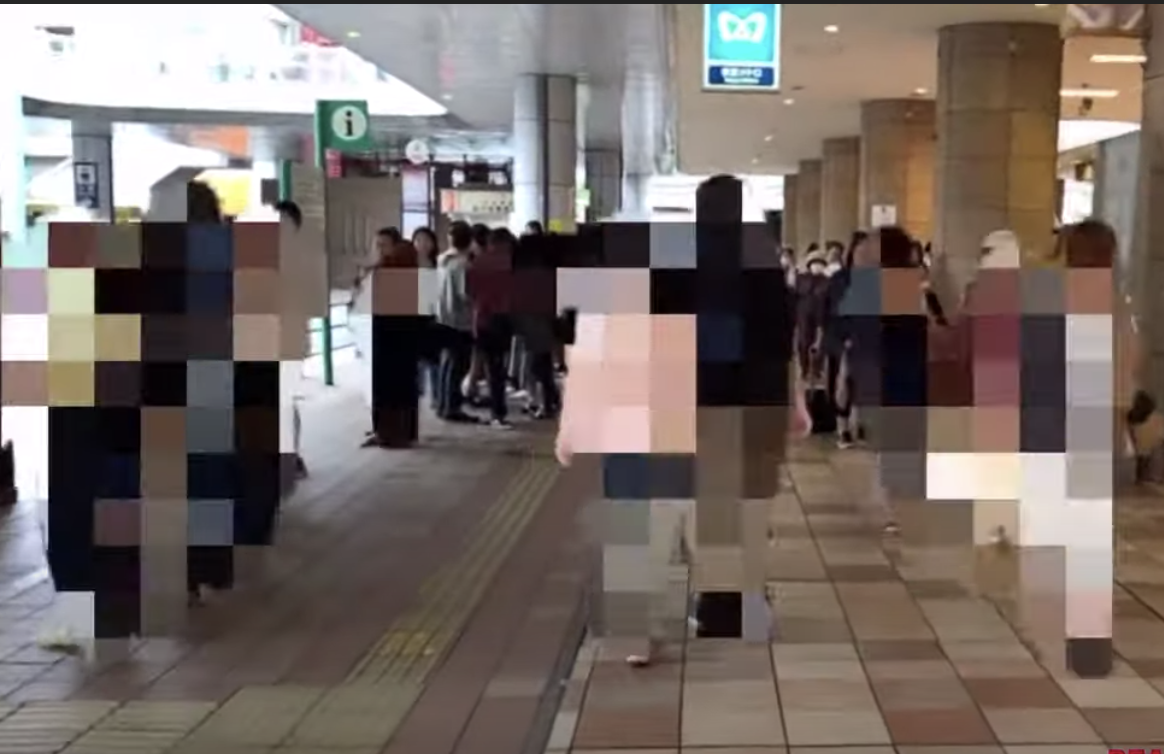 ---
20 September 2022
As the drone market continues to grow seemingly unabated—expectations are that the drone industry will hit the $42.8 billion mark by 2025—Surfshark.com has just released a truly incredible series of maps on drone privacy laws in 200 countries around the world.
As published on the site: "As the use of drones expands around the world—according to the Federal Aviation Administration, there are currently 1.7 million drones registered in the United States alone—lawmakers have been faced with new and complex regulatory challenges to protect the privacy of ordinary citizens. The increased prevalence of drones has raised the prospect of pervasive surveillance by governments, companies, and individuals, and lawmakers are struggling to keep up with the advancing technology. While at least 143 countries have enacted some form of drone-related regulation, many experts contend that current drone regulation is insufficient to deal with the threat of widespread surveillance.
"Drone laws around the world range from outright bans of the technology to relatively unrestricted flight, but most legislation focuses on how the drone is being operated, and does not address nuances related to privacy. Many of the privacy threats that have lawmakers concerned are speculative and rely on the technology of tomorrow, making it difficult to pass privacy-specific legislation today. In the meantime, lawmakers have been able to pass laws concerning drone operation, which are a first step to "privacy by design" legislation, restricting where and how a drone can be flown to minimize opportunities to violate privacy in the first place.
"To support the effort to establish an international regulatory framework for drone legislation, we looked at drone operation laws in over 200 countries around the world."
Regulatory Initiatives
Surfshark found that, as of October 2020, world-wide regulations regarding drones typically fell into one of seven categories:
Outright ban
Effective ban
Restrictions Apply (such as drone registration or licensing, additional observers required, no commercial usage etc..)
Visual line of sight required
Experimental visual line of sight (experiments where drones fly beyond the line of sight are allowed)
Unrestricted (when flying away from private property and airports, under 500 ft height and with drones weighing less than 0.5 lb.)
No drone-related legislation
Europe
Drone regulations have been tightened by the European Aviation Safety Agency (EASA) in the EU and countries such as Switzerland, Norway, and Iceland. There are different rules based on the drone design itself and where it is being flown. A drone operator must be registered if his or her drone is equipped with a camera or other surveillance device, and weighs more than approximately 0.5 lb.
According to Surfshark, the only European countries with no privacy restrictions on drones are Sweden and Estonia. Visual line of sight flying is required in Norway, the Netherlands, Iceland, Romania, and a few other countries. Experimental VLOS is allowed in most European nations, including England, France, Spain, Germany, and Poland. The only effective ban on droning was in Bulgaria.
All maps courtesy of Surfshark.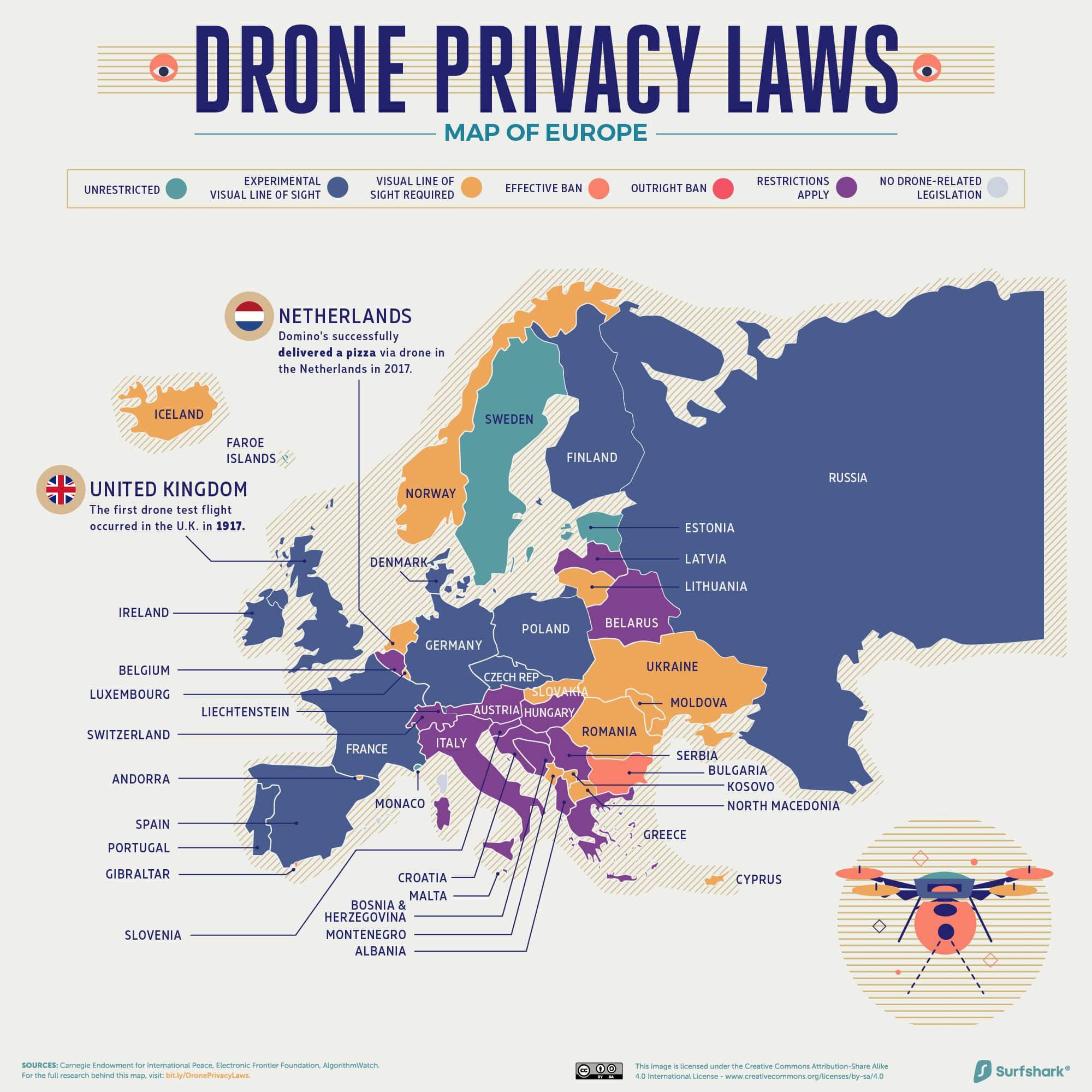 North America
Thirty-three percent of countries in North America allow for experimental drone flights beyond VLOS. The high percent—the largest share of any continent—is due to tech-based companies such as Amazon, DHL, and Walmart that are looking at drone-delivery infrastructures. The FAA is requiring that all drones broadcast an identification number and the location of its pilot by 2023.
The only outright bans on drones are not surprisingly in Cuba and Nicaragua. Mexico allows VLOS flights only, and drone legislation is currently non-existent in countries such as Guatemala, El Salvador, Honduras, and Haiti. Drone use in unrestricted in Panama.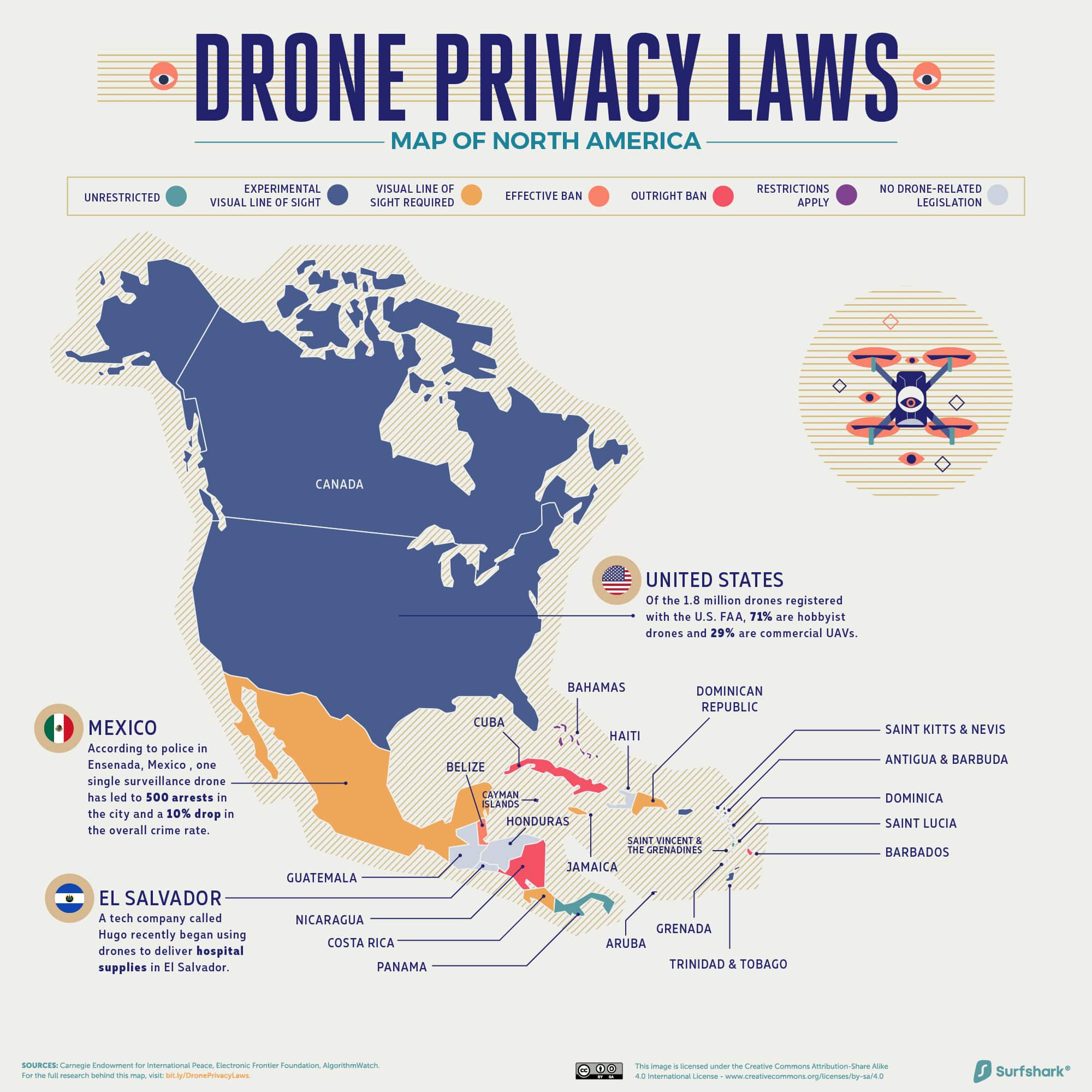 South America
No South American countries have outright or effective bans on drones, but only Guyana has provisions for BVLOS flights. Some countries have safety and environmental restrictions. For example, Peru limits drone flights to an hour, and the Galapagos Islands ban drones completely, except for approved scientific use.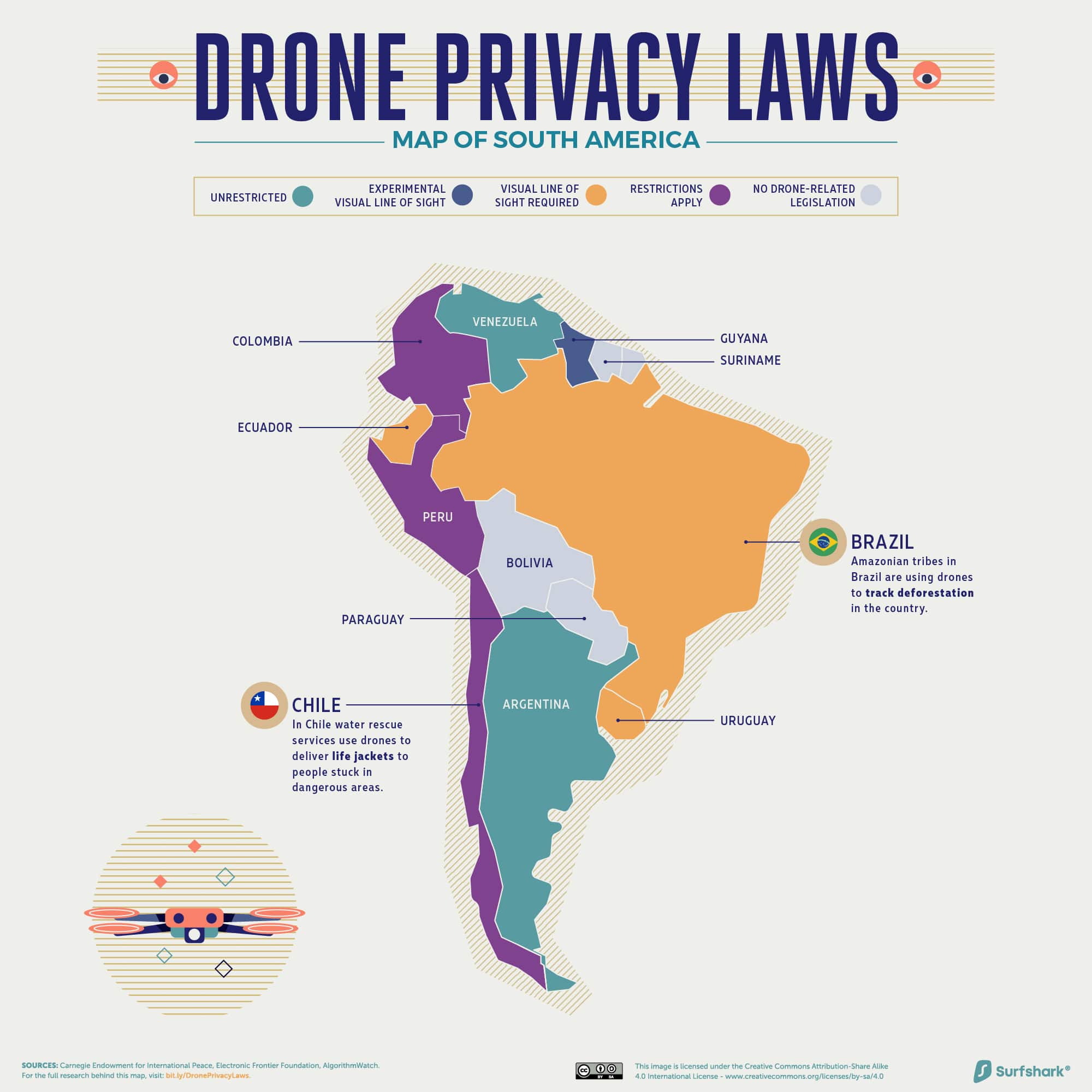 Middle East and Central Asia
Fifteen percent of countries in Asia have effective bans on drones—almost double the eight percent global average. That said, a small percentage of countries—such as Japan—are starting to allow BVLOS flights with appropriate licensing.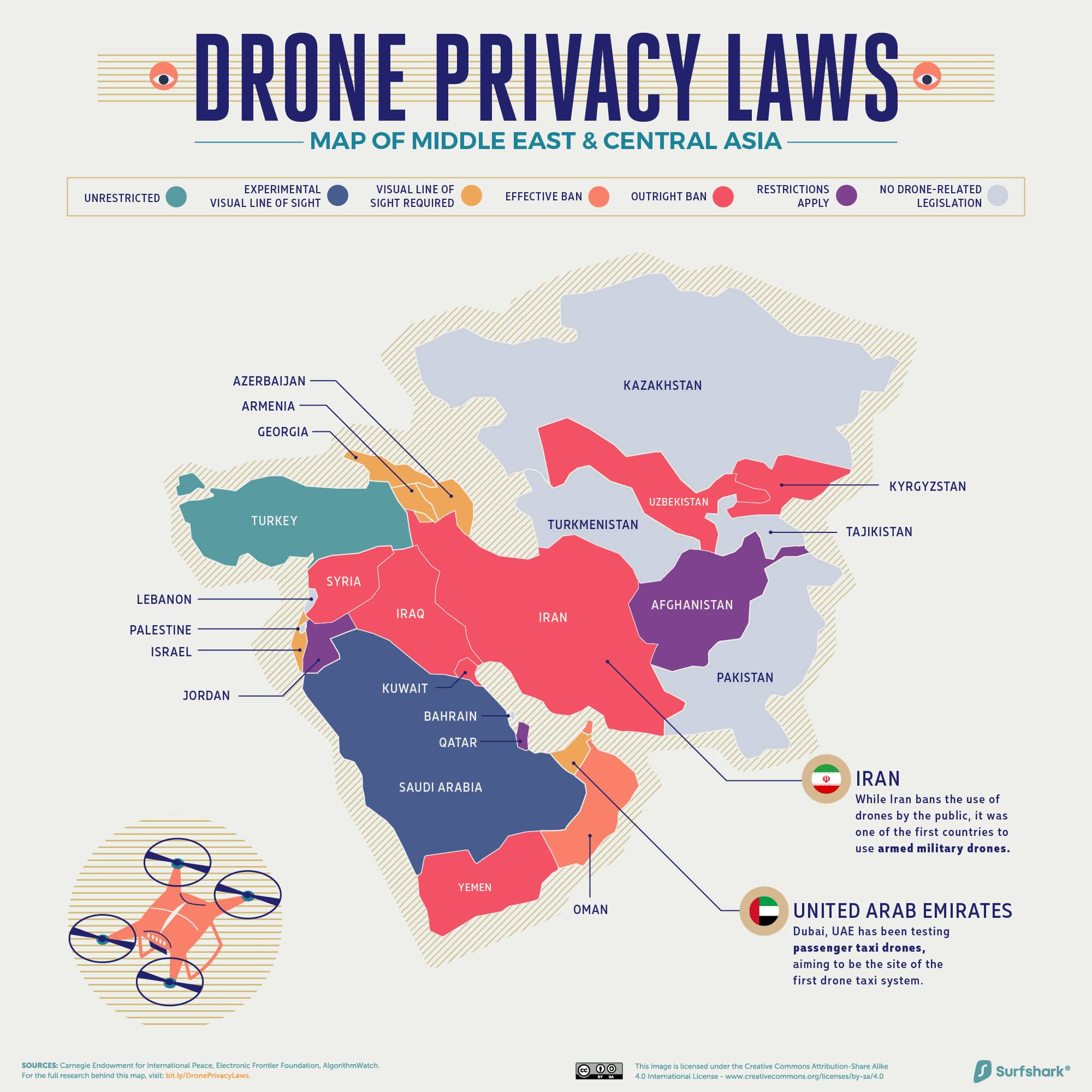 Asia and Oceania
There is no drone-related legislation in 56 percent of countries in Oceania—the biggest share of any continent. No countries have outright bans or effective bans of drones, and most require VLOS.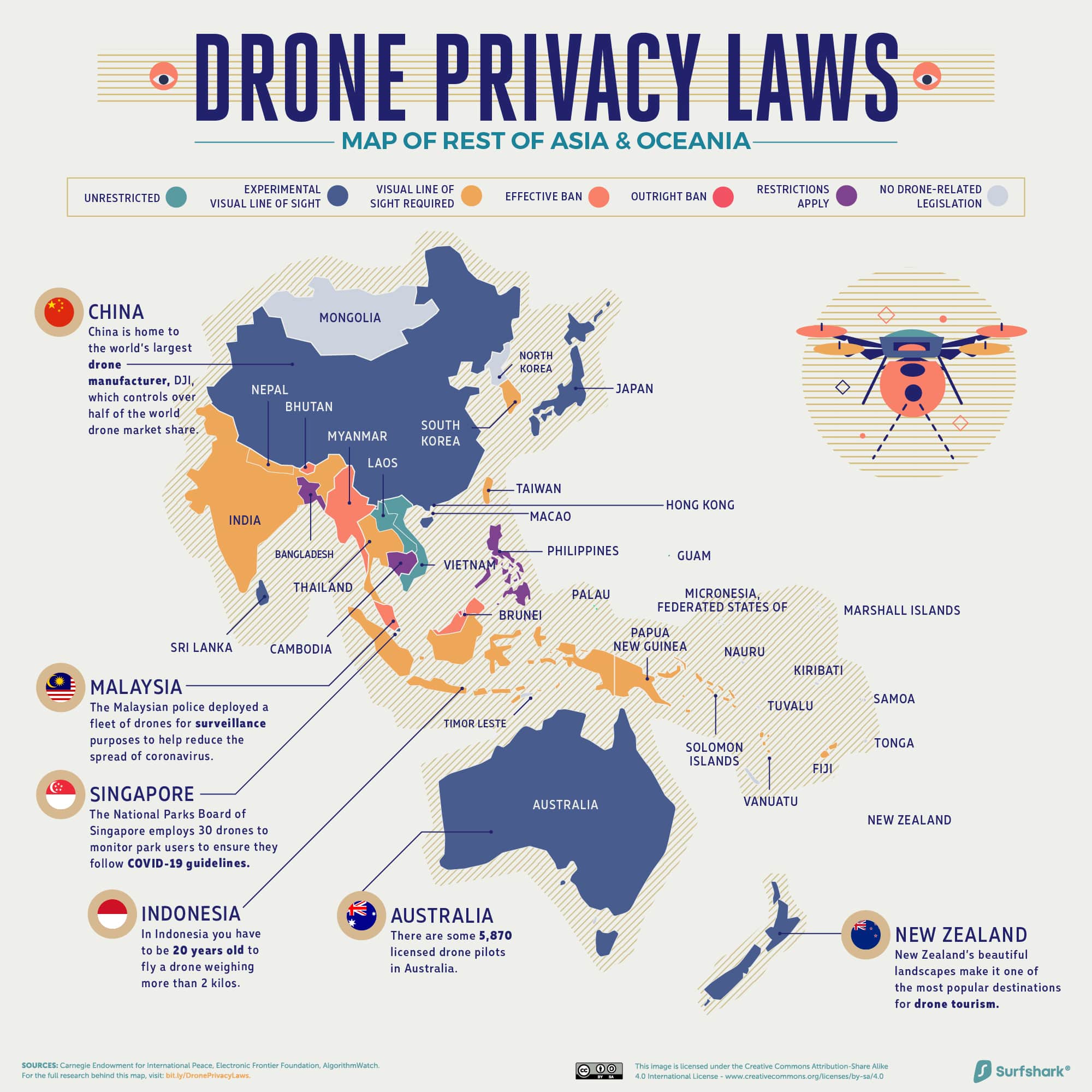 Africa
More than half the countries in Africa have no drone legislation at all, but in those countries that do, 21 perrcent have outright bans. So, while there are obstacles to drone flight in a number of African countries, innovation is celebrated in others. For example, Ghana and Rwanda allow drones to fly BVLOS to deliver medical supplies.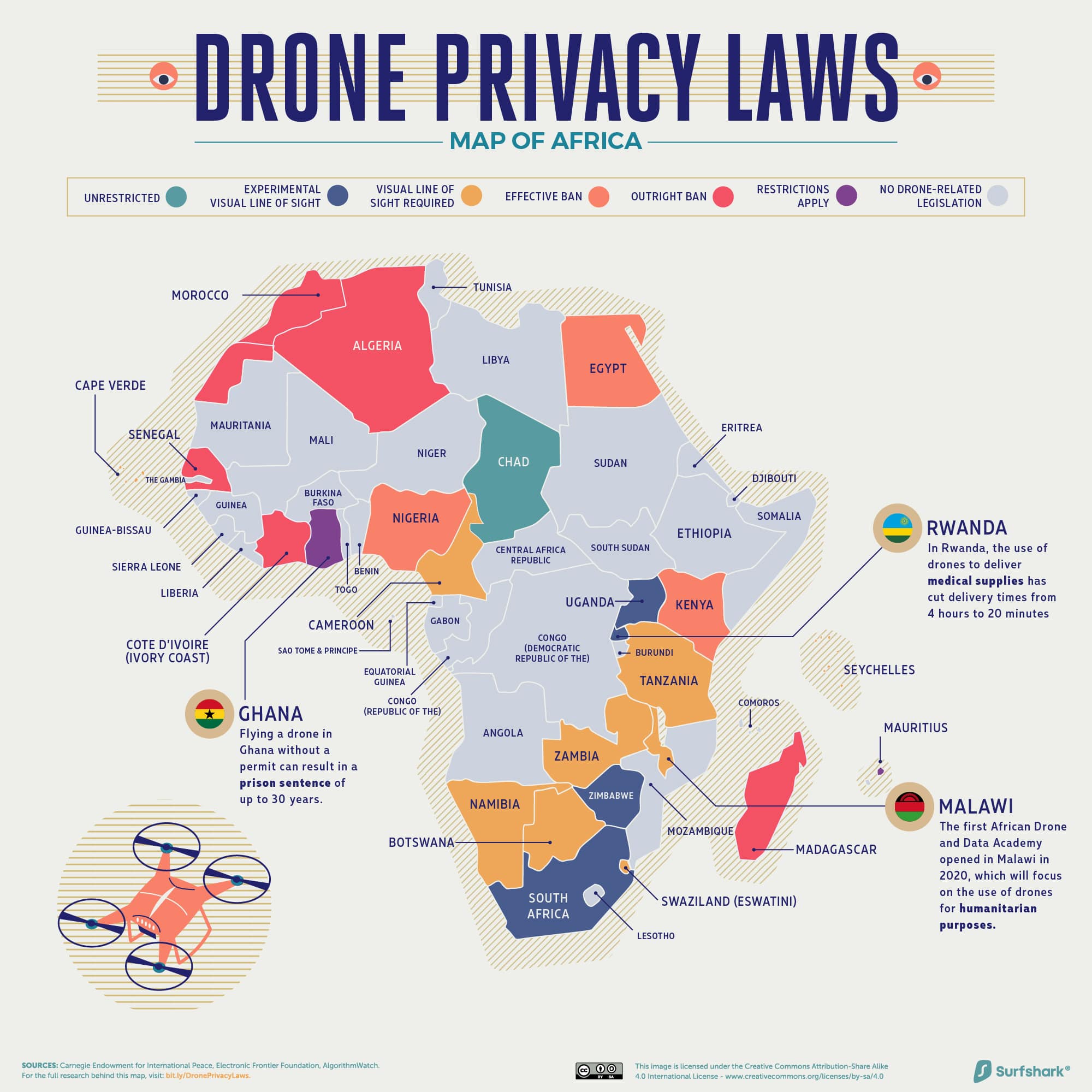 Dig Deeper
Surfshark has a full reporting of the research here.