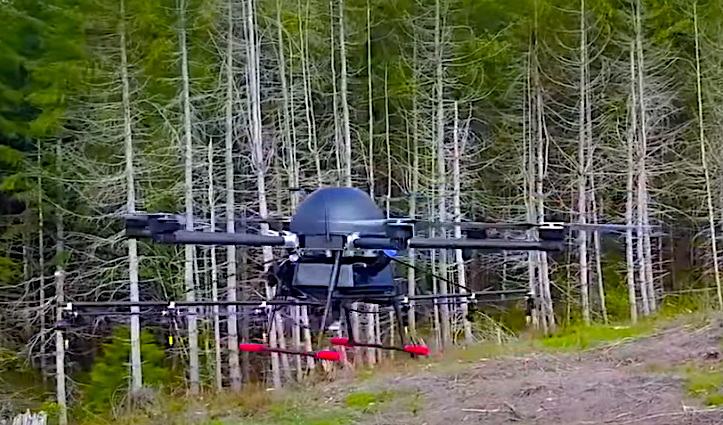 ---
In 2017, during one of the most brutal wildfire seasons ever recorded in British Columbia, almost two-million acres of forest were lost.
Adding to such tragedies is the fact that reforestation of burnt-out expanses is often arduous, practically impossible in some areas, and not nearly as successful as we'd all want.
"In some areas, wildfires have burnt so hot that there's no regeneration of seedlings," explains Percy Guichon, director of the Central Chilcotin Rehabilitation—a reforestation and land-management company in British Columbia.
Guichon is from the Tŝideldel First Nation community that is working with the Tl'etinqox First Nations Government to reseed forests where the devastating 2107 Plateau Complex fire burned. The seeds certainly need some help.
One of the major ways trees normally regenerate is when pinecones get scattered by the wind. But if a fire burns too hot, there is no way for seeds to survive, and also no way for trees to grow back naturally in charred soil. Manual tree planting is usually done in groups, and it's hard work. Tree planters tote a 40-pound seed sack and a long-handled shovel, spearing the soil and setting down a baby tree as they go. Manual planting can yield up to 3,000 trees a day when strict quality and density guidelines are adhered to.
"We wanted to find another method of planting that would complement traditional methods using tree planters," says Guichon.
Drones became the answer.
In a pilot program, Guichon's group and the Forest Enhancement Society of British Columbia—a government reporting entity—purchased fir and pine seeds from a nursery in California and sent them to DroneSeed, a Seattle-based agrotech startup. The seeds were put into special drones—which also contained a mixture of soil and nutrients to give the seeds the best chance at germination—and the drones were sent on their way to drop the seeds where new planting was needed.
In the first go-around of drone-borne planting, approximately 10,000 seed "pucks" were dropped over 128 acres. The team will monitor growth to determine if the seeds will germinate in the soil. It's hoped the half-million drone-planted seedlings will help the scorched areas rebound more rapidly than they could on their own.
"If it's a kilometer to the nearest living tree, it's going to be a long time before seed can get there, and that's where humans can step in—as well as drone technology—to accelerate recovery and the long-term development of the area," says John Bailey, a professor at Oregon State University's College of Forestry.
The British Columbia trial results should be released by next year, and data from the test will be employed to guide future drone-drop techniques and other reforestation projects. The current thinking is that drone seeding will never completely overtake or replace manual planting. However, drone technology is becoming popular in more and more regions bedeviled by wildfires, such as the state of Washington and other areas in the Pacific Northwest. Forestry officials, local governments, and even landowners are aware that drones can conduct aerial land-area surveys, as well as reach places where manual planting is nearly impossible, such as sharp inclines and very remote locations.
Drones are in the fight for planting new-growth forests.
Want More Info on Drones and Forest Growth Strategies?
Watch these videos detailing how forest services are deploying drones to survey and replant.
DRONESEED
AIRSEED