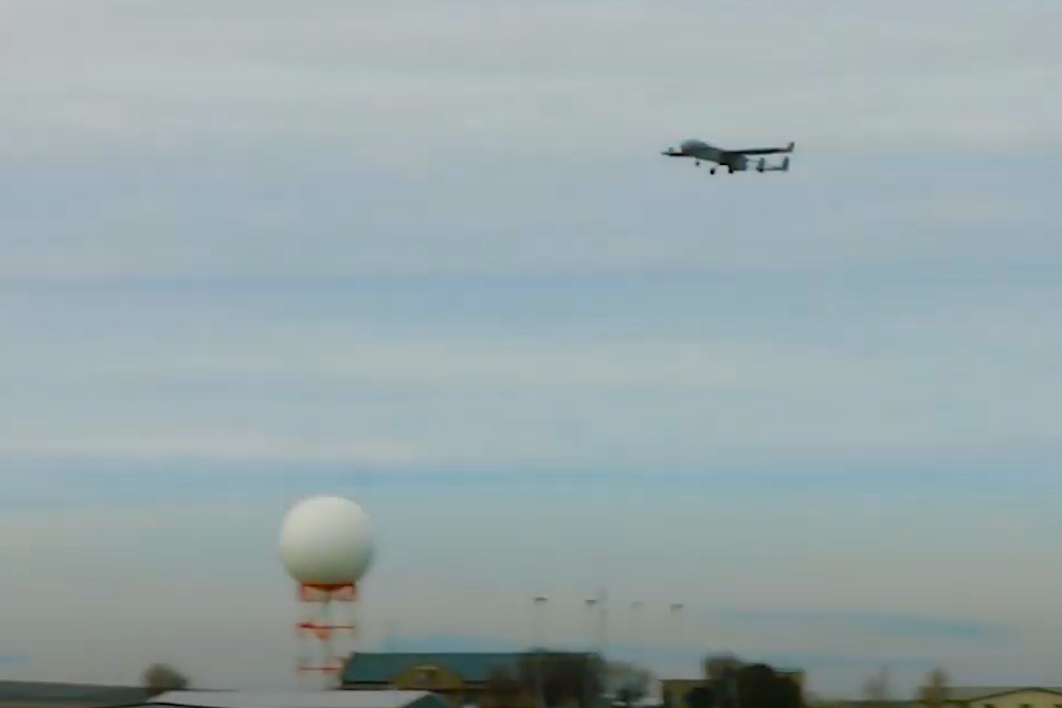 ---
December 14, 2022
The skies above Pendleton, Oregon, are often filled with tech companies testing surveillance and reconnaissance drones, self-flying taxis, remote-piloted helicopters, autonomous gliders, delivery drones, and other types UAS systems. The former wild-west expanse is considered a place where drone makers can ride as free as the earliest pioneers of the area—jettisoning convention, taking risks, and, hopefully, finding success.
The branding rethink was forged by Pendleton's economic director, Steve Chrisman, who reached out to drone makers to take advantage of the city's quiet airport and vast, open fields. While Pendleton was yet to see significant revenue from its marketing and outreach programs, the town is betting on the growing success of the burgeoning drone industry to pay off.
"There have been bumps in the road—no doubt about it," Chrisman told ZDNET senior writer Stephanie Condon. "'If you build it, they will come' just terrifies the heck out of everybody—especially a small little agricultural town in Eastern Oregon. But in reality, everything we've done has been an 'If you build it, they will come,' and they came. And they keep coming." 
The Opportunity
Chrisman realized there could be renewed life in Pendleton's sleepy, WWII-era airport when Congress approved drone testing outside of military-restricted airspace in 2012. While the airport has a marvelous wartime history—the Doolittle Raiders trained there for its bombing of Tokyo in 1942, as did the Army's sole African-American parachute battalion, the Triple Nickles—it struggled as a commercial-aviation center. A tiny turboprop flight to Portland, Oregon, is the only route currently offered by the airport.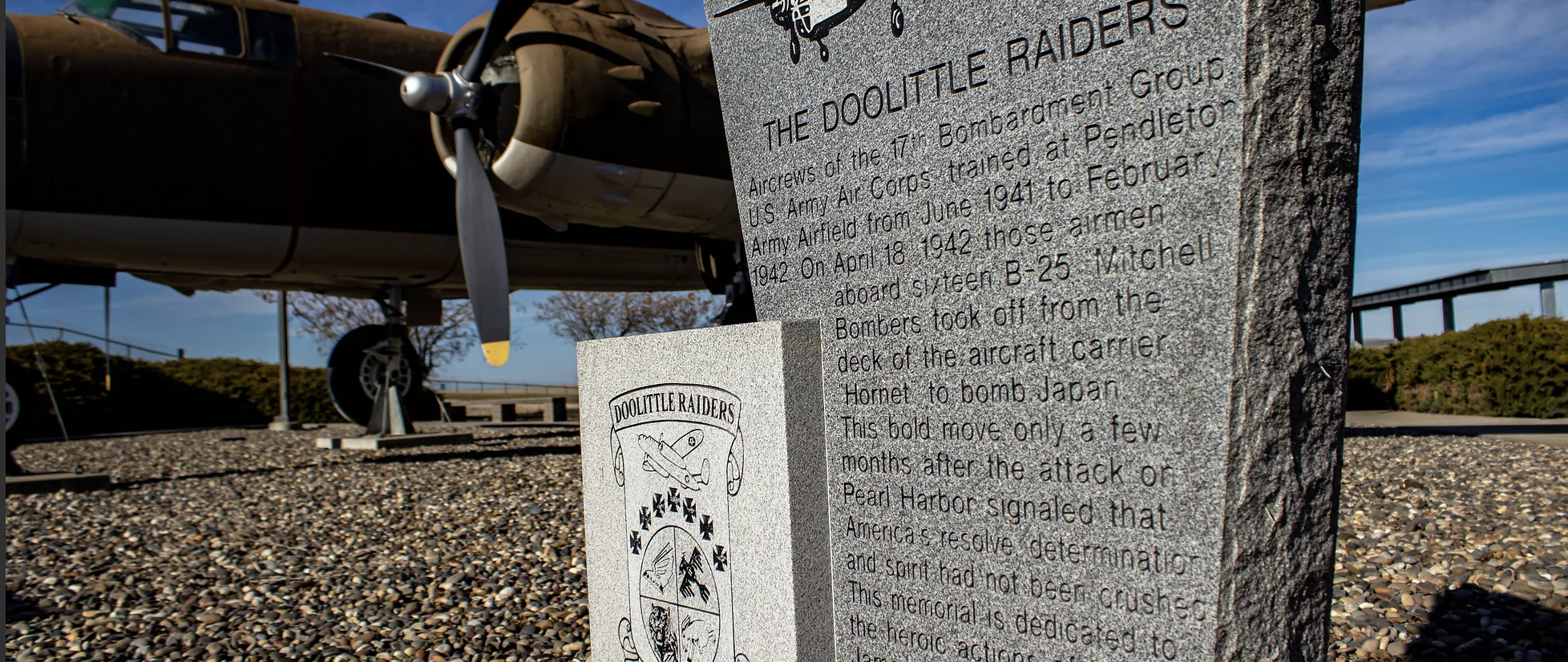 Image courtesy Pendleton Airport
Federal infrastructure funding was cut, as well. From receiving $10 million to $15 million every ten years, the FAA diminished the support until Pendleton Airport was down to just one runway from three.
Then, the Oregon Army National Guard came to the rescue.
The Guard was using the airport to test its Shadow drone, and a sergeant tipped off Chrisman to the UAS industry.
"He told me, 'You've got a big airport, nothing in the air, and nothing on the ground. It's a great place to fly. This is the future. You should get on it.' So, we've turned 'nothing' into a marketable commodity. You'd think nothing is everywhere. Nothing isn't everywhere." 
Sure enough, from the vantage point of the airport's tarmac, there are nothing but wheat fields extending seemingly forever. And that won't change any time soon. Oregon has strict land-use laws, which means farmland around Pendleton will likely continue to be farmland for many years. In addition, the very pleasant weather in Pendleton is a major benefit for drone operations.
In 2013, Oregon won authorization as a commercial drone-testing site in partnership with Alaska. Chrisman thought, "We're gonna have a grand old time flying drones and cashing checks."
It didn't happen.
Private drone firms were reluctant to abandon military airspace, and the airport hosted absolutely zero drone operators until 2015, when five companies showed up.
But an ever-optimistic Chrisman and his team doubled down and built their "dream drone" facility anyway. Airport engineer Wayne Green constructed 16 drone test pads. An unused runway was transformed into a drone taxiway—complete with a surrounding industrial park. The team also built new roads, gates, and more. They're still building, in fact—hangars, workshops, and other essential infrastructure.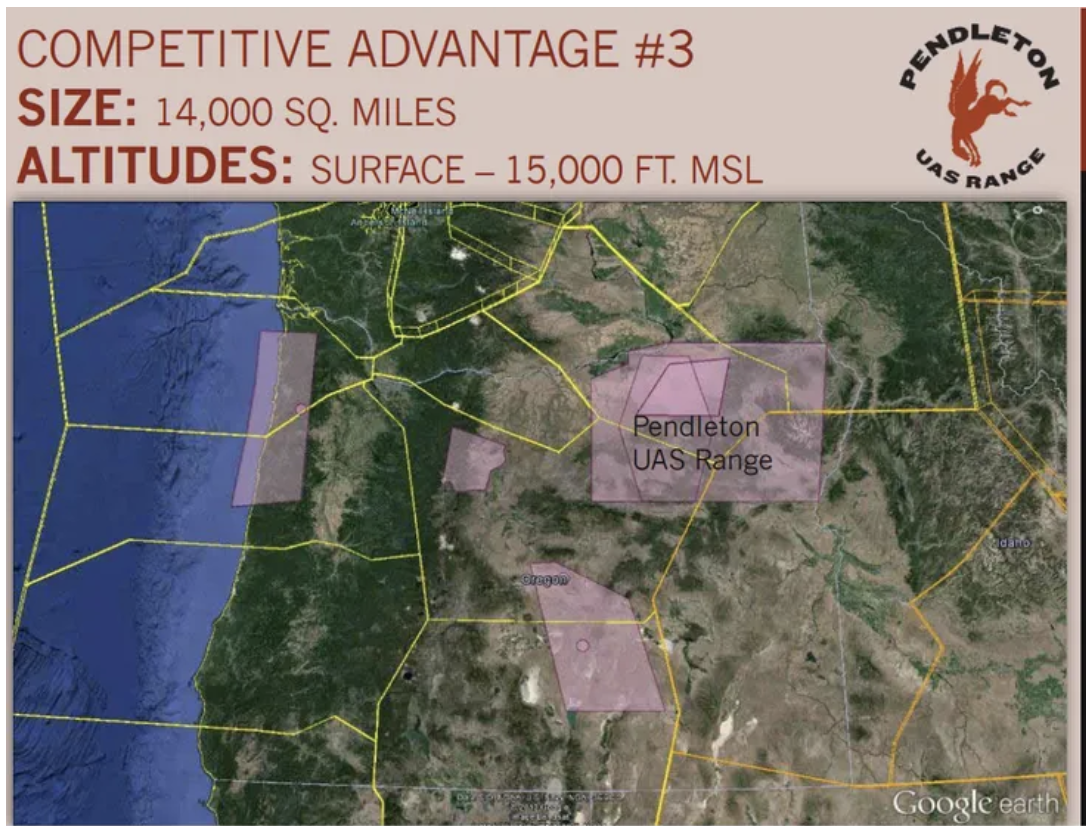 Territory covered by the Pendleton UAS Range. [Image courtesy

Pendleton Airport.]
And bringing tangible proof to the team's "If we build it, they will come" mantra, Radisson is constructing a new hotel by the airport. In addition, special federal grants have helped with rebuilding the airport's terrminal, as well as making other upgrades possible. The City of Pendleton itself has committed approximately $10 million to its UAS Capital Improvement Fund from 2021 through 2023—which is in addition to the millions budgeted for the city's general Airport Fund. 
"It's a pretty bold leap of faith by a pro-growth ag town leaning heavily into the future of aviation," says Chrisman. 
Image courtesy Pendleton Airport