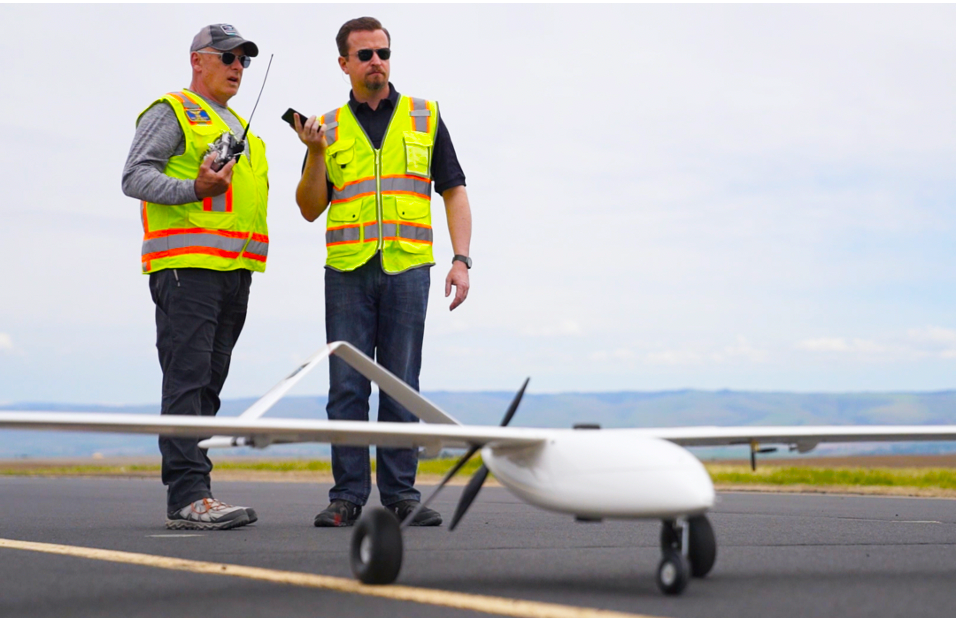 ---
Above photo: Dr. Scott Burgess (left) works with an Embry-Riddle student while preparing to launch a fixed-wing UAS.
22 November 2022
Demand for uncrewed aircraft system (UAS) operators is growing, but over the past few years the Remote Pilot In Command (RPIC) certificate issued under Part 107 has changed from an all-access pass to the price of admission. UAS operations are now more mature and professional than ever before, so companies are looking for pilots who have the training and the proven skills to safely perform increasing complex missions.
Fortunately, one of the oldest and most well-established names in aviation education is stepping in to fill the void. Embry-Riddle Aeronautical University (ERAU) has trained generations of pilots, aerospace engineers and other industry professionals to the very highest levels of achievement worldwide – so much so that it is the undisputed leader worldwide, the "Harvard of the Skies."
For a fast-changing industry like UAS, a bachelor's or a master's degree might be a good long-term goal, but working UAS pilots need skills now. That's where the University's Office of Professional Education comes in, according to Ron Garriga, the executive director of Business Development and Professional Education at Embry-Riddle's Worldwide Campus.
"No matter where you are in your professional journal with UAS, we are here to help," said Garriga. "If you are completely new to drones, or your organization is looking to add UAS to your toolbox, then we have SUAS 1000: Introduction to Drones to help you understand the fundamentals. We also have a Part 107 test prep course, to help you earn your RPIC certificate, if that is going to be your next step."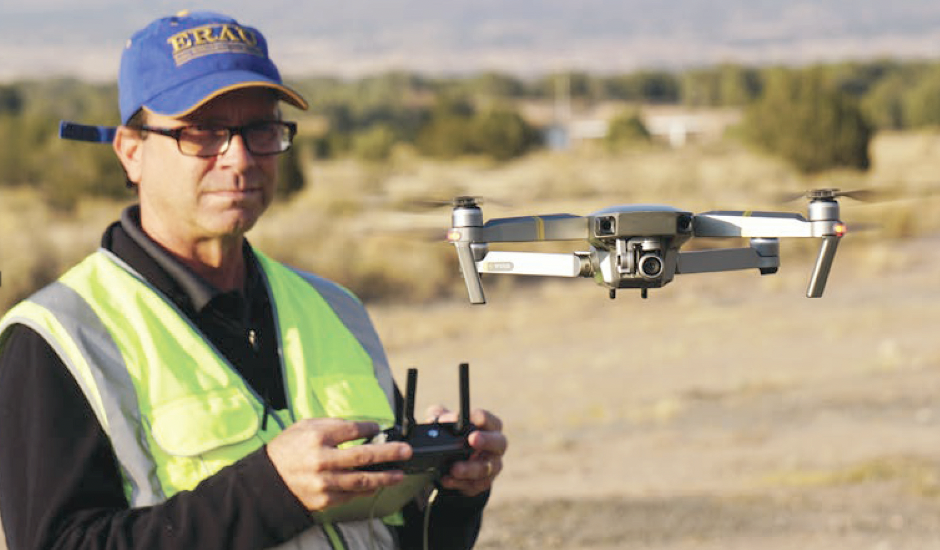 Dr. Joe Cerreta is a world-renowned expert in the use of small UAS for photogrammetry.
For pilots who already hold a certificate, The Worldwide Campus's Office of Professional Education offers a wealth of courses tailored to the most in-demand applications for UAS today, including:
SUAS 1000: Understanding Drones: An Introduction to UAS
SUAS 1300: Global UAS Risk Management
SUAS 1400: SUAS Inspection Course
SUAS 1500: Fundamentals for Starting an SUAS Small Business
SUAS 1600: Basic Proficiency Evaluation for Remote Pilots (BPERP) Certification
SUAS 1800: Organizational Standardization Program
SUAS 2000: SUAS Ground School
SUAS 2500: Introduction and Application of UAS Photogrammetry
SUAS 3000: SUAS Fundamentals for Public Safety
SUAS 3200: Developing an SUAS Standardization Program
SUAS 5000: Incident Evidence Collection and Inspection for Law Enforcement
SUAS 6000: Airworthiness Certification for Uncrewed Systems
"If you take a look at the courses we offer, you will notice that the issue of standards appears repeatedly," said Dr. David Thirtyacre, chair of the Worldwide Campus Department of Flight and a former Air Force F-16 pilot. "As UAS becomes fully integrated into the aviation community, it is critical to recognize that operating these machines goes well beyond the skill of individual pilots. It is important that within each organization – and even the industry as a whole – standards are established and followed to ensure safety and performance. This is the bedrock of any successful aviation program."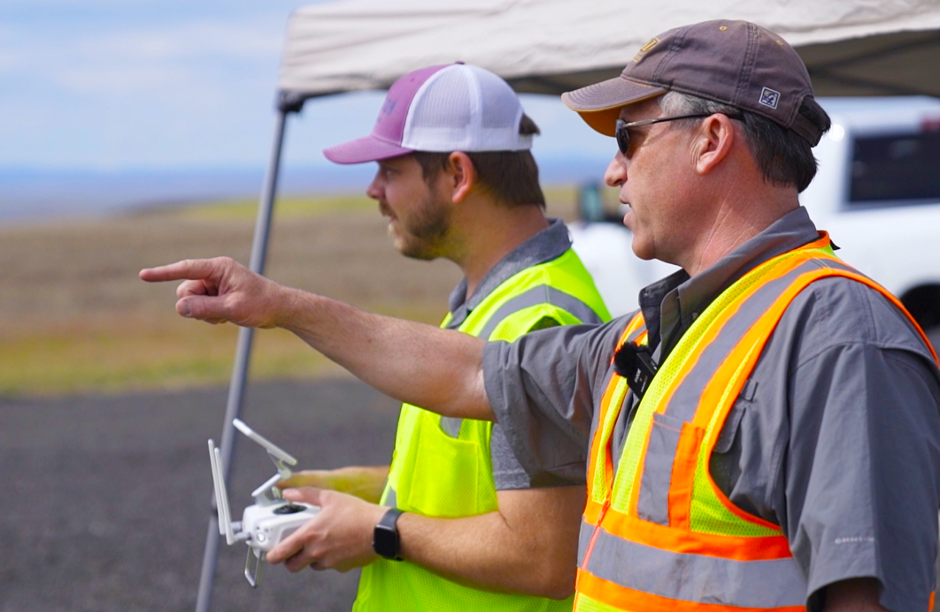 Dr. David Thirtyacre (right) coaches a student to safely conduct flight operations with a small UAS.
One type of mission for which UAS are being routinely deployed is photogrammetry, which involves capturing a series of overlapping aerial photographs that are processed using a sophisticated computer algorithm to build accurate, detailed maps, and even three-dimensional models of the real-world environment.
"Many people do not realize that the choices you make as a pilot have a huge impact on the quality of your finished product when you are collecting imagery to build one of these models," explained Dr. Joe Cerreta, a world-renowned expert on photogrammetry using UAS and an associate professor in the Worldwide Campus Department of Flight. "For example, how much overlap one is getting between in each image, both along the direction of travel – which is called 'frontlap' – and between each pass, referred to as 'sidelap.'
"Also, how high are you flying? At higher altitude, your camera will capture more of the ground below in each image, but there is a trade-off between altitude and ground-sample distance – that is, the resolution of your finished map or model. Increasing overlap and shrinking your ground-sample distance will result in a better-quality result, but that also means you will need to fly longer. These are the kinds of trade-offs you need to understand, and that is what we explore in our photogrammetry course."
SUAS 1400, the course focusing on the use of drones for inspection, was developed by Dr. Scott Burgess, associate professor in the Department of Flight – a retired Army attack helicopter pilot who applies his understanding of crewed aviation to the use of UAS.
"When you are inspecting a piece of critical infrastructure, like a bridge, you are going to need to put your aircraft as close as possible to that asset, to make sure you are capturing good, clear images," said Burgess. "This is where the concept of 'the edge of space' comes into play. The edge of space is defined by the obstacles in your environment that will stop your propellers turning and cause you to crash – so it is critical that you learn how to avoid them."
Beyond acquiring specific, in-demand skills, ERAU's Worldwide Campus Office of Professional Education offers UAS operators the opportunity to grow and demonstrate their abilities as pilots. Embry-Riddle has partnered with the Association for Uncrewed Vehicle Systems International (AUVSI) to offer certification under its Trusted Operator Program (TOP).
In order to develop a level of knowledge and skill that goes well beyond the Part 107 Airman Knowledge Test (AKT), three levels of TOP certification are available. TOP Level 1 enhances and tests the pilot's aeronautical knowledge to ensure that it exceeds the minimum requirements set by the Federal Aviation Administration (FAA). TOP Level 2 and Level 3 certification require a practical, hands-on demonstration of the candidate's piloting skills, using a testing apparatus developed by the National Institute of Standards and Technology (NIST).
"TOP certification provides employers with the confidence they need to send a pilot into especially challenging environments," said Garriga.
Classes can be scheduled specifically to accommodate cohorts of students, such as members of a public safety agency or a corporate UAS team. According to Garriga, these courses are led by top-notch instructors, including members of the Worldwide Department of Flight and other experts personally selected by Dr. Thirtyacre, the department chair.
"You can review which courses we are offering right now by visiting 'www.proed.erau.edu,'" Garriga said. "New courses start at the beginning of each month. We do not offer every course in every month, but they are offered at least once every quarter. Embry-Riddle has a legacy of being the premier university for the study of aviation and aerospace, and the legacy and standards that built this reputation are embedded within all of our UAS programs – including our undergraduate and graduate degree programs.
"I think the Worldwide Campus Office of Professional Education is one of our best-kept secrets, however. We have amazing products that make substantial contributions to pilots and the organizations where they work. The material is current and well delivered. It is written by the best people in the entire industry and our faculty truly care about our students and their success."
Watch!
For more information, email a Worldwide Campus Office of Professional Education advisor at training@erau.edu.