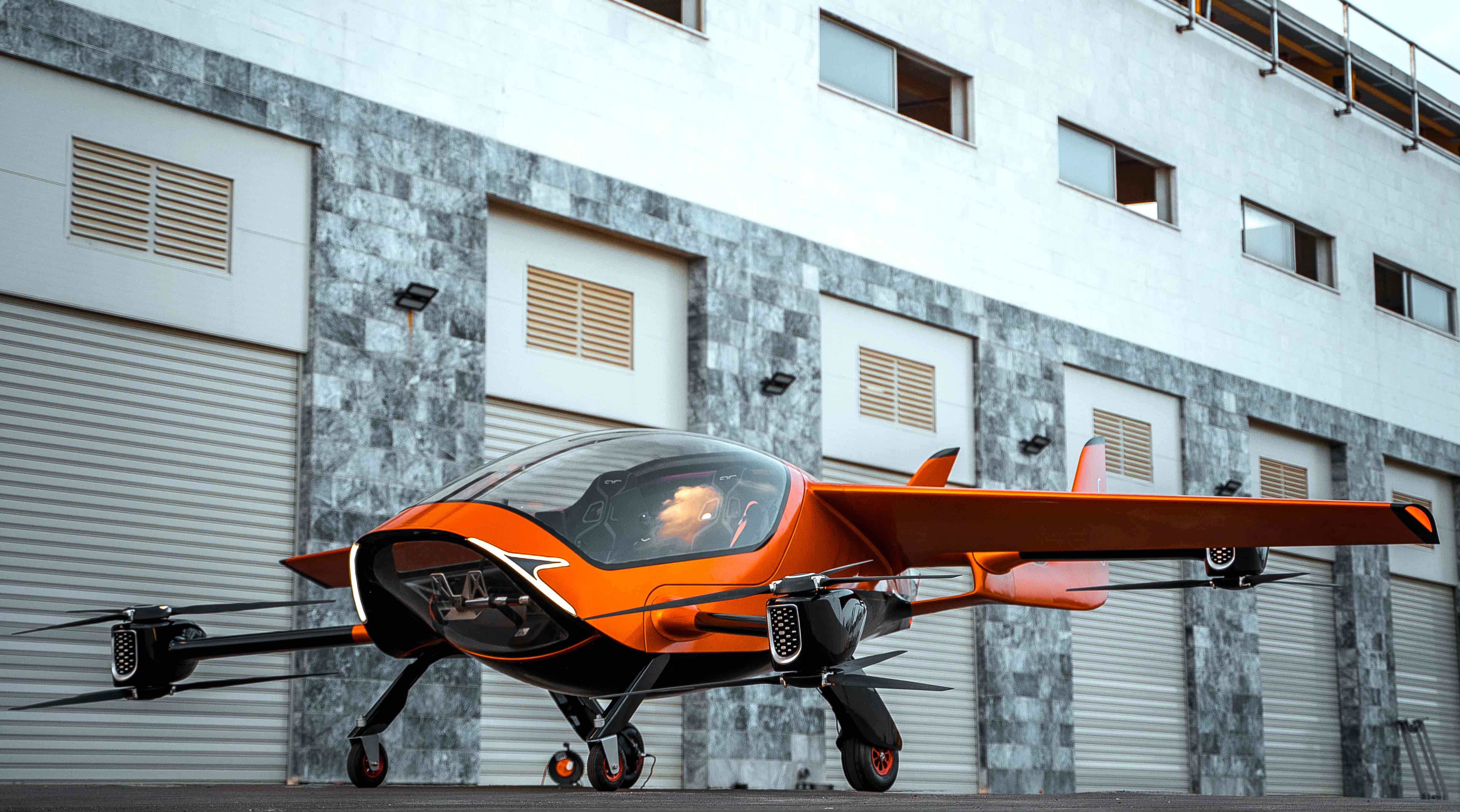 ---
By Rani Plaut, CEO & Co-Founder of AIR
Advanced air mobility (AAM) – AKA "flying cars" – has been a vision for the future since the days of Leonardo da Vinci. With recent strides regarding regulations and infrastructure, the once-futuristic dream of AAM has now emerged as a very real sector in the mobility industry.
Affordable personal air mobility products are just around the corner. Once available, personal air mobility has the potential to revolutionize how people move. The new capabilities emerging at this nexus of aerospace and automotive stand to transform cost-effective aviation, short & mid-range mobility and sustainability.
Society has come to trust the safety and viability of aviation technology, as thousands of commercial flights take to the skies every day. But commuting by air on a day-to-day basis requires a new formula, one that's integrated into our lives more seamlessly than any prior form of air travel.
Electric Vertical Takeoff and Landing (eVTOL) aircrafts are helping fulfill that promise, with a new vision of flight that breaks down many of the barriers currently associated with air travel. By rethinking the systems and machines that move us, we can mitigate noise pollution, gridlock, and infrastructure footprint. The promise of AAM is demonstrated by the rising number of eVTOL companies and the willingness of regulators to embrace these mobility solutions.
Many new forms of mobility first started as personal solutions, later growing into mass transportation – i.e., cars to buses, piper planes to airliners, canoes to merchant ships. So too will personal air mobility – and AIR is spearheading this trend, utilizing its unique intellectual property and knowhow to offer groundbreaking novelty in the personal aviation realm.
Who is AIR?
AIR is a pioneering eVTOL manufacturer, heralding the adoption of personal eVTOL flight and empowering AAM at mass scale. AIR merges aerospace innovation and excellence with the maturity of the automotive industry, providing safety, comfort, affordability and a sense of adventure.
The AIR ONE
The AIR ONE, AIR's inaugural two-seater eVTOL, is the next wave of personal transportation, offering everyone the ability to "drive in the sky." The AIR ONE was designed to be as easy to handle as an automobile and intended for everyday travel as an alternative to a car. Here are some of the reasons why AIR ONE is a unique eVTOL solution:
Ease of Use
With minimal infrastructure needed to function, AIR ONE is simple to operate and made to scale. The vehicle requires no vertiport for takeoff and landing, just a flat surface, while the collapsible wings make it suitable for a trailer haul and allow for easy parking in most garages and driveways. The 575 kilowatt/771 HP aircraft has a 74-kWh battery, which takes just an hour to fully charge using a supercharger and can utilize the same charging infrastructure as an electric car. It offers a practical range and top speeds, good for short commutes, and, as batteries progress, mid-range trips as well.
Safety
AIR ONE offers a simple design, underpinned by a comprehensive suite of safety features. High redundancy and inherent stability ensure the vehicle can be operated with no special skillset – much like the average car. As part of its engineered redundancy, AIR ONE has very few moving parts; in fact, the vehicle's eight rotors are the only critical moving parts in the entire design. In case of a safety issue, AIR ONE can remain airborne with the loss of one of its battery packs, rotor, or even a wing.
Like any good human driver, AIR ONE constantly scans its surroundings for hazards – and it crosschecks these external inputs with internal systems throughout the entire flight, automatically alerting the user to any required action. With a proprietary "Fly-By-Intent" system, AIR ONE can translate the pilot's intentions into the necessary control inputs, essentially eliminating "loss of control." In case of failure, the system will alert the pilot to land as soon as possible. Additionally, more basic functions such as route planning, location tools, and easy troubleshooting let the AIR ONE's pilot and passenger feel at ease in the sky.
Innovative Manufacturing Techniques for Scale
Helmed by veteran innovators from the automotive and aviation industries, AIR incorporates automotive design and production methods into the aerospace sector, transmitting their vision of personal air transport into the commercial space. Once AIR begins mass production of personal eVTOLs, the average purchase price will drop, leading to the development of more diverse models, allowing a wider audience than ever to take to the skies.
Progress
After coming out of stealth in July 2021, AIR introduced the world to AIR ONE, launching eVTOLs for personal use as a new category of AAM. The subsequent year has been a whirlwind of continual momentum and critical partnerships. Some milestones include:
AIR continues to work with the FAA, which they have done since 2019, to offer private-sector cooperation and insights that will inform the unfolding guidelines for vehicle certification and pilot licensing.
In March of this year, AIR forged a partnership with Australia's FlyOnE, a pioneer in the emerging green transport market and a leading supplier of electric aircraft. The partnership also marked the launch of the AIR Brand Ambassador (ABA) program, providing strategic partners around the world the opportunity to share the freedom of personal flight with their communities.
AIR completed its first Drop Test in April 2022. The success of this test marked the kickoff of AIR's power and communication system integration.
In May 2022, AIR unveiled the full-scale prototype of the AIR ONE at the Kentucky Derby. The unveiling came alongside the announcement of another partnership with Aeroauto, the World's First Aeromall, to establish a specialized Air Mobility Vehicle Showroom and Dealership in Palm Beach County, Florida.
What's Next?
Nearly 200 customers have secured their AIR ONE preorders via AIR's website. This growing community of future AIR ONE owners supports the promise of Personal Air Mobility at scale. And as the name implies, AIR ONE is just the first mass production model, with additional models to follow.
AIR is enroute to full envelope flight testing, with manned flights planned for 2023 and the first round of deliveries set for the following year. Until then, AIR will continue its certification process.
WATCH!
Take to the Skies
What was once a futuristic fantasy has become something tangible. AAM is rapidly becoming an integral part of the tech and mobility industries, without compromising safety or sustainability. AIR is proud to be a leader in this burgeoning industry and looks forward to sharing future accomplishments.