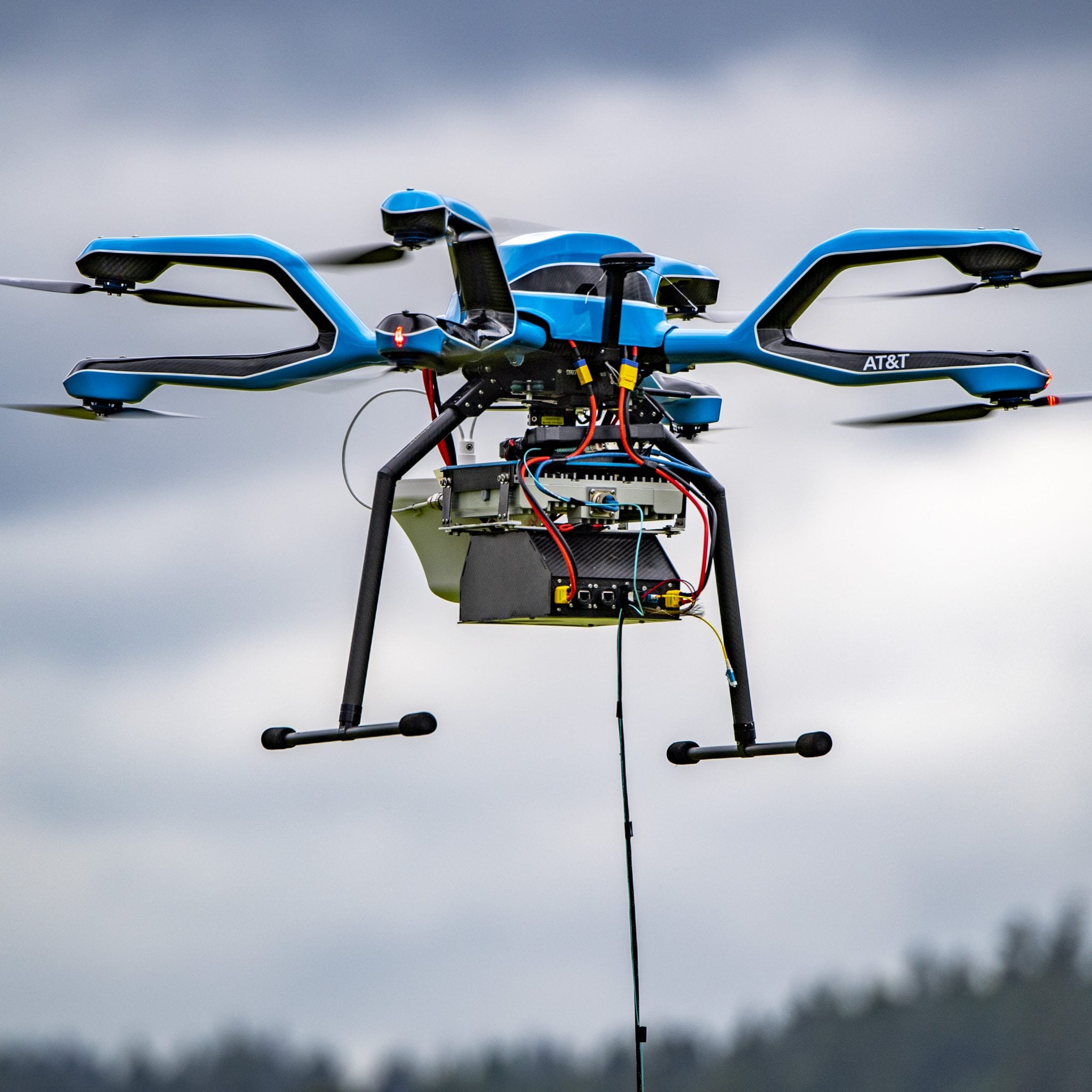 ---
Above: An AT&T Flying COW (Cell on Wings).
25 August 2022
By Art Pregler, Unmanned Aircraft Systems (UAS) Program Director, AT&T
At AT&T, our drone program is an important part of our network strategy to keep communities, businesses, and first responders connected. In fact, our drone program stands out in the telecom industry. As the only one of its kind, our program features our team of approximately 30 highly trained drone pilots and custom-built drones that are always ready to go.
The Power of our Drone Program
Our drone pilots are at the ready to help our customers, communities, businesses and first responders in many ways.
Climbing cell towers takes time and resources, so by utilizing drones, we have the option to efficiently inspect towers, check for needed repairs, and provide intel  in advance of sending techs to the top. Our drone team is working to automate drone inspections of towers as well as other network facilities and equipment.
Taking to the sky, our drones can also function as flying cell sites. Once deployed and operational, our Flying COWs® (Cell on Wings) can transform areas with no service to fast wireless connections in seconds—perfect for extremely rural events, or immediately following a disaster. From up to 400 feet in the air, our drones can provide 4G LTE, 5G, FirstNet® (America's public safety network), private networks and Wi-Fi connectivity for up to miles depending on terrain, foliage and other obstructions.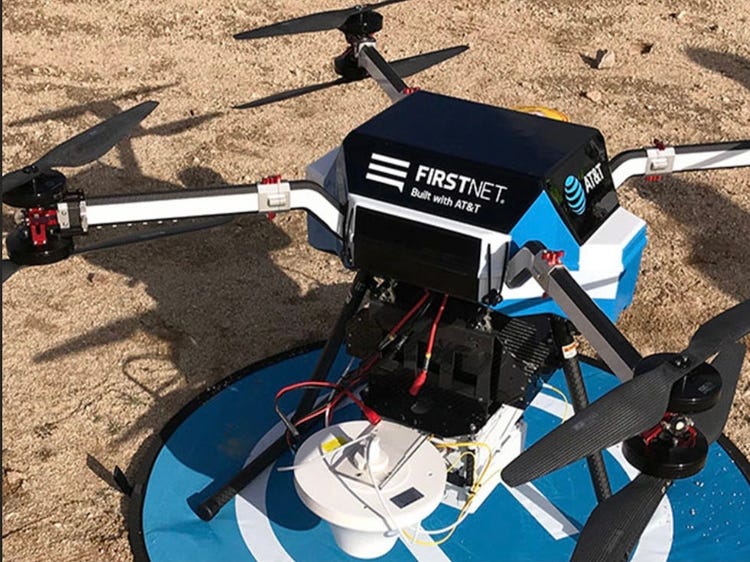 Above: A FirstNet drone.
After a hurricane, for example, flooding may prevent repair crews from getting access to impacted cell sites to quickly restore power. In this scenario, our drones can fly over the devastation to not only help first responders stay connected, but also to help understand what tools and resources are needed for recovery. This allows us to proactively equip our technicians on the ground in challenging conditions and help speed the restoration of service for communities.
Down to Ground Level: Connectivity from Drones and to Drones
Flying COWs are as diverse as the connectivity they provide with multirotor, helicopter, fixed wing, vertical takeoff and landing (VTOL), and aerostat (blimp) types. And we're continually evolving our program, including innovations such as heavy-lift and high-altitude pseudo satellites (HAPS) currently in development.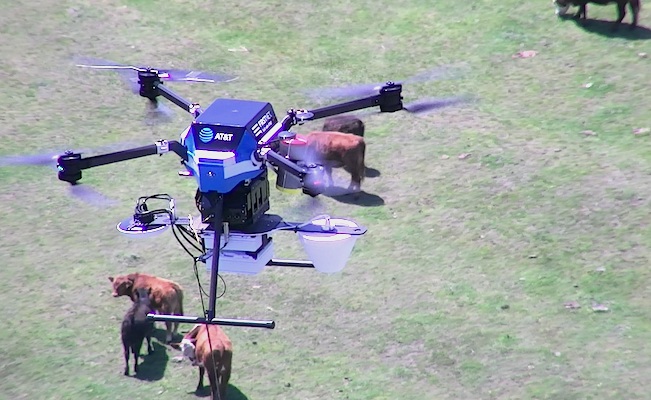 Above: A COW monitors, well ... cows.
Our team consistently works through technical challenges and always with an eye on ways to expand our drone capabilities. A core requirement for any deployment begins with having strong backhaul—our toolbox of solutions include fiber, geostationary (GEO) satellite, low Earth orbit (LEO) satellite, and microwave, with free space optical (FSO) and troposcatter on the horizon. Next, is power to the drones, with options including tethered electric, battery, solar, gasoline, hybrid and, perhaps someday, a laser solution.
Providing seamless, secure, and reliable connectivity is the foundation of all we do and essential for our customers. As part of our pioneering heritage and approach, AT&T Labs developed and patented a comprehensive connectivity solution and flight control system for drones: Geocast Air Operations Framework (GAOF).
GAOF delivers critical safety features necessary for mobile IoT applications to meet regulatory requirements. These features also help support commercially viable applications and deliver industry-use cases. For example, by utilizing drone-enabled Wi-Fi, communities with impacted cell service following a major hurricane can stay connected. Another industry application could be a drone deployment following an earthquake. In this scenario, drone connectivity could help first responders send geographic queries, map responses, and target alerts to individual devices.
The Power of Drones
AT&T's global network is monitored around the clock as part of our focus on delivering reliable, consistent connectivity and the best customer experience. We have a suite of drone solutions to support this work, including the capability to perform airborne RF interference hunting, RF drive testing, real-time trouble-shooting, and more. These drone-enabled RF monitoring solutions help AT&T engineers optimize cellular network performance to improve the overall wireless experience for our connected users.
Our latest drones are Robot Dogs. These quadrupedal, uncrewed ground vehicles (Q-UGV) can provide 4G and 5G connectivity platforms for use in a wide range of applications in a broad range of unstructured urban and natural environments. Basically, we harness a drone to the back of the RoboDogs and send them into areas that are hard to reach or have dangerous implications for our techs. Imagine, we—or first responders—can send them into wildfire settings with infrared cameras to help us find survivors or assess damage. Our teams are continually working to improve connectivity for these devices, including outfitting them with 5G technology.
Soon, these RoboDogs will be integrated with our GAOF connectivity system to enable fully autonomous operations over any distance. And we're working on solutions to autonomously launch, recover, and operate drones from them.
Watch: Learn More About the Flying COWs
Looking Ahead
I see a future where connectivity solutions—like—GAOF provide safe, reliable, and redundant command and control protocols to drones and other IoT devices – innovative enhancements in an integrated and connected world.
It's also not too "in the sky" to envision a future wireless network with high levels of autonomy that determines in real-time when additional connectivity is needed.
Imagine a day where the network quickly dispatches Flying COWs from their home perches on cell towers and other structures to fulfill temporary connectivity needs, such as a spike in demand from a large gathering of people. Operating through the AT&T GAOF flight control system, Flying COWs would autonomously request proper governmental clearances, navigate airspace, and avoid obstacles and weather disruptions—all while enroute to their temporary service location. Once the network determines the additional connectivity is no longer needed, the Flying COWs will return to their home perches to recharge and await their next dispatch.
When I gaze into the future, the capabilities of drones and the potential solutions they could provide are sky high.  
In addition to being AT&T's UAS Program Director—and leading the company's national drone program—Art Pregler is a former FAA-trained air traffic controller, former U.S. Air Force air safety officer, and former NASA mission control specialist.