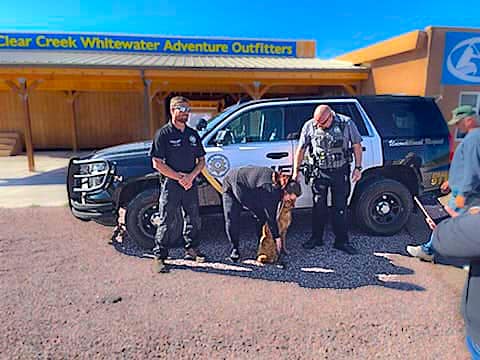 ---
16 September 2022
A drone-training session by the Fremont County Sheriff's Office in Colorado Springs, Colorado, lead to the rescue of a golden retriever that had been missing for three months.
The training session was undertaken in an area where the dog—named Farah—had been seen and even photographed by residents the past few months. Rescue attempts were unsuccessful.
"If people got too close, she'd run away," said Farah's owner, Taylor Salazar. "She knew where to go. She was hiding." 
However, the infrared camera on the drone deployed by sheriff's deputies found Farah almost immediately after the training session was launched. Salazar was called, and she was able to assist the deputies in retrieving Farah by offering up a piece of chicken meat.
"She stuck her head through the barbed wire fence, and the next minute she was laying in my lap," said Salazar. 
"Today the FCSO UAS team took part in a training mission with a humanitarian twist," stated the Fremont County Sheriff's Office on its Facebook page. "Farah the Golden Retrever was lost several months ago when the car she was in was involved in an accident. Today, the FCSO drone was deployed in the area where she was last seen. Within minutes, deputies spotted her using the drone's infrared camera. A short time later, Farah was reunited with her family. She is safely on her way home, and the UAS team was able to practice some very valuable search and rescue techniques with our drone."