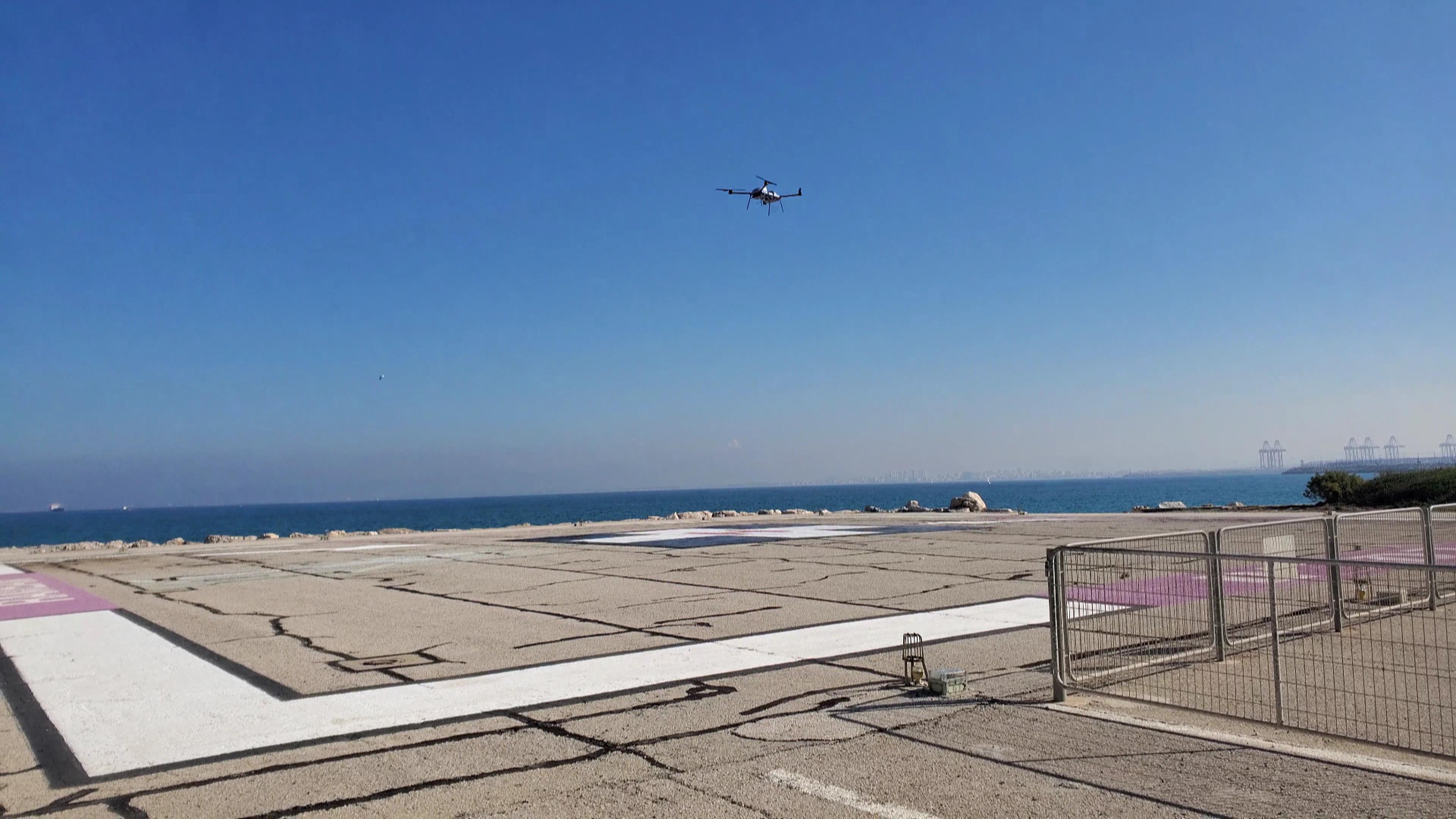 ---
16 February 2023
An autonomous drone, controlled by FlightOps multi-drone operating system, recently performed Israel's longest autonomous medical equipment delivery via air. The drone, which operated beyond visual line of sight (BVLOS), successfully carried blood units over approximately 15.5 miles. 
In partnership with the Israeli Ministry of Health's Medical Centers Division, the Galilee Medical Center utilized the FlightOps drone operating system to safely deliver medical equipment without compromising the quality of the samples. The drone, operated by DownWind, one of Israel's largest commercial drone-operating companies, transported blood units from the Rambam Medical Center Haifa to the heliport of the Galilee Medical Center. This is the longest distance any medical equipment has been transported by an unmanned aerial vehicle (UAV) in Israel. 
According to Professor Masaad Barhoum, the director of Galilee Medical Center: "Progress and technology are an integral part of our values. Within this framework, we place special emphasis on projects that combine innovation and bring value to the residents of the area." 
FlightOps co-founder, Ofer Haruvi, stated: "The route from the Rambam Medical Center to the Galilee Medical Center in Nahariya constitutes a new record for a drone flight licensed by the Civil Aviation Authority for a distance of 15.5 miles in an urban area. We are happy the technology developed by the company will be used to positively impact public health and supports a viable commercial business model." 
The FlightOps drone operating system was utilized for a record-breaking flight for the second time in a public-health mission within the last six months. In July 2022, the FlightOps system safely transported medical laboratory tests—including blood counts, urine tests, and coagulation tests— between Hillel Yaffe Medical Center and Sha'ar Menashe Mental Health Center over a distance of 9.7 miles. 
FlightOps OS is robotic software that can be installed on drones of any type, replacing human pilots with artificial intelligence. This enables enhanced onboard decision-making and lowers reliance on communication, reducing the exposure to human errors. The FlightOps technology allows for automated mission planning and creates smart flight routes that avoid no-fly zones and ground and air obstacles. This allows for massive scalability in both the number and range of missions while reducing operating costs. FlightOps is a cloud-based software that enables drone and air mobility service providers to scale up their operations in terms of range and number of missions. 
About FlightOps
Headquartered in Herzliya, Israel, FlightOps offers a cloud-based flight automation software infrastructure that allows drone and air mobility service providers to easily scale up their operations in terms of both the range and the number of missions, all while reducing their operating costs. With FlightOps, businesses can streamline their flight operations, maintain safety, and lower expenses.