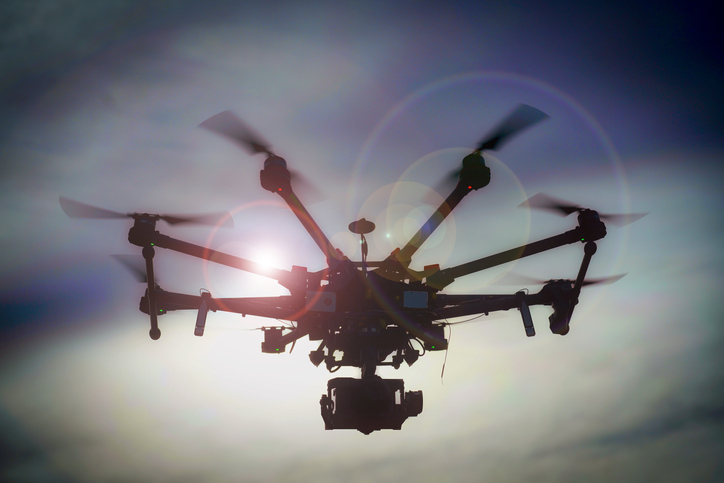 ---
"You should think about launching a drone show."
Those were the words uttered to members of the SPAR 3D Expo & Conference team in 2013. Created as an event that could showcase 3D laser scanning innovations, it had by that point evolved into something that was less about hardware and more about 3D processing and 3D visualization tools. 
However, the means of capturing this information was a particularly hot topic that year, as numerous exhibitors were showcasing how laser scanning or camera solutions could be attached to a small UAS (unmanned aircraft system). Doing so provided users with a whole different perspective and approach to capturing information in a faster, cheaper, and safer manner.
The interest and activity around these solutions got our team's attention. A conversation about a drone show in 2013 turned into an idea for an event in 2014, which saw the launch of the Commercial UAV (Unmanned Aerial Vehicle) Expo in 2015. A specific focus on how drones would make an impact for non-model operations helped make it one of the most successful launches in the history of parent company Diversified Communications—which is saying something for an organization that has been running trade shows for nearly half a century. 
That success didn't happen in a vacuum, though. 
AUVSI's infamous 2014 Economic Impact of Unmanned Aircraft Systems Integration in the United States report estimated that drone technology would create more than 100,000 jobs and cultivate an economic impact of $82 billion between 2015 and 2025. It was just the first of many reports predicting the impact of a transformational technology. Few of those reports took the time to fully explore what those transformations could look like, though. All of it created outlandish expectations that needed to be reset. 
With drones, it's easy to get caught up with the possibilities. The hype that drove all of those billion-dollar predictions was built on the notion that a drone could do just about anything from autonomously scanning a job site to bringing you your morning coffee. Of course, the hype never stopped to ask about the regulation associated with that kind of autonomy, or whether a given user actually wants their coffee delivered to them in that manner. 
Those kinds of details are connected to the first edition of the Commercial UAV Expo, as I recall reading survey data from it that reported attendees wanted to know about two things above all else: Regulation and ROI. Users across countless sectors have struggled with both as they work to define how and where the technology can create value for their organizations.
With regulation, the FAA has come a long way from the manual process associated with filing a Section 333 Exemption to legally take a drone into the sky for commercial-drone operations. The FAA's Small UAS Rule (Part 107) redefined and normalized this process to near universal acclaim. More recent developments with Remote ID have further proven the agency's commitment to integrating the technology into the airspace. With more than 50,000 comments to that NPRM (Notice of Proposed Rulemaking), the interest in using the technology is clearly as prominent as ever.
Still, even with that progress, many in the space are critical of the FAA's approach. These voices aren't advocating for the abandonment of the agency's prime focus on safety, but are instead claiming the FAA is moving unnecessarily slow, and stifling opportunity and innovation. Some of the expectations around what such innovations should look like stem from hype that largely claimed this technology could be easily adopted to create that ROI. The reality is far more complicated. 
There is no "easy" drone button. Additionally, drones are tools like any other, and need to be utilized as such. Anyone that wants to create value with drones needs to dig in and quantify how the technology will actually be used and implemented. For anyone creating a drone program, it means realizing that securing a Part 107 certificate is just the beginning of their journey—not the end of it. For drone service providers, it means making a commitment to an industry, and being able to provide a specific type of service to stakeholders in it.
The differences that can be created when making that commitment are quantifiable. Whether it's reducing a task that previously took four hours into four minutes, or eliminating the purchase of a more expensive piece of equipment, or keeping people out of dangerous situations they'd otherwise have to navigate, the value is real. However, it's not a given, and it is a question of commitment rather than potential. 
The drone industry has seen major shake-ups and shakeouts on account of stakeholders and advocates who were more focused on that potential. Companies like Airware no longer exist, while others like 3DR have changed to the point that they're completely different organizations than they were in those early days. That's just part of the reason the conversations that take place at the Commercial UAV Expo are always different and ever-evolving. 
That said, the ability to connect with the experts and innovators that have made this commitment to drone technology goes back to that first event and continues to resonate. 
More than 200 exhibitors and 3,000 professionals in the commercial-drone industry got together at Commercial UAV Expo Americas 2019, setting new records for the entire industry. That energy and activity transferred into what became a virtual event in 2020, but is set to be taken to another level in 2021, with the event once again taking place in person.
Keynote presentations that open Commercial UAV Expo Americas set the framework for the event by providing essential regulatory and technological updates that are explored in greater detail throughout the show floor, and as part of the conference program. Each session is designed to address regulation and ROI in direct and indirect ways.
Given that we weren't able to connect in person in 2020, the question of what I'm most looking forward to at the Expo this year has come up with great frequency. I typically say I'm just excited to connect with people in person rather than over a computer, but there's a more complete answer to that question—which every attendee can experience.  
What I'm most interested in are the technologies and innovations I haven't heard about yet. Just like our team was exposed to an innovation at one of our events that led to the launch a whole new one, I'm most excited to learn about something that's going to change the drone industry, or enable an entirely new application of it. I have no idea what that might look like, but conversations that cultivate this kind of innovation on every level have taken place at every single edition of the Commercial UAV Expo. There's no reason to believe that won't continue in 2021 and beyond. 
A conversation about a drone show at a 3D scanning conference ended up with an event dedicated to that technology. What might come from the conversations that can take place at that very drone show? I have no idea, but I'm looking forward to having them.
Jeremiah Karpowicz is the Editorial Director for the Technology Group at Diversified Communications. You can connect with him at the Commercial UAV Expo, taking place September 7-9, 2021 at the Mirage in Las Vegas. Registration for the event is now open.