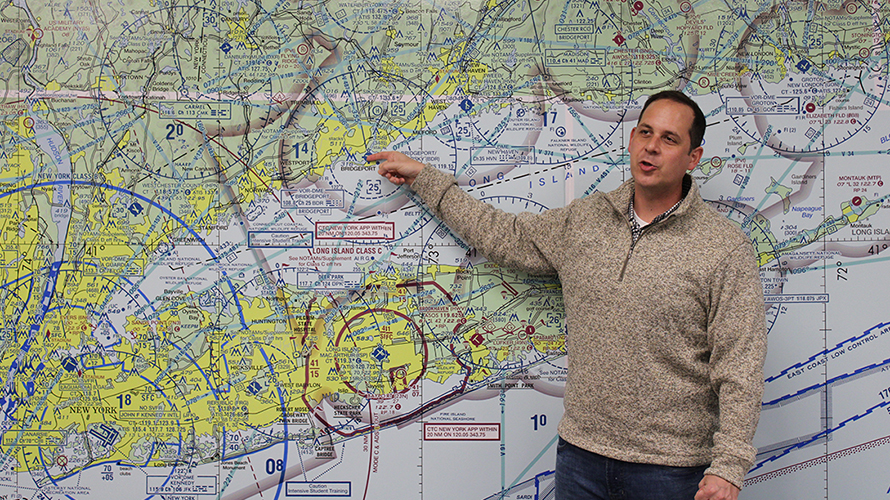 ---
Above Photo: As a former air traffic control manager, Jason Beim uses his expertise to explain to students the various aspects of flying in controlled airspace using his classroom's wall-size FAA sectional map. 
2 December 2022
In another expansion of its nationally recognized drone and unmanned systems program, Warren County Community College has added a former air traffic controller, NY/NJ control tower manager, and drone flight safety expert to the staff as a senior adjunct professor.
Jason Beim brings to the WarrenUAS staff a wide scope of insight about flight and drone operations, particularly about the safe piloting of the equipment, a priority for the college as it trains a rapidly increasing number of students for the fast-growing industry.
"I have relied on Jason for advice in the past as we reached various key junctures in the creation of this program," says Warren President Will Austin. "Now, our students can benefit from his vast knowledge about flight and drones specifically, and their safe operation in airspace. He will more formally be contributing to our program as it continues our rapid expansion in enrollment and broader reach in the study of this many-faceted industry."
The college is leading the way in exploration of new arenas for the technology—such as flight above populated areas and BVLOS operations, two areas where it has received rare federal Certificates of Waiver to operate (and where Beim has expertise). The FAA-recognized Collegiate Training Initiative (CTI) drone program at Warren is also working on the training of students in specialized use of drones in sectors such as agriculture, law enforcement, and environmental protection.
"Drone flight has a lot in common with traditional flight," explains Beim. "When you get a commercial license to fly a drone, you are in effect getting a pilot's license. One of my goals is for students at WarrenUAS to understand their responsibility to follow the rules, fly safely, and be a good steward for the evolving industry."
Learn More About WarrenUAS
Beim worked in aviation in various roles including an airframe and power-plant mechanic, a private manned aircraft pilot, and as an air-traffic-control manager for more than 16 years—most recently one of the busiest air spaces in the country, New Jersey's Teterboro Airport. He says he made the move to work in the drone industry because of a long-held interest in the technology and a belief that the use of unmanned systems will boom over the next decade in a wide range or capacities.
Along with his efforts at Warren, Beim is now a Senior Manager of Safety at DroneUp, a national leader in the growing drone services field, where it has major involvement with government agencies and large U.S. corporations.
"It is exciting to be working with both a commercial venture and an educational institution that are really on the cutting edge of this industry's development," says Beim. "At Warren, we are exploring and establishing the newest ways drones can be used and the safest operational practices, while educating students who will become some of our nation's best and most thoroughly-trained pilots and technicians."
Beim has taken the lead in the efforts by WarrenUAS to get the required and relatively rare waivers to fly drones over public areas and out of site of the pilot, giving students real-world experience as the technology begins to make inroads into industries such as agriculture, public safety, entertainment, environmental protection, and public utilities. He also notes that issues related to how drones are classified and regulated need to be collaboratively addressed.
"I hope I can continue to contribute to a culture at Warren that explores the latest technological advances for the field in a number of ways, and help assure that, as it grows, it has the confidence of the public that issues of safety and privacy will be fully addressed."
Austin also announced the hiring of Sai Sankar, an expert in drone and robotics education and development. Sankar has been named teaching administrator for artificial intelligence and robotics at the college, where he will direct the broad expansion of its robotics and drone programs, housed in two new facilities that opened this fall—a new building and a renovated facility that has been the center for the program.
In addition, Drone pilot and recent Embry-Riddle graduate Adam Kyle has been brought onboard to develop a new program to train students in precision agriculture methods using unmanned systems.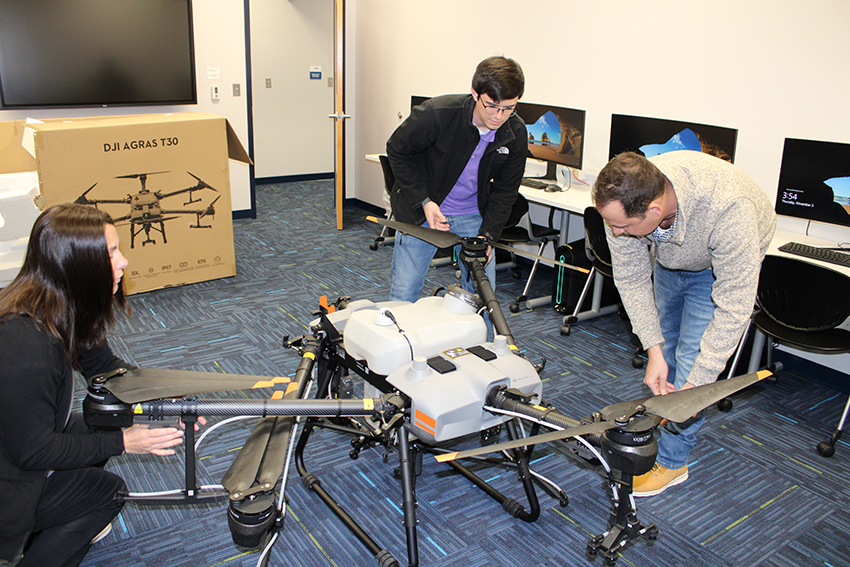 Beim helps Adam Kyle, Precision Ag instructor, set up a new DJI Agras T30 that will be utilized in the spring as a teaching aide and research tool.