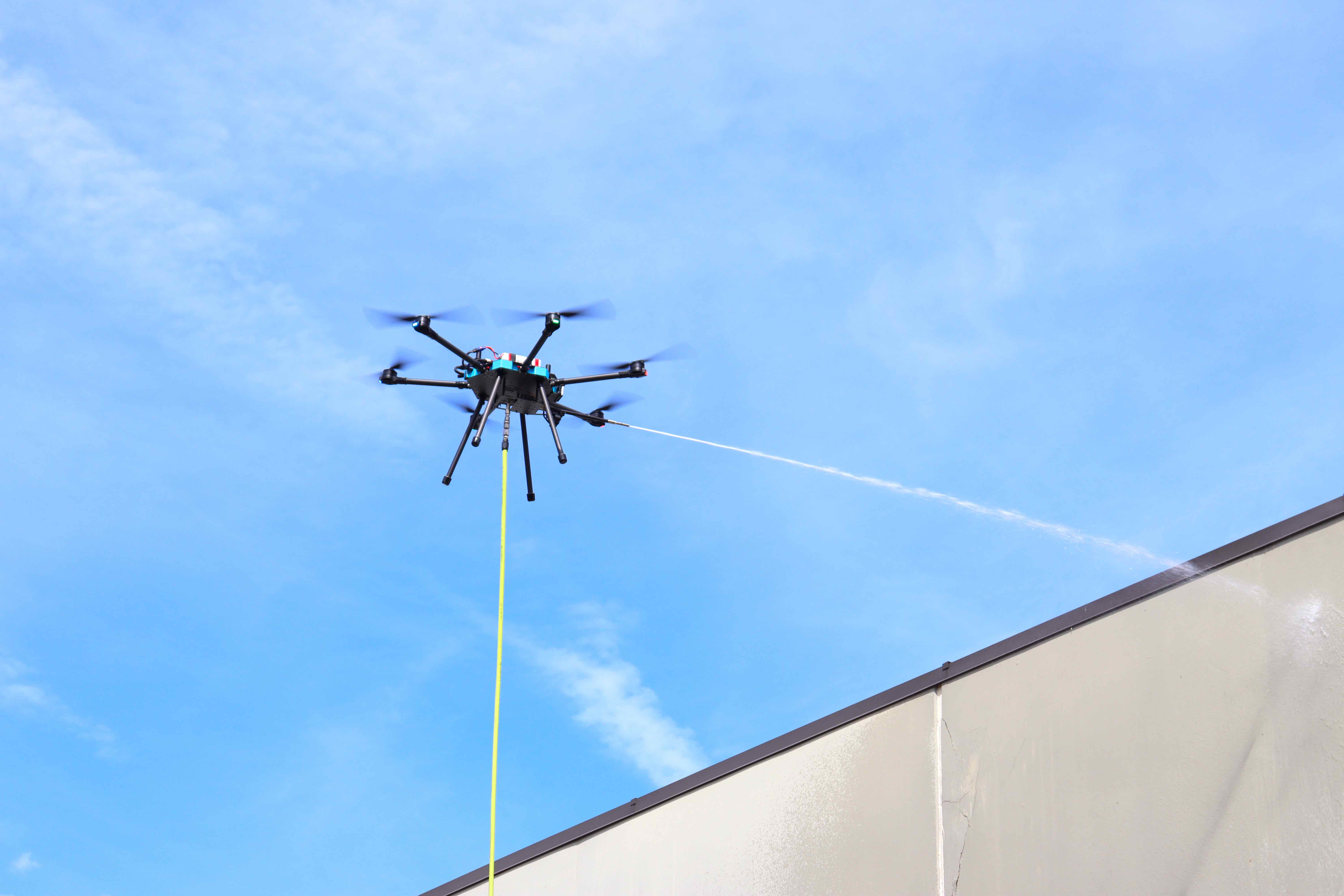 ---
August 16, 2022
By Taylor Gantt, Lucid Drone Technologies
Lucid Drone Technologies began as a brainstorming session between friends in their college dorm room. Andrew Ashur, founder and CEO, noticed window washers hanging on a lift, swaying in the wind, and knew there had to be a safer, faster, and smarter way to wash exterior buildings.
"It seemed obvious," says Ashur. "How could we leverage technology to make that a safer, more efficient job?"
The friends spent about $50,000 on a few DJI drones, but technical issues prevented them from building the product they envisioned. The exercise made it clear they would need to build the drones themselves from scratch.
"I essentially locked myself in this attic above a garage for three months where I taught myself the ins and outs of the mechanical, electrical, and software engineering to build our first drones," explains Ashur, who studied economics and Spanish—not engineering—at Davidson College, North Carolina.
Ashur finally figured out the secret formula to a perfect, commercial exterior-cleaning drone, and that's when his vision became a reality. At this point, things started to ramp up for the young entrepreneur, and his hard work and persistence paid off recently when he made the shortlist for the United States 101 Top CEO's in the Industrial Automation Space.
Lucid Drone Technologies Today
The company focuses on five core values.
Impact • We aim to make the world and the people around us better through our actions.
Innovation • We are committed to developing disruptive solutions and creating pioneering technology.
Customer Driven • We strive to put our customers first to ensure their success.
Integrity • We hold ourselves and one another to a high standard of excellence and dependability.
Kaizen [Japanese for "improvement"] • We are committed to constantly learning, growing, and developing.
The C1 Cleaning Drone REV-D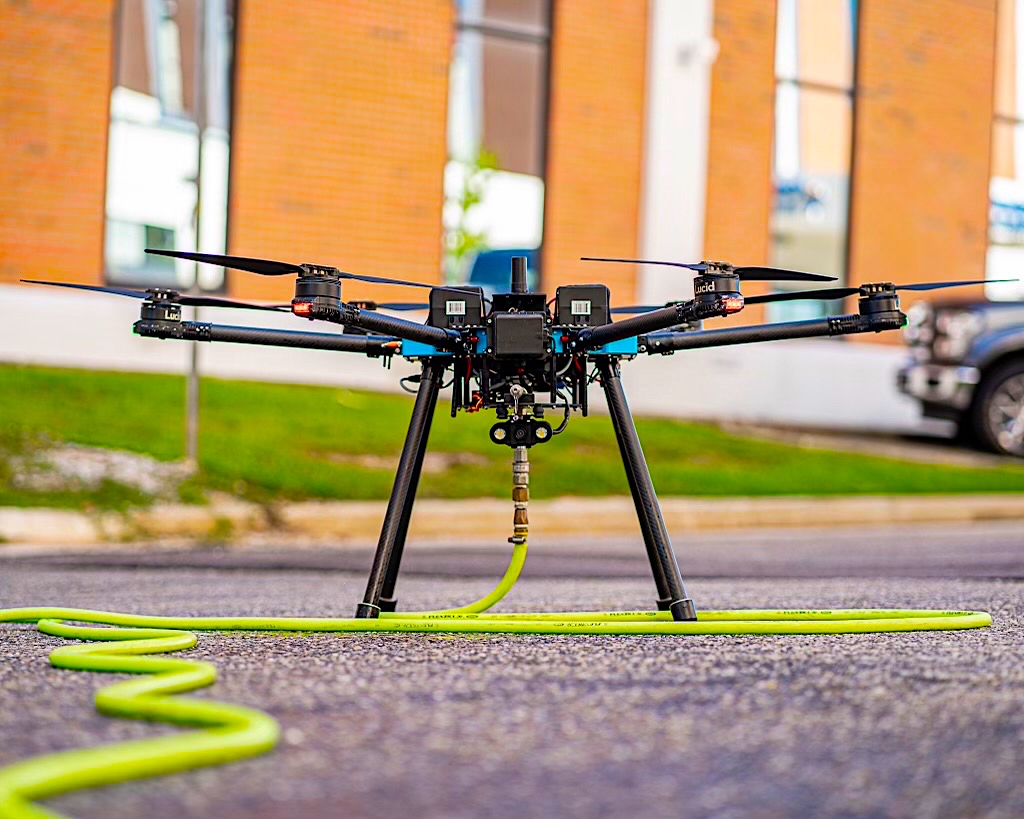 The Lucid C1 Cleaning Drone REV–D model is a revolutionary piece of technology that can spray any liquid such as water, cleaning solution, and deicing chemicals. Common use cases include hotels, apartment buildings, colleges, hospitals, water tanks, and more.
Lucid drones have six propellers and connect to a hose on the ground. They're authorized to fly up to 110 feet—about 10 stories—and hold two batteries, each of which can power 15 to 20 minutes of flight. The pilot uses a handheld controller, much like a video-game controller.
There are a few special features that make Lucid's drone stand out from other commercial drones, such as urban flight capability, onboard WiFi and LTE, intelligent batteries, and a smart controller. 
The C1 Cleaning Drone has several advantages compared to traditional exterior washing methods.
It's Safer
• Over half a million people are brought to the emergency room with ladder-related injuries annually.
• One quarter of a million people require time off work due to ladder-related injuries.
• Ladder falls are the 2nd leading cause of death, behind motor vehicle accidents.
It's Faster
• Customers average three to four more jobs a week with a drone.
• Less setup and breakdown time than traditional cleaning methods.
• Spend less time on customer property for larger, more expensive jobs.
It's Smarter
• More job opportunities at hotels, hospitals, golf courses, and so on.
• Less-expensive equipment costs, and no need to rent a lift.
• Less labor needed and reduction of liability.
With a mission dedicated to customer success and the ability to elevate efficiency, safety, and humanity by creating the world's most productive drone, Lucid Drone Technologies has been able to:
• Reduce job site injuries by 95 percent by keeping workers on the ground.
• Increase efficiency by 80 percent by reducing setup time and a faster clean.
• Lower costs by 77 percent.
Bottom Line: With advanced drone technology, built purposefully for exterior home cleaning, businesses and employees are staying safe on the ground, securing more jobs, and making more money. Lucid is also a full-stack solution for cleaning companies as it provides training, support, repairs, and education.
What Is Soft Washing?
Commercial-cleaning drone technology uses a soft wash method, rather than pressure washing. The soft-wash drone technique provides a safer alternative to pressure washing, leaving no damage to the building or structure. The chemical layer also provides a more thorough clean that lasts long after the original cleaning. Additionally, soft washing with a drone provides countless advantages, allowing the pilot to do the job from a safe distance.
Future Vision 
Lucid Drone Technologies has a vision where there is a "drone for every building," as well as using drones for multiple automated tasks, such as cleaning, painting, pest control, and firefighting. The company believes automated drones are the future of exterior-property maintenance, and it is growing more than 300 percent year over year (YOY). With how rapidly the commercial-drone space is expanding, Lucid Drone Technologies plans to continue to be the leader of purpose-built spray drones in North America.
Watch!
About Lucid Drone Technologies
Lucid Drone Technologies is a Charlotte, NC-based robotics company that currently designs and builds industrial spraying drones for labor-intensive jobs. Lucid Drone Technologies was started in 2018, and set out to provide a safer, faster, and smarter alternative to traditional dull, dirty, and dangerous jobs. To learn more, visit www.luciddronetech.com.