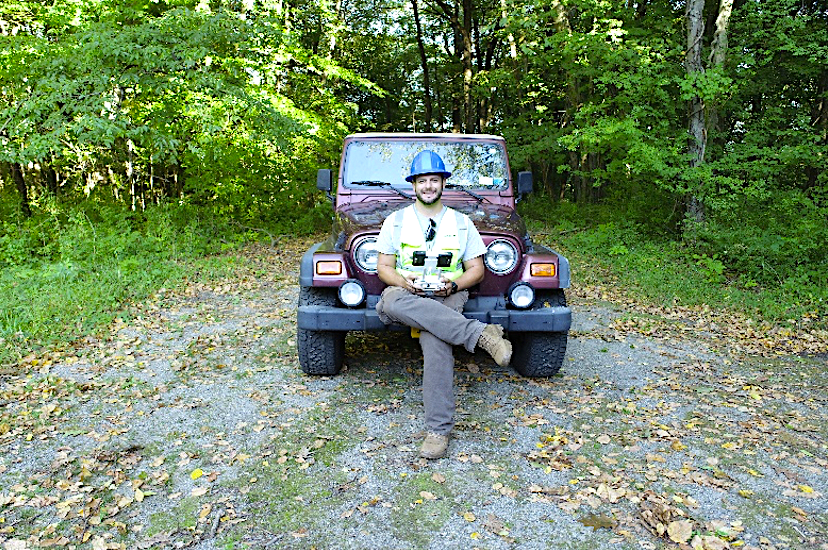 ---
26 January 2023
2020 was a strange time to start a business, and I can't begin to discuss what led me to do so without first exploring the context surrounding its inception. We were hardly three months into a new year and decade when the growing COVID-19 pandemic escalated into a global crisis and spurred a domino effect of unintended consequences. Like many others, I found myself suddenly laid off and locked down as health systems faced overwhelming demands and organizations struggled to stay afloat. They say every ending is a new beginning, though, and that was certainly the case for me. Out of work and faced with a world of uncertainty, I started down a path I'd never previously considered—starting my own drone business.
It started as a hobby. I bought my first drone in 2016, an inexpensive Syma X5C. As a self-proclaimed movie-buff and a gamer, I'd been seeing the technology grow in popularity, and I wanted to see if I could get a grip on this innovative technology. As soon as it arrived, I immediately discovered the cost-learning curve—that is, the less you spend on a drone, the harder it is to fly, since there are fewer stabilizing features such as GPS to assist with the flight.
This may have been a good thing, though. I had an aerial platform that could reliably continue working after a crash, and a drive to continue learning new things. Bringing it along on hikes was a win-win; I began to hone my skills, and my German Shepherd got routine exercise chasing it around. In 2018, I bought my first DJI drone, a yellow Spark I aptly named Bumblebee. The difference was night and day. Without having to worry about simply keeping the drone in the air and not crashing into a tree, I was able to begin experimenting with the HD photo and video potential it offered, and suddenly a world of possibility was unlocked.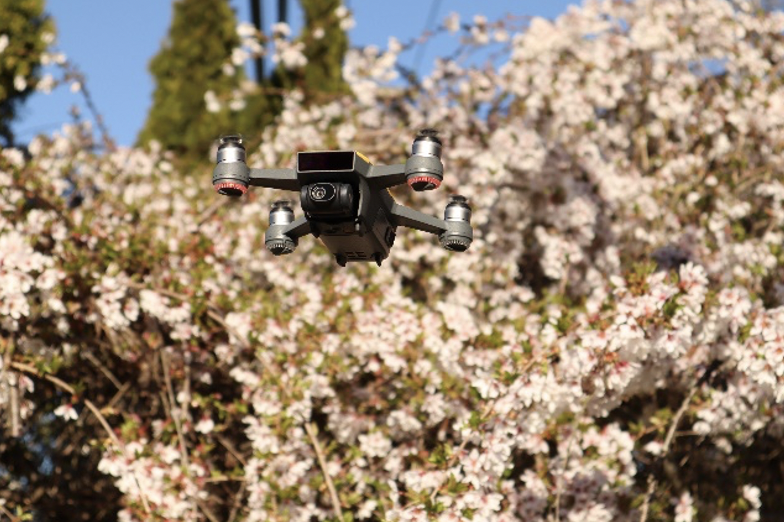 "Bumblebee"
I've always had an appreciation for the arts but never really considered myself to be talented in that regard. But, I've always loved music. Experimenting with nature and travel clips enabled me to explore the possibilities of syncing footage I shot with soundscapes that matched the atmosphere I was hoping to convey, and suddenly, I discovered a new medium to channel my creativity. This new form of expression further encouraged me to try new things and visit new places, and as I shared my video projects, I was surprised by the positive feedback I'd begun to receive from friends and family.
Finally having a creative outlet was nice enough, but I soon learned that with a Part 107 license, I could even make money doing it. However, life felt busy enough as it was. I was barely out of graduate school living a commuter lifestyle here in New York, and after three years of a challenging work/life balance, where would I find the time to get a start pursuing a side hustle in drones?
Well, that brings us back to 2020, and the unintended consequences of a global pandemic. Suddenly, I had too much time, too many regrets, and nowhere to put my energy. I came across an ad and discovered Drone Pro Academy, an online course offering training for aspiring Drone Pilots. This course was instrumental in getting me started. Not only did I manage to improve my flight dexterity and photography/videography skills, it also laid the foundation for me to study for my Part 107 license and begin forming a business.
I spent most of the Spring and Summer doing just that. I'd passed the exam, developed a website, and filed my articles of organization to launch my LLC, but I drew primarily from my academic background to build the business on a limitless vision – to provide a service for individuals and businesses interested in drone imaging , and to create aerial art. To do so, I was going to need better equipment, which led me to invest in a DJI Mavic Air 2 and subsequently an Air 2S. By the Fall of 2020, I was up and running as Dreamscape Aerials, LLC, and better yet, my first client had found me.
The Dreamscape Aerials Logo—Fall Theme.
It was rewarding to begin supporting local clients, but I knew I was merely scratching the tip of the iceberg in the drone industry. I began looking for opportunities to further grow in the field, and discovered a few companies that were building a network of Drone Pilots across the nation. I sent out a number of applications, and one invited me to train with them. In their program, I had the opportunity to fly the DJI Phantom and Matrice series, and to learn how to perform advanced operations such as inspections for infrastructure.
Following the training, I traveled across the US inspecting assets for this organization, participated as a trainer to instruct and evaluate a new cohort of Drone Operators, and would later lead a team of them in the northeast. The experience was instrumental in developing my knowledge, skills, and a network of colleagues in the drone industry, but even still, there is much more to learn.
I've since gone on to work full-time with a solar company, inspecting roofs and crafting 3D models of residential and commercial properties. Working with them has offered local and stable employment, not to mention a much better work/life balance, while I continue to grow my business with the hopes of becoming fully independent in the next few years.
In 2022, I doubled my revenue from previous years and continued to diversify the services Dreamscape Aerials has to offer. We now have a store function up and running on our website to sell merchandise such as high-quality canvas prints, and have taken on bigger opportunities. Mastering FPV is a craft in and of itself, and as we progress, it will open a new avenue of possibilities through virtual tours and crafting awe-inspiring, dynamic shots.
The drone industry is continuing to show enormous potential, with the technology being adapted across various industries and applications. As a newfound entrepreneur, I'm excited to continue immersing myself in the field. My startup, Dreamscape Aerials, LLC, is commercially licensed, insured and located in the heart of Long Island, NY. While we primarily support projects in the greater tri-state area, we're prepared to travel nationally and globally to support our clients and pursue any opportunities that come our way.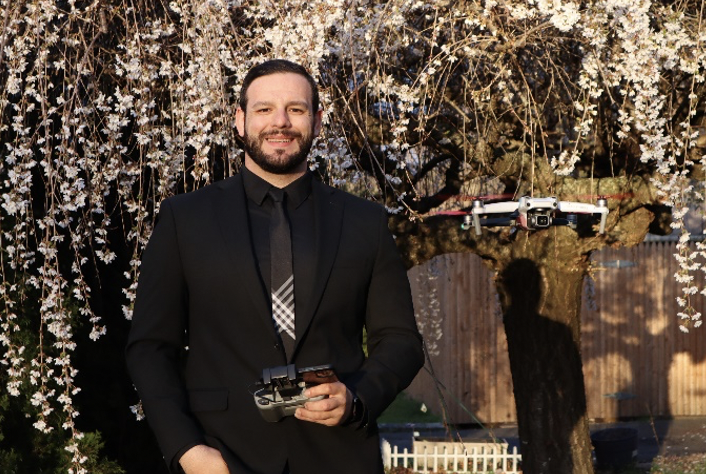 Joseph Mazzola—"Dreamscape Aerials, at your service."
Watch: Dreamscape Aerials 2022 Recap Video