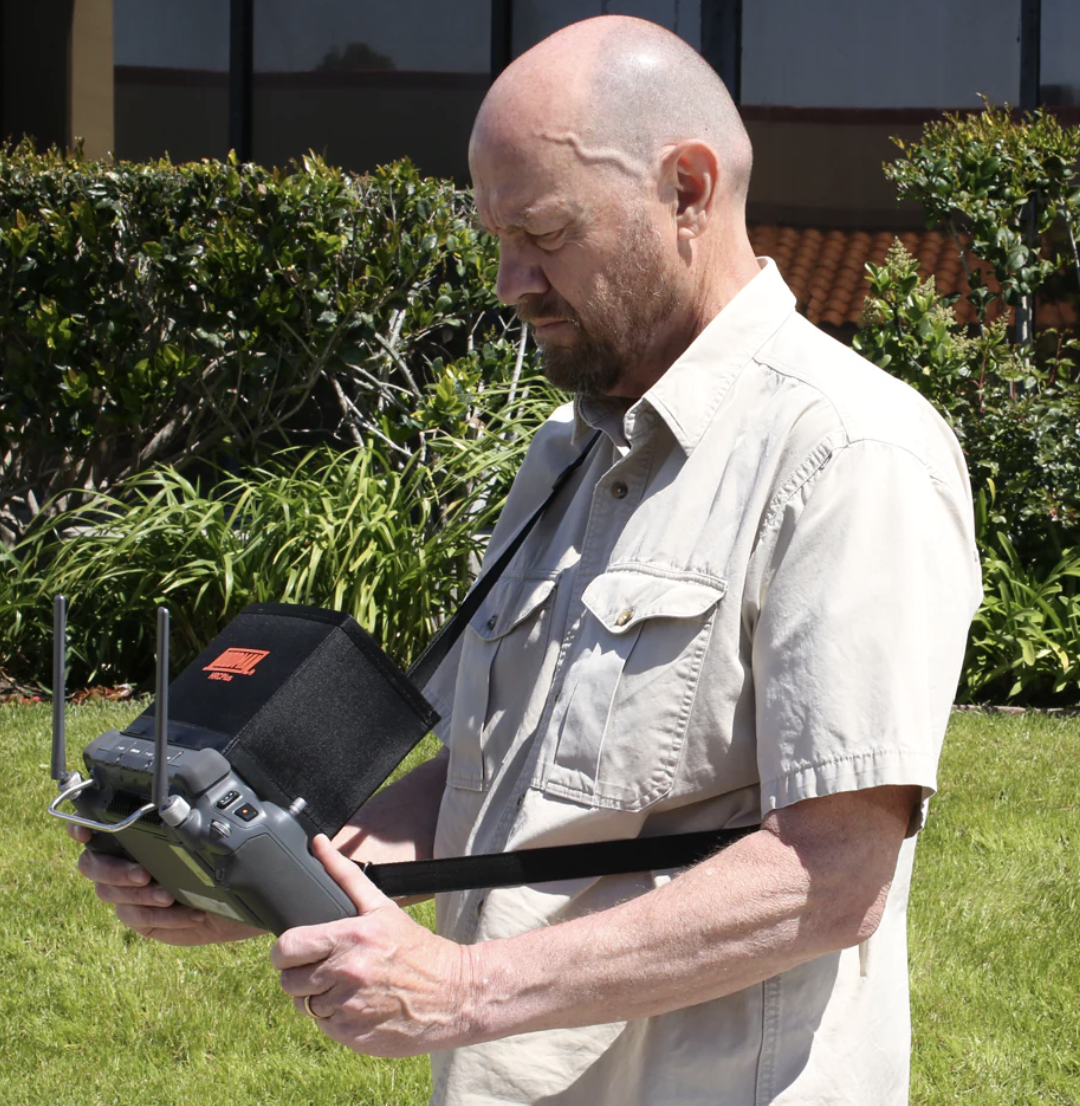 ---
17 May 2023
Hoodman is one of the first companies to create innovative, useful drone accessories. We are happy to be the first and only firm to give you a choice of 5 pro drone landing pad sizes to fit your specific drone size. Hoodman is the originator of Orange, rugged, weighted perimeter drone landing pads that do not require stakes to keep them in place. We made the first hoods for drone pilots needing to see iPads glare-free outdoors. Also first with magnetic mount hoods and controller sling straps for DJI RC controllers. Hoodman made the first tripod mounts for drone controllers to have a hands-free workstation. We created a drone belt that holds your controller and goes wherever you go. Hoodman made the first rugged orange ground control point kits for aerial mapping. The Sky Ruler is another first scaling constraint to verify scale in aerial mapping. Drone flight zone tape was created to clearly mark your drone flight ground operating zone and keep the public safely out of harm's way.
A new product showcased at AUVSI is the FlyRight Sling Strap for the DJI RC Plus controller.
HOODMAN DJI RC Plus Controller Sling Strap Kit - HRCPLUS from HoodmanUSA on Vimeo.
You probably have a sling strap for your camera.  Now Hoodman has made the FlyRight sling strap for your DJI RC PLUS drone controller. The RC PLUS controller weighs in at 3 pounds. The FlyRight Sling strap carries the weight of the drone controller while you fly, eliminating hand fatigue and providing a comfortable, stable support platform to fly from. Fly longer and fly better are the payoffs from using the Hoodman FlyRight HRCPLUS sling strap kit. The sling strap keeps the drone controller with you but comfortably out of the way on your hip, with hands free, changing batteries, memory cards, lenses and general drone servicing is possible.

The FlyRight sling Strap has adjustable slides and a padded shoulder cushion and mounts to built-in eyelets on the metal frame. The adjustable slides allow carrying the controller from 16 inches to 22 inches below the shoulder pad.

The FlyRight kit includes a magnetic mounted 4-sided anti-glare hood which provides glare free image viewing of the DJI RC Plus controller monitor. The hood base houses 9 magnets which mount to a black powder coated metal frame around the LCD. The metal frame also provides the mounting points for the sling strap. The metal frame is securely mounted to the RC Plus controller with 2 screws. The hood's bottom panel cut out facilitates touch screen access without compromising glare relief. The sunshade hood base measures 6.75 inches horizontal by 4.25 inches vertical by 5.50 inches deep. The sunshade hood folds flat for easy storage and transport.

Hoodman's innovative new FlyRight sling strap kit is proudly designed and made in the USA.
Learn More!
Elle interviews Lou Schmidt, Hoodman Vice President of Marketing at Xponential 2023 in Denver, Colorado.