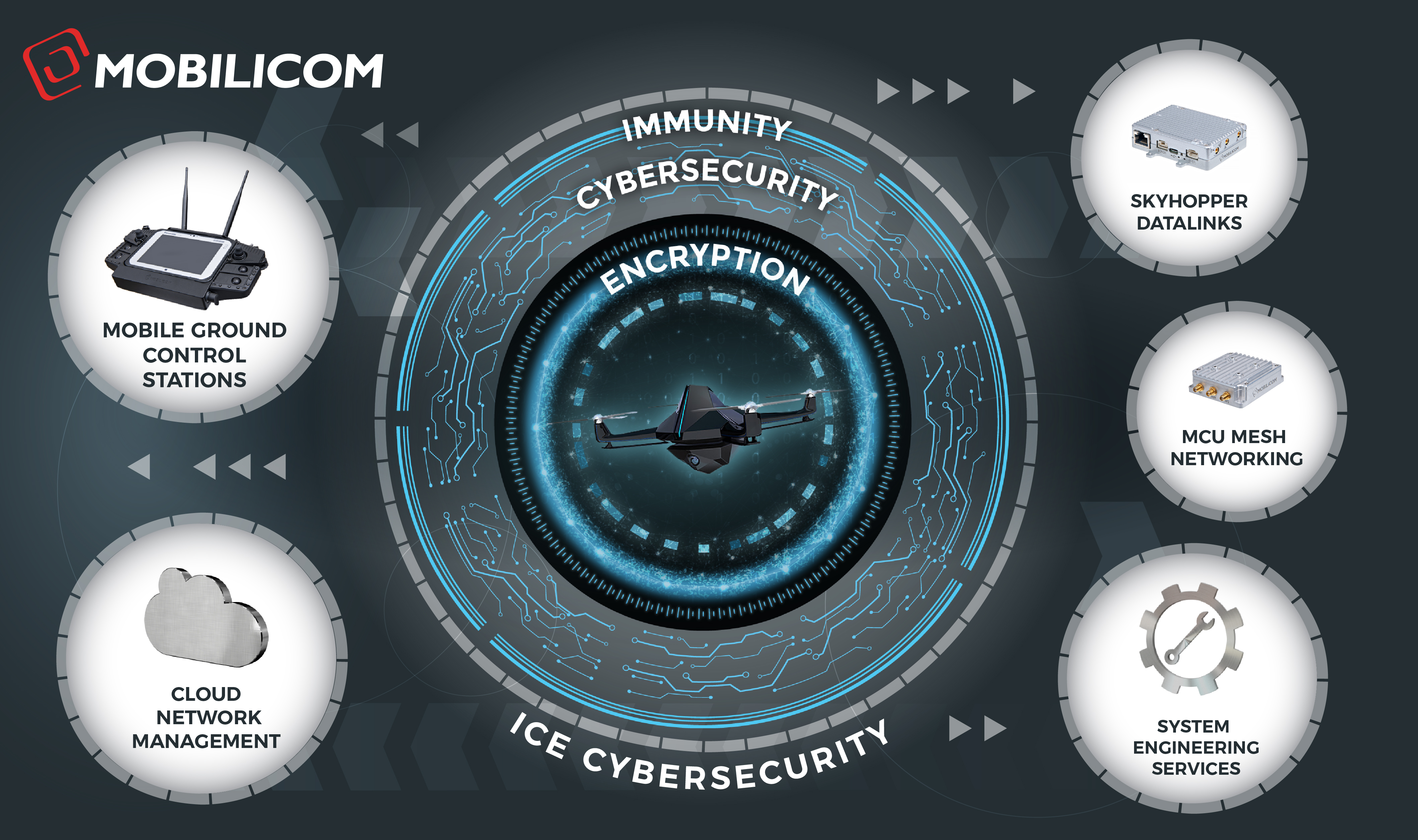 ---
14 December 2022
 By Dawn Zoldi (Colonel, USAF Ret.)
As uncrewed vehicle operations become more complex and increasingly autonomous, smart technology plays a pivotal role in providing reliable command and control (C2), data protection and overall user situational awareness. Capabilities, such as mobile mesh networking, cloud management software, data links and cybersecurity functionalities, when combined with the right hardware, enable longer ranges, beyond visual line of sight (BVLOS) and one-to-many (swarm) operations.
Mobilicom Limited, a provider of cybersecurity and smart solutions for drones, robotics, and autonomous platforms develops a holistic and integrated suite of smart components to support these advanced uncrewed missions, for both government and commercial users, even in the most challenging and inaccessible urban and rural environments. Let's take a closer look at Mobilicom and how its end-to-end field-proven smart solutions enable safe autonomous operations.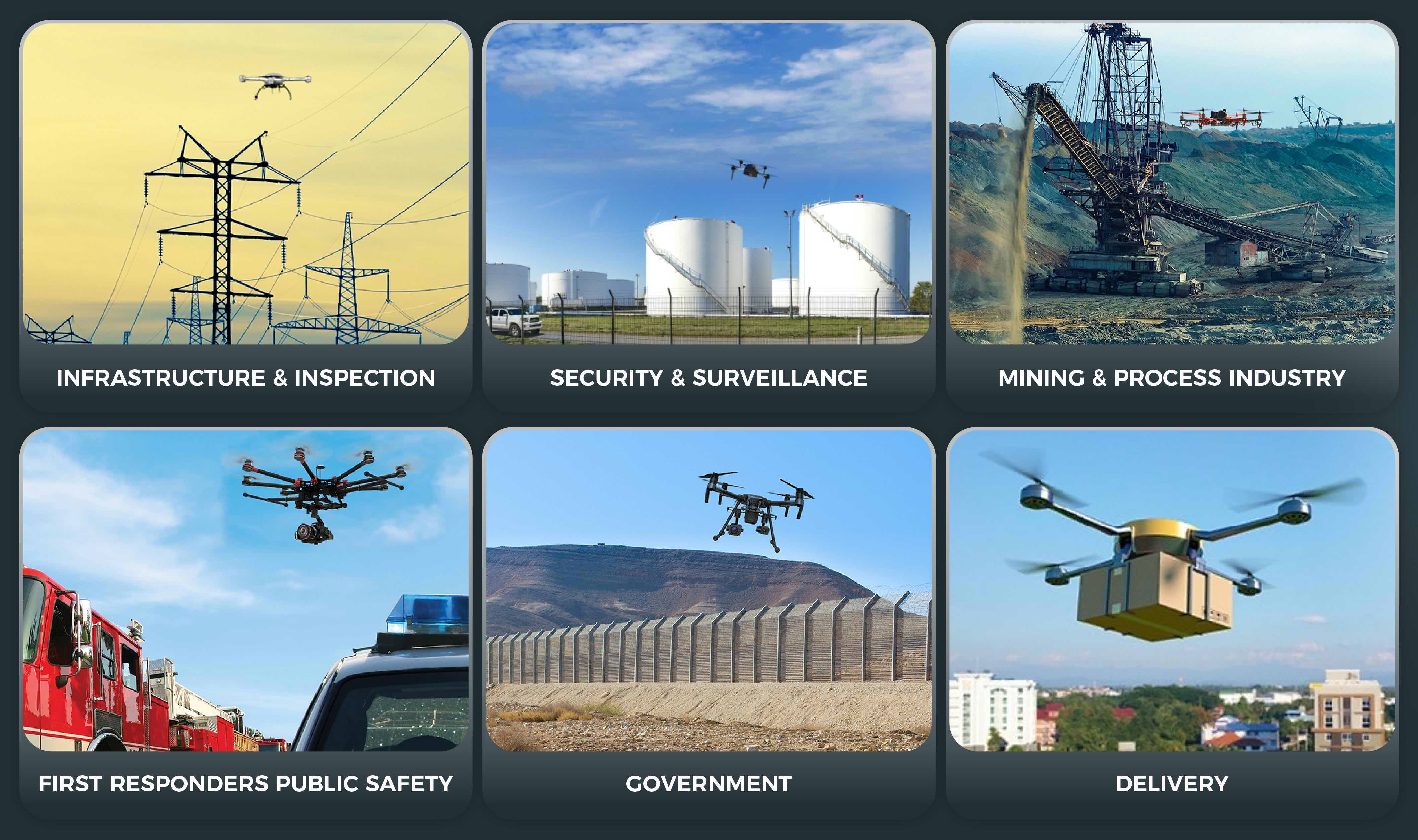 Unique Know How  
In 2007, Oren Elkayam and Yossi Segal co-founded Mobilicom in Israel. Their collective experience, vision and effort has resulted in the company's current position as one of the world's top end-to-end suppliers for drone and robotics providers.
Both began their careers as officers and leaders in elite R&D units in the Israeli Defense Forces: Elkayam in the Air Force and Segal in the Army. The two met in the wireless communications business at Runcom Ltd, where Elkayam was VP of Business Development and Segal, the CTO. There, the two successfully launched multiple wireless broadband systems and mobile application-specific integrated circuits (ASICs). Their work resulted in global contracts with top carrier companies such as Alcatel-Lucent, Nortel, KDDI, Mitsubishi and Motorola as well as significant investment rounds with international-based venture capital funds. 
This power-duo continues to lead Mobilicom: Elkayam as its Chief Executive Officer and Segal as its Vice President of R&D. The company now holds patented technology across a large portfolio of commercialized smart products, including mobile mesh networking, used in a variety of uncrewed system applications deployed worldwide.
"We aim to reduce risks to platform providers and shorten the time to market—especially as the market continues to evolve," says Segal. "New requirements pop up every day. Mobilicom remains postured to meet those challenges and bring the best products and services, at the best value, to our customers."
Leading Smart Tech
Today, Mobilicom, and its related subordinate brands MCU and SkyHopper, provides patented and professional integrated smart solutions for commercial and defense drone, robotics and teleoperated system manufacturers in more than 15 countries. It has integrated its hardware and software into more than 70 types of drones, robotics and uncrewed platforms across the following sectors: public safety/first responders, mining, disaster relief, infrastructure inspection, defense (including maritime defense), homeland security and drone delivery.
Mobilicom offers several NDAA-compliant communication solutions that provide real-time, highly reliable, low-latency and high speed connectivity for both aerial data terminals (ADT) and ground data terminals (GDT).
Here is a summary of their key solutions:
Skyhopper Datalinks: These bidirectional cybersecure Software Defined Radio (SDR) data links employ leading wireless technologies to support high-use, long range and BVLOS applications including commercial inspections, disaster relief and defense intelligence or loitering (kamikaze) drones. The company's latest offering, the SkyhopperPRO Micro, boasts miniature size and weight ideal for high-use applications and mass deployment of small drone fleets. Its SkyHopper PRO supports point-to-point and point-to-multipoint communication, enabling various modes of communication, including for multi-drone operations and drone communications to multiple viewers (receivers). The Skyhopper PRO V incorporates dual video inputs and outputs, dual built-in video encoders / decoders, three camera interfaces and local recording ability. The SkyHopper Combo provides three solutions in one unit: a bi-directional cybersecure, SDR, and LTE technology data link.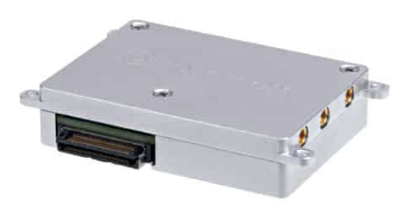 SkyHopperPRO Micro
MCU Mesh Networking: The Mobilicom MCU-30 Lite, MCU 30 Ruggedized and MCU 30 Extended Ruggedized units are all cybersecure plus software-defined radios with mobile MESH, IP communications that deliver ad-hoc direct wireless mobile communications without the need for any infrastructure. The company designed the MCU-30 Lite for ADT; the MCU 30 Ruggedized for GDT and the MCU 30 Extended Ruggedized for GDT in harsh environments. Its MCU-200 Ruggedized and MCU 200 Extended Ruggedized communication units are cybersecure software defined radios (SDR) that not only supports ad-hoc mobile MESH and wireless mobile IP communications, but also HD video and data in casings of various levels of ruggedization.The MCU-200 can be used as GDT as well as ADT in helicopters, large aerial platforms and maritime uncrewed platforms.
Cloud Network Management: Mobilicom's CONTROliT network management solution is a cloud-based management software that enables device configuration, network management, tracking and data generation. Specifically designed for commercial and industrial IIoT (drones/robotics/teleoperation, M2M, autonomous platforms), it provides the best solution for autonomous uncrewed systems.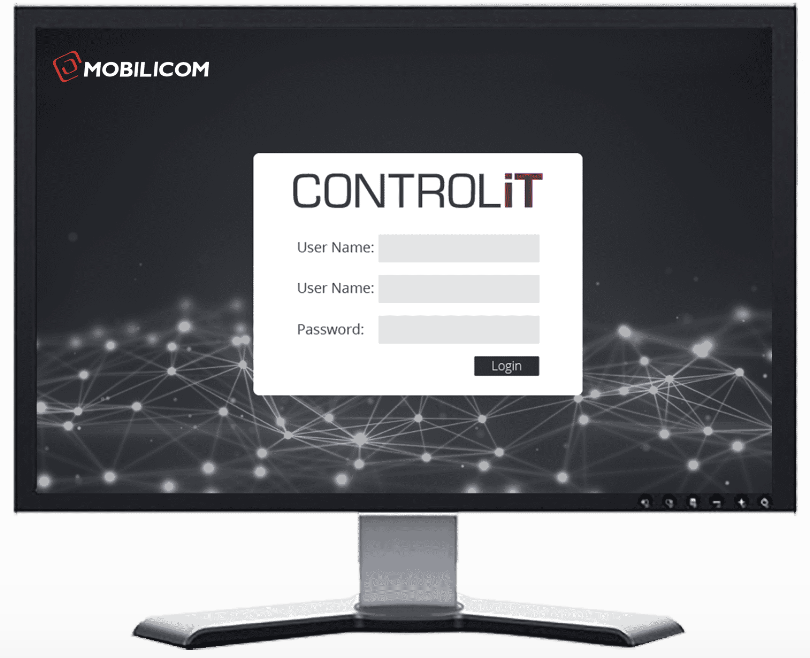 CONTROLiT
ICE Cybersecurity: The company's Immunity, Cybersecurity and Encryption (ICE) Cybersecurity suite, is the first 360 degree solution to autonomously detect, prevent and respond to cyber breaches and malicious attacks, such as Man in the middle, spoofing and hacking, in real time to keep autonomous system operations safe. This light weight and low power multi-layered suite uses multi-model artificial (AI) systems and machine learning. The system senses the environment preflight to identify other nearby friendly systems, deconflict channels, detect jammed frequencies that cannot be used and chooses the clear frequencies. While the autonomous vehicle operates, ICE senses potential problems, such as electromagnetic waves from jammers, and employs an interference avoidance system that classifies various threat levels and alerts the operator. In a GPS-denial attack, it can take over and land the vehicle safely. All of the company's datalinks and MCU communications solutions contain ICE cyber security protection.
Mobile Ground Control: The company additionally creates a variety of 7" and 10" mobile ground control stations (GCS).  All of these ruggedized tactical mobile controllers/GCS' support drone and robot operations with a variety of payloads, in the most challenging and complex conditions. They provide real-time high-definition video and broadband data content transmissions, as well as daylight-readable viewing, by single or multiple users simultaneously. It also offers turnkey system engineering services to guide users through the integration and testing process and help them establish formal maintenance, test and operations, logistics and training programs tailored to system requirements and customer needs. This comes with 24/7 worldwide technical support.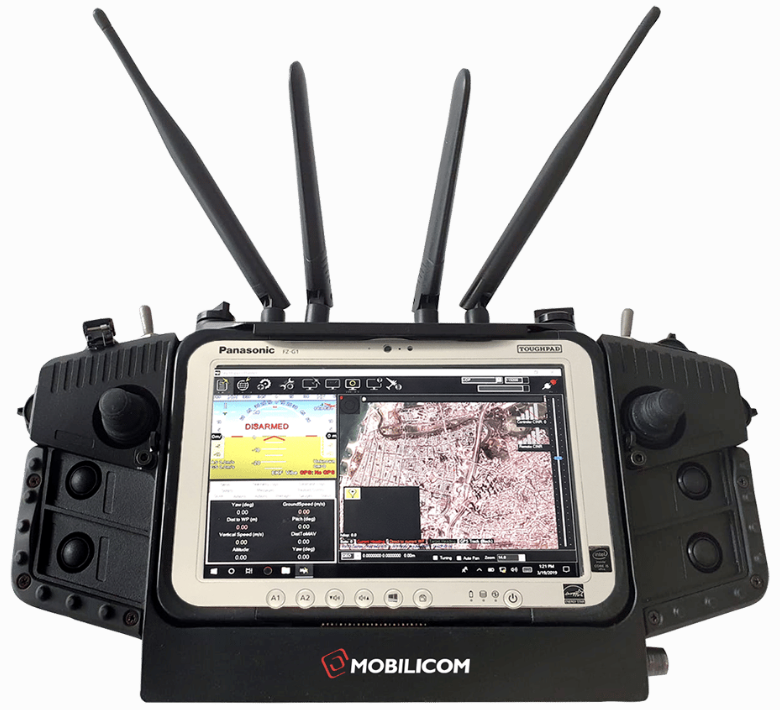 MCU Maxi Controller PRO
Maximized Global Autonomy
Leveraging its initial success in the Israeli drones and robotics market, Mobilicom has grown a global customer base with sales to high profile customers including corporations, including Teledyne Flir, Airbus, Sarcos, Elbit Systems, Azure Drones, Censys Technologies, IAI and Rafael, as well as governments and military departments, such as the Israel Ministry of Defense.
Mobilicom's end-to-end partnerships enable autonomy by maximizing drone and robotic system performance through fully integrated components, stronger security and protection levels, and high-end quality logistic support.
The company has also expanded its global reach beyond Israel, expanding the team in Australia, Germany and the United States. It has been awarded 15 innovation grants from Israel, the European Union and other international consortiums. This year, in conjunction with its growing U.S. presence, Mobilicom added a NASDAQ dual listing (NASDAQ: MOB, MOBBW) to its prior listing on the Australian Exchange (ASX:MOB).
"As an end-to-end provider, we aim to eliminate complexities and ensure peace of mind for our customers, across the board, from workflow to cybersecurity," says Elkayam. "Our goal is to ensure that our customers reach their objectives, so we supply everything they need from our suite of smart products to the related services and support. Ideally, customers will bundle our solutions. An integrated end-to-end approach is key to successful drone and robotics operations."
The benefits of these end-to-end solutions differentiate Mobilicom from other drone and robotics solution providers. Its one-stop-shop approach across a range of platform-agnostic and fully integratable and customizable offerings, allow clients to spend less money for maximized performance and quicker time to market.
Learn More
Ensure smart, secure and reliable mission continuity for your organization, in all environments and conditions. Learn how to stay connected - always and anywhere - with Mobilicom by contacting them at: info@mobilicom.com or visiting www.mobilicom.com.