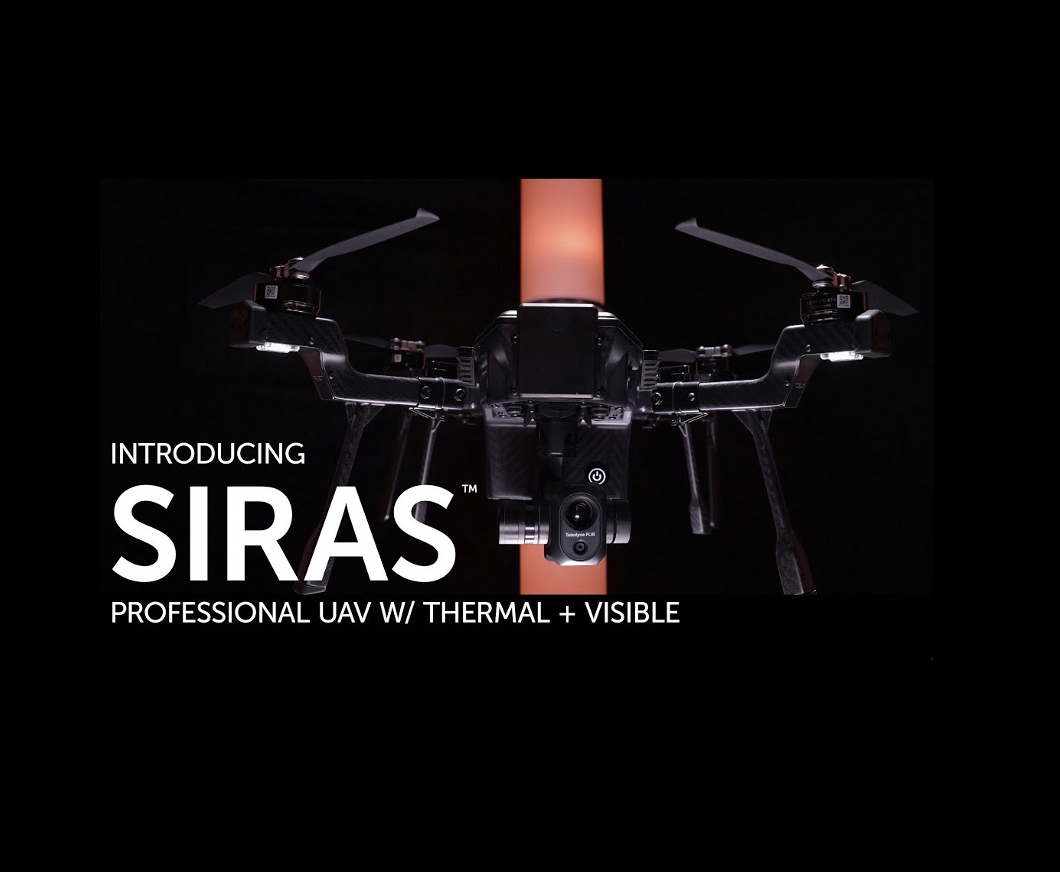 ---
02 June 2023
At Xponential 2023 in Denver, The Droning Company got a chance to speak with product management executive Kelly Brodbeck at Teledyne FLIR. Kelly provided a rundown of the key thermal camera systems on offer for unmanned systems along with its SIRAS drone platform created primarily for public safety and industrial inspection applications.
FLIR Boson+ with Factory-Integrated Continuous Zoom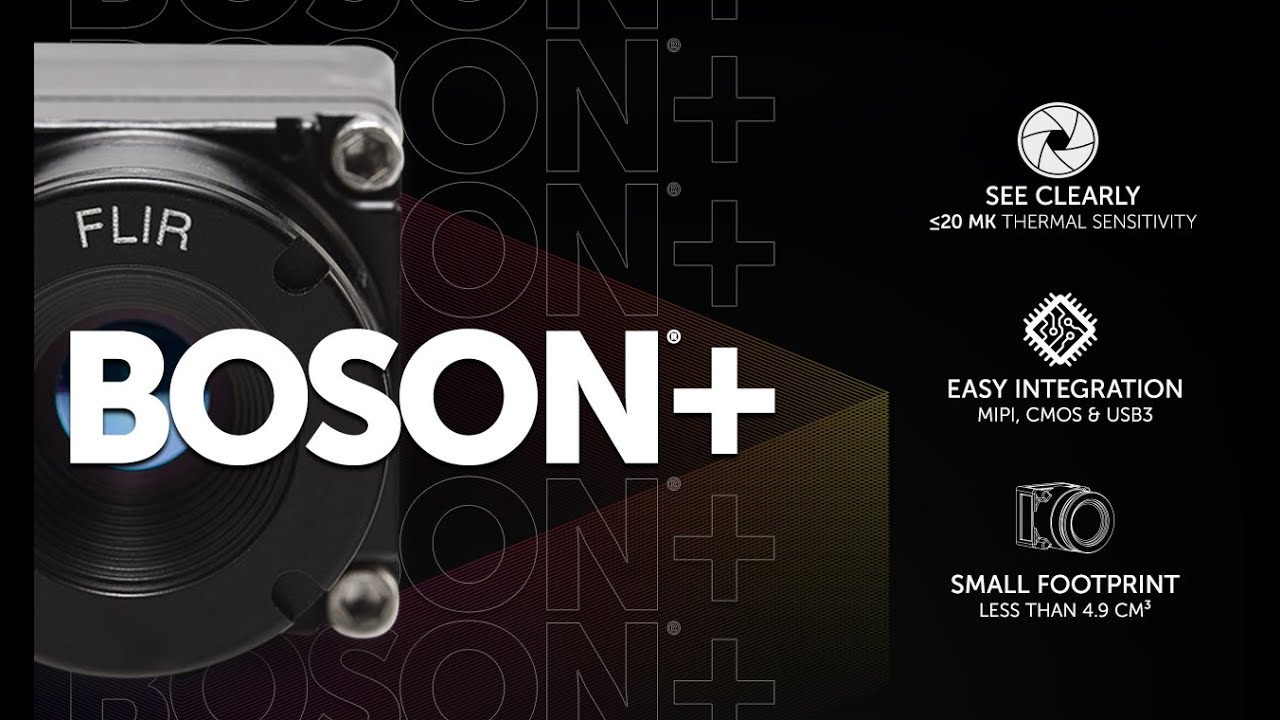 Chief among the thermal camera modules Teledyne FLIR offers is the FLIR Boson+. Made in the USA, this compact, high-performance-yet-low-power thermal camera module can be integrated in a wide range of end-user applications including commercial and industrial unmanned aerial vehicles, robots, handheld devices, surveillance systems, light armored vehicle situational awareness and targeting, and soldier sighting systems.  For current FLIR Boson customers, the Boson+ versions can serve as a drop-in upgrade for existing systems, providing greater thermal imaging capability within the same design footprint.
Performance is engrained as the Boson+ offers up to 640x512 resolution, which allows for detailed imaging from a great distance in part thanks to the proprietary FLIR image processing capabilities that provide enhanced image quality and detail in comparison to other thermal cameras with similar resolution. This is achieved thanks to its 12-micron pixel pitch detector with an industry-leading noise equivalent differential temperature (NEDT) or "thermal sensitivity" of 20 millikelvin or less. The super-thermal sensitivity of the Boson+ camera significantly enhances detection, recognition, and identification (DRI) performance. It also features improved video latency that boosts tracking, seeker performance, and decision support.
Announced at Xponential, the Boson+ can also be purchased with a factory-integrated 5x continuous-zoom lens, providing optimal performance and a single-system warranty only achievable from a single source. The system also lowers development and manufacturing risk and improves time-to-market for customers embedding the Boson+ CZ 14-75 into a wide variety of systems.
By completing the factory alignment at Teledyne FLIR, integrators receive a thermal zoom solution calibrated for maximum performance that eliminates boresight wander and other image artifacts while zooming. Critical to dynamic missions, Teledyne FLIR's advanced lens control electronics provide thermal gradient compensation to maintain focus across the full operational temperature range while object range compensation maintains focus through zoom, even for near targets. Built-in tests (BIT) run at startup, continuously, or are commanded to provide real-time notification of issues and maximize operational reliability.
A Remote ID Compliant Drone Built Cyber Secure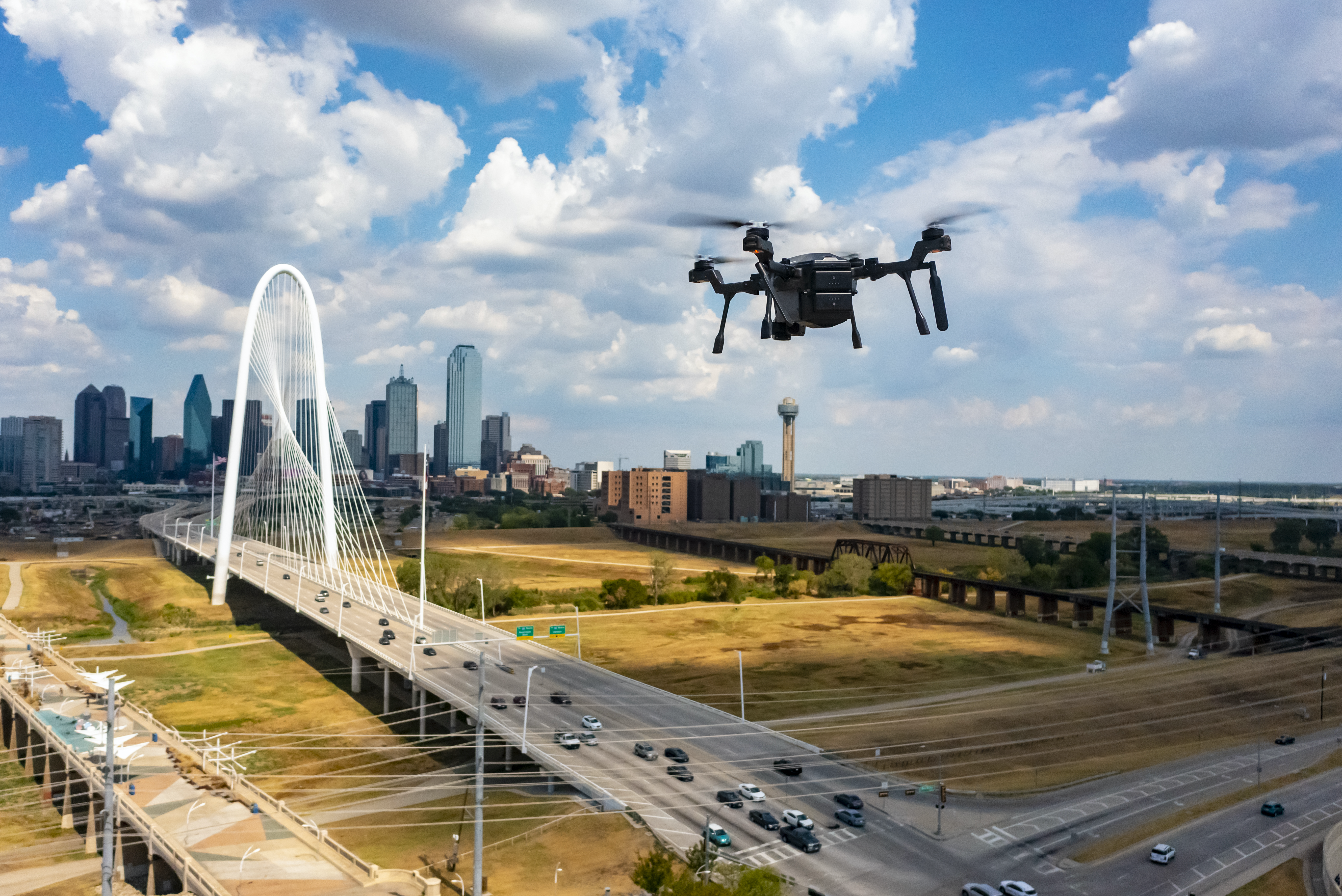 Also at Xponential, Teledyne FLIR displayed its SIRAS sUAS platform that sells for $9,695—a powerful tool that has proven useful in both public safety and industrial inspection settings. The SIRAS is built with cybersecurity at the forefront—it does not require an online profile or log-in to fly, as it is not connected to any cloud platforms or the internet. Nor is the SIRAS built with any electronic components from countries of concern, providing peace of mind that the data captured and the drone itself are secure. The platform is not subject to geofencing. Instead, the FLIR SIRAS places full control in the hands of the pilot, where it belongs. Yet, SIRAS maintains compliance with all US rules and regulations, including Remote ID.  
Watch the Interview
The Droning Company's Chris Fravel interviewed Kelly Brodbeck of Teledyne FLIR at Xponential 2023 in Denver. During the interview, Kelly shares information about Teledyne FLIR, and some of the UAV platforms that support its imaging payloads and sensors, including the SIRAS UAS.
One of the key benefits of the Teledyne FLIR SIRAS drone is its ability to provide real-time aerial surveillance. With its advanced camera system, the drone can capture high-quality images and video from above, giving users a bird's eye view of their surroundings. This is particularly useful in public safety applications, where the drone can be used to monitor large crowds or events, identify potential threats, and provide critical intelligence to law enforcement officials. Meanwhile, firefighters also use SIRAS to gain a better understanding of a complex fire, whether that's a structure fire or wildfire, to better allocate resources and to protect lives and property without needing to secure a waiver or approval from a third-party entity.
Another application for which the SIRAS UAS drone has proven useful is in search and rescue (SAR) operations. The drone's advanced camera system and thermal sensors allow it to quickly locate individuals who may be lost or injured in remote or hard-to-reach areas. This can be particularly helpful in situations where time is of the essence, such as in natural disasters or locating those lost in remote, harsh environments.
In addition to its surveillance and SAR capabilities, SIRAS is also an excellent tool for industrial inspection. The drone's advanced dual thermal-visible camera system and powerful processing capabilities allow it to capture data quickly and accurately about machinery, equipment, and infrastructure. This data can then be used to identify potential issues before they become major problems, saving companies time and money in the long run.
Portability is another key advantage of SIRAS. The drone is compact and lightweight, making it easy to transport to different locations, as needed, carried in a soft backpack case for easy maneuverability. This makes it an ideal tool for first responders who need to pack light and quickly deploy equipment in emergencies and industrial inspectors who need to travel between different sites.
Overall, the SIRAS UAS drone is an incredibly powerful tool that has proven useful in a wide range of applications. Its advanced dual thermal-visible camera system, powerful processing capabilities, and portability make it an ideal solution for both public safety and industrial inspection settings.
Whether an organization is looking to improve safety at a large event, inspect industrial facilities, or conduct search and rescue operations, SIRAS is an excellent choice that can provide operators with valuable insights to help achieve a respective organization's goals more efficiently and effectively.
The Teledyne FLIR SIRAS is available for purchase today from authorized suppliers and dealers in the US only. SIRAS is dual use and classified under the US Department of Commerce jurisdiction as EAR 6A003.b.4.a. 
READ about our 2022 Droning Award for SIRAS.