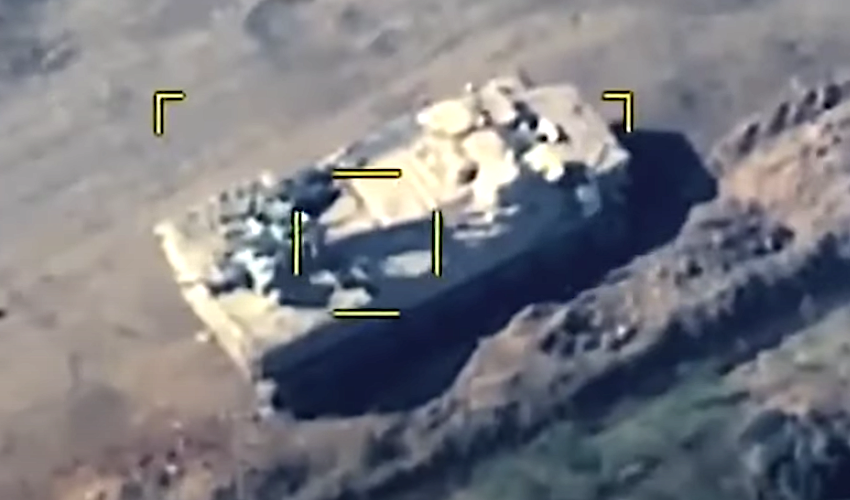 ---
The Ukrainian military is deploying Turkish-manufactured TB2 Bayraktar  "tank killer" drones during the Russian invasion of Ukraine. The medium-sized tactical drones (39 feet long with a wingspan of 21 feet) can fly at speeds up to 138 miles per hour and carry an ISR payload (for surveillance) and four "smart munitions" at a combined weight of up to 330 pounds. Operational altitude is 18,000 feet—far above the 400-foot limit for most recreational UAVs.
The TB2 Bayraktar is already a veteran of military conflicts.
The Turkish army used the drones against Syrian and Kurdish forces in the Middle East, and it was also employed by Azerbaijani soldiers against Armenian air-defense systems and tanks in the 2020 Nagorno-Karabakh War. Of course, in the battle for Ukraine, the TB2 Bayraktar is facing a far more capable enemy.
"The Russians have a pretty much top-notch military," said Mark Cancian, a senior adviser at the Center for Strategic and International Studies.
"The Russian military has claimed that Bayraktars will not necessarily be a big threat to a force like Russia," added Russian military expert Sam Bendett. "Because of Russia's advanced early warning radars, advanced electronic warfare capabilities, and its layered air defense, Russian troops could see Bayraktars from afar, identify them faster, and launch several types of countermeasures against them." 
LEARN MORE ABOUT THE TB2 BAYRAKTAR 
Russian media claimed four kills of TB2s this week—although exact numbers are difficult to prove this early in the conflict.
At a cost of $69 million, Ukraine bought six TB2 UAVs from Turkey's drone manufacturer Baykar 9 million in 2019. The drones were first used in combat by Ukrainian forces against Russian-backed separatists in October 2021. The Ukrainian government is looking to purchase at least 24 more TB2s, and has even agreed to co-manufacturer the drones at a factory in the Ukraine.
In the battle at hand, however, the TB2 Bayraktar may be challenged.
"The Russian military is aware that Bayraktar is the most advanced tactical UAV in the employ of the Ukrainian military," said Bendett, "and they've been learning and practicing how to deal with that threat." 
WHAT TO KNOW RIGHT NOW ABOUT THE RUSSIA-UKRAINE CONFLICT
News and developments are fluid as the Russian invasion of Ukraine unfolds, but here are some points to ponder today...
• Ukrainian President Volodymyr Zelenskyy stated that he and his senior aides would stay in the Ukrainian capital.
• Russian Defense Ministry spokesman Major General Igor Konashenkov claimed that Russian forces destroyed 211 Ukrainian-military installations—a number that includes 19 air-defense missile systems, 17 command centers, 67 tanks, 39 radar units, and six planes.
• The United States estimates Russian has launched approximately 200 missiles against Ukrainian targets, and some have hit residential areas—whether deliberately or not.
• The toll of non-combatant casualties has been estimated at 25 killed and 102 injured by Ravina Shamdasani—spokeswoman for the U.N. High Commissioner for Human Rights.
• The U.N. refugee agency believes more than 100,000 Ukrainians have left their homes and that the number may escalate to four million.
• Border crossings in Poland, Hungary, Romania, Slovakia, and Moldova are the scenes of miles of traffic jams as people flee the conflict. All neighboring countries are offering shelter and food, and have reduced their typical border procedures—including COVID-19 tests.
• Russian president Vladimir Putin has been firing up "Cold War"-style rhetoric during the invasion, stating that although his country lost "a considerable part of its capabilities after the fall of the Soviet Union, Russia remains one of the most powerful nuclear states."
• Western Europe appears to have taken military options out of the conversation at this time, but many countries are applying pressure in other ways. The EU has frozen the assets of Putin and foreign minister Sergey Lavrov. Luxembourg may kick Russia off of SWIFT—a major system for global financial transactions. France has earmarked $1.68 billion in economic aid for Ukraine. Great Britain has banned Aeroflot flights in the country. Asian and Pacific countries are exerting export controls on Russian acquisition of semiconductors and other high-tech products.