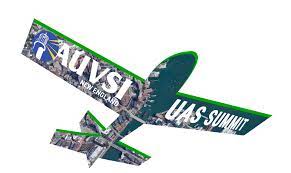 ---
28 August 2023
For those readers located in the New England area, or those who need an excuse to experience the glorious New England fall, please join us at our annual New England UAS and AAM Summit co-hosted by the New England Chapter of the Association of Uncrewed Vehicles Systems International, MassAutonomy, and NDIA New England (October 4-5, 2023 at the Northeastern University Innovation Campus in Burlington, MA).
The Summit covers the latest developments in UAS (uncrewed aircraft systems, or drones) and AAM (advanced air mobility), and this year's theme, "Boarding Pass to the Next Era of Aviation," looks skyward at where we are today as well as the possibilities for tomorrow.
Applications range from infrastructure inspection to emergency response to air taxi transportation. As these use cases grow, so must the capabilities for airspace awareness and counter-UAS technologies to protect communities, airports, and critical infrastructure. 
AUVSI New England is dedicated to professional development, networking, public outreach, and advocacy in support of robotic or automated vehicle systems with a particular focus on the New England region. It's an area known for its technology ecosystem, world-class industry, support for new businesses, access to higher education, and agile policy making, making it a rich epicenter for innovation and creativity.
The Summit addresses every facet of this growing sector. Perspectives range from those of businesses, federal regulatory agencies, and state transportation organizations to those of operators on the ground, technology developers, and ethics experts.
This year we've lined up keynotes to include influential leaders from the FAA, including executive directors Jeffrey Vincent and Abigail Smith. We'll also hear from Massachusetts government officials who are on the frontline of shepherding autonomous systems into the national airspace safely.
From industry, we have representation from major players such as Raytheon, MITRE Corporation, and Eversource Energy, as well as a number of innovative start-ups and research/education programs shaping the UAS and AAM space.
Keynotes and Panel Topics Include
Real-world perspectives for AAM planning and implementation
Complex UAS operations
Ensuring airspace safety
Counter-UAS programs
Critical technologies to enable beyond visual line of sight (BVLOS) operations
Drone as First Responder (DFR) programs
Industry implications for evolving regulations
Massachusetts leadership guiding global AAM roadmaps
Reinventing airports for electric flight
New this year, the Summit goes outside on Day 2 for an afternoon of live demonstrations. This includes the critical technology elements for conducting BVLOS flights with Detect, Alert, and Avoid capabilities. There will also be a simulated emergency scenario involving first responders, drones, and airspace monitoring systems. Participants include regional companies, state government, and a team of first responders.
"The momentum behind this event is extraordinary," said Waseem Naqvi, President of the AUVSI New England Chapter and CTO of Raytheon's Unmanned Vehicle Systems. "Now in its 10th year, we've seen the industry change from how to make small uncrewed systems fly now to air taxi-type aircraft ferrying passengers across cities. Our attendance has grown steadily, and the quality of participants and audience is very high, highlighting the interest in how various forms of autonomous flight are transforming the world, particularly here at the local level. We're thrilled to have so many extremely well-placed leaders share their thoughts and vision on where this dynamic space is going, as well as very practical discussions around making autonomous flight a reality - safely and economically."
Speakers Include Leaders From
Federal Aviation Administration (FAA)
Massachusetts Department of Transportation (MassDOT)
MassAutonomy
Northeastern University
Raytheon Technologies
U.S. Air Force
Industry innovators in AI, robotics, and advanced sensing from the New England area and beyond
The Northeast has a rich history in engineering and aeronautics innovation, with a thriving ecosystem of academic research institutions such as MIT, Harvard University, and Northeastern, to name a few, and nationally-affiliated research centers such as Lincoln Laboratory and MITRE. It's also home to a number of DoD departments, from the Air Force, Army, Navy, Space Force and DARPA to many Defence Innovation Unit (DIU) labs and facilities.
Partners have established a UAS Test Site in Lynn, MA, won a BVLOS waiver from the FAA to fly over Commonwealth state rail lines, and secured support for the implementation of microgrids to facilitate the reliable charging of electric aircraft and ground vehicles at airports. Government and industry leaders from the US and around the world continually visit the Northeast for insight into what is coming down the pike.
And as a nod to future leaders, the event also includes a STEM component – where local high school STEM students will present their projects and discuss where they see the future evolving. This is a wonderful opportunity for a positive collision between our younger counterparts and our audience of experts.
"Our thriving confluence of industry and academia, plus a diverse geographical area with four distinct seasons, provides a vibrant incubator for developing the many needs autonomous flight can address," said Naqvi. "We've certainly seen significant momentum around regulations to make autonomous flight more mainstream, together with technological breakthroughs such as AI and machine learning that go a long way to ensuring safe, controlled flight. From delivery services to airport readiness, to the broader topic of electric, autonomous vehicles – all are interconnected and require a broad range of perspectives to be implemented successfully. The Summit provides a significant forum for these discussions."
Who Should Attend
Business, government, academic, and innovation leaders involved in UAS and AAM markets, operations, policy, and technologies.
The Details
 When: Wednesday-Thursday, October 4-5, 2023
 Where: Northeastern University Innovation Campus at Burlington, Massachusetts, 147 South Bedford Street, Building 5, Burlington, MA 01830.