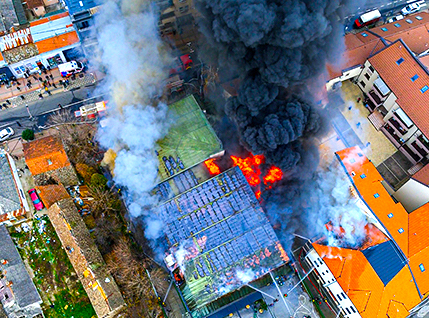 ---
August 17, 2022
Officials from Warren County, New Jersey, are getting the latest training in drone use from Warren County Community College's acclaimed drone-education program, expecting to experiment with the technology in county functions ranging from engineering to forest-fire management and criminal investigations—eventually making it a key part of operations.
"This is a first step, but we think it will put us in a position to be a leader in the country in use of drones at the local government level," says County Administrator Alex Lazorisak. "We know they can be used in a growing number of county operations and become a key part of how we serve the public."
According to Frank Wheatley—county public safety director and emergency management coordinator—one focus will be utilizing drones in critical law-enforcement and emergency-services tasks, such as search and rescue, hazardous waste, forest-fire management, and criminal investigations.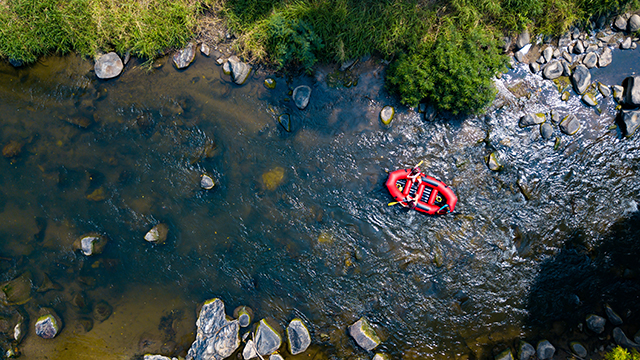 "There are so many applications that I can foresee our team expanding in the future to include other county departments such as engineering and planning," explains Wheatley, noting that eight representatives of various county departments are involved in the initial training. "I think they will be effective in a host of emergency and non-emergency scenarios, from hazardous-materials incidents to flooding on the Delaware River and lost hikers on the Appalachian Trail."
Rural Warren County is west of New York City, and has approximately 110,000 residents. The initial training group will explore how drones can be used in various county departments, but Lazorisak foresees eventually having staff and a department dedicated to drone technology. 
"Drone use is inevitable, and we have one of the best facilities for training in the country right here in this county," he says. "It made sense to begin to find ways to train our staff and utilize the technology."
Warren County Community College leads the country in drone-curriculum development through three flight and maintenance degrees and is quickly gaining rare Federal Aviation Administration approvals for critical new approaches to drone use, such as flying above populated areas and out of sight of the pilot. It has also developed a multi-faceted collaboration with Embry-Riddle Aeronautical University in Daytona Beach—one of the nation's top aeronautics colleges—and is leading a network of drone-training programs nationwide to standardize academics, get federal support for education in the field, and be a voice for the industry.
Warren is also working with farmers and other businesses in the county to make drone use accessible, as well as linking with local high schools to pave the way for students to gain experience with drones in their schools, and then, potentially, matriculate to Warren. Recently, Warren's drone program received a Congressional Appropriation to add precision agriculture to its offerings.
"This is another one of the collaborations we are developing as the use of drones explodes," says Warren Community College President Will Austin. "As we begin to see new ways drones can make our lives safer and easier and our work more efficient, it benefits county officials who can access our expanding training, equipment, and facilities. We also get insights into the specific work these county officials do, and how the technology can be applied. For example, criminal-investigation work or efforts to apprehend a suspect could be aided by drones, so having folks from the prosecutor's office participating in our training will help us develop and fine tune ways we educate people in law enforcement.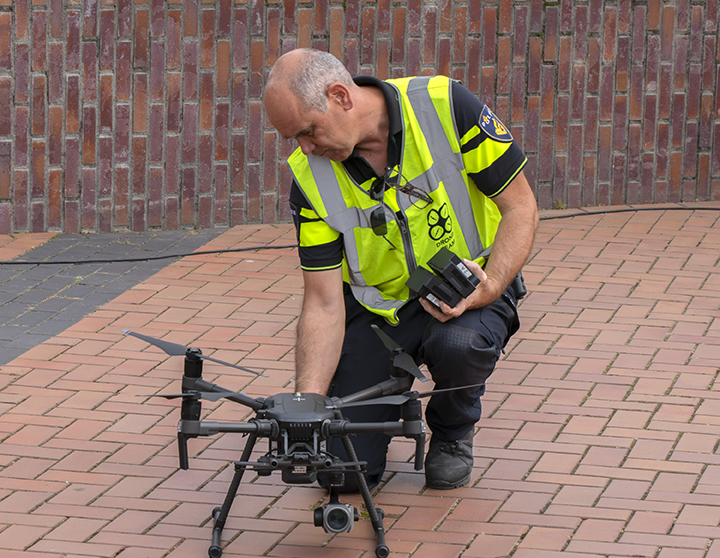 Austin notes that Embry-Riddle drone professionals were recently called into help with the mapping and photography of a murder scene and the identification of evidence. Three officers from the police department working for three hours on the ground collected 120 data points, while the Embry-Riddle team gathered two million data points in 20 minutes using drones. Austin expects the same Embry-Riddle faculty will assist Warren in helping to train local law enforcement.
In another tactic to get these robotic systems into the hands of local residents, Warren County farmers have learned they can survey their fields and check on crop health and moisture levels in an hour using drones—work that could have taken them a day or two without drones. More artificial-intelligence equipment is forthcoming that will allow local farmers to monitor their crops, soil, and livestock from phones connected to the internet.  
"The county and our business community are going to find ways drones can make the work in many departments and businesses more accurate and more efficient," says Austin.  "So much of the work of the county with land use and crime and emergency services will be aided by un-piloted aircraft. This is just the beginning.