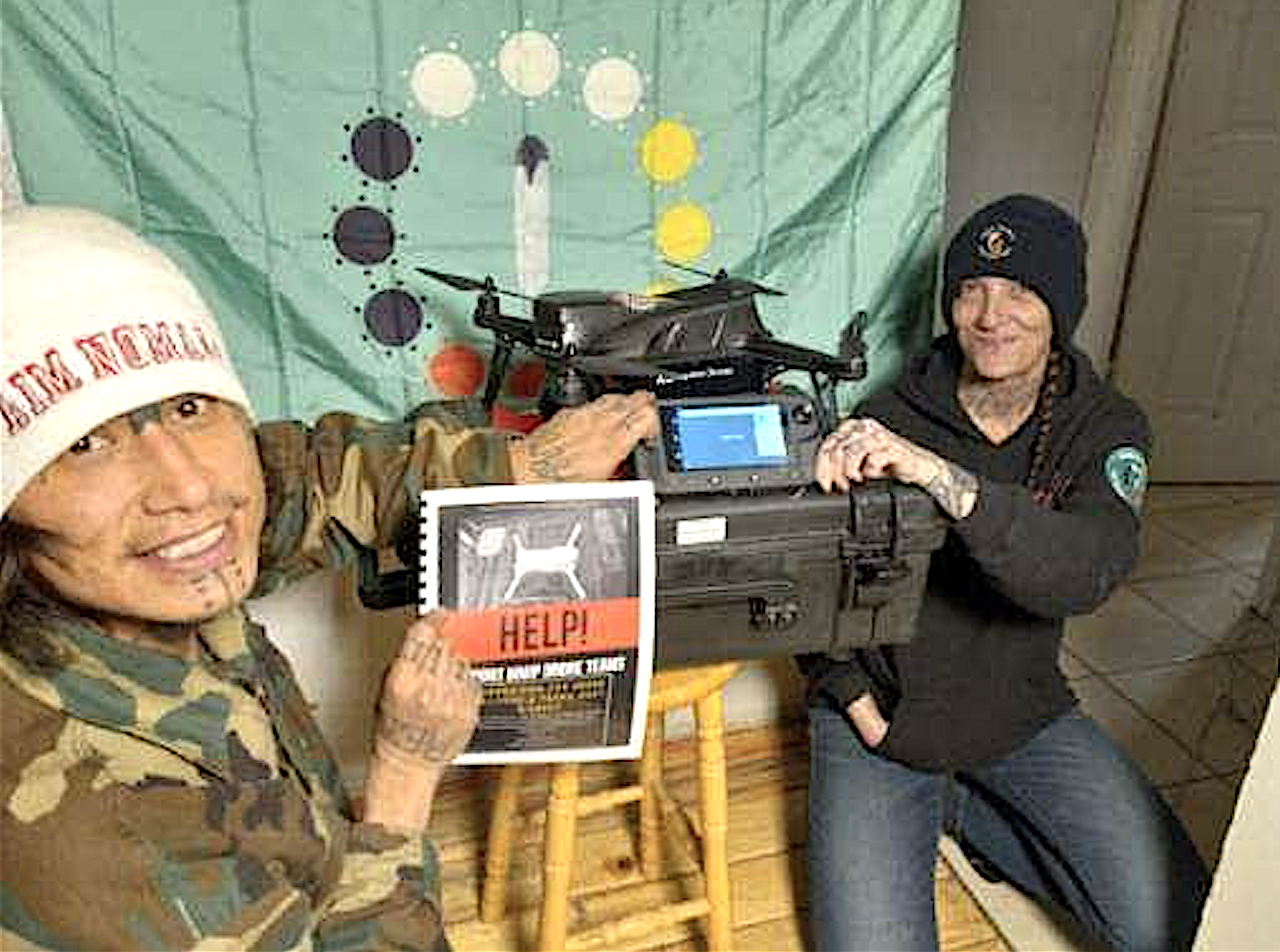 ---
Above photo: White Owl Thin Elk (at left), founder Turtle Island NOMADS and Brandy Martinez/Mourning Dove (right), CEO, Look For Me.
28 January 2023
Missing and Murdered Indigenous Relatives (MMIR) is a worldwide crisis which has only recently begun to come to the light. Racial misclassifications, racial and gender bias in police forces, how cases are handled, no accountability, jurisdictional barriers, lack of media coverage and technologies, and continued generational traumas are contributing factors to the oppression of justice for these families. 
Statistics
• Indigenous/Native women (and girls) murdered ten times higher than all other ethnicities.
 • Murder is the third leading cause of death for Indigenous women (CDC).
 • More than four out of five (84.3%) Indigenous women have experienced violence in their lifetimes. (National Institute of Justice Report).
 • More than half experience sexual violence (56.1%).
 • More than half (55.5%) of Indigenous women have been physically abused by their intimate partners. 
 • 96% of this violence is committed by non-Native persons.
 • 40% of women involved in sex trafficking identify as American Indian, Alaska Native, or First Nations, but make up only 10% of the population (SASO).
 • More than 95% of Missing and Murdered Indigenous People cases are never covered by the media.
 • Nearly one-third of the perpetrators are not held accountable.
How Drones are Helping 
Generally, aircraft are the most efficient facility for SAR (search and rescue) operations and can reach distant areas quickly and cover a large area within a given time. Fixed-wing aircraft normally fly at higher speeds than helicopters, and are used in larger areas and at greater range. Helicopters are excellent search aircraft, but their normally limited endurance and speed reduce the area they can search effectively. Helicopters are a prime means for rescue operations, such as recovering survivors from a distress scene, delivering supplies, survival equipment, and dropping SAR and medical personnel at the distress scene. The slower an aircraft flies, the better it is for conducting a visual search, as small and partially hidden search objects are easily missed at higher speeds.
Look For Me was formed in November 2021 in response to overwhelming cry out for help from Relatives who had no support. As more Relatives began reaching out, the need for training, support, and coordinated efforts for prevention and SAR was evident. We learned that most certified SAR teams are bound by oath to respond to calls only if requested by law enforcement.
The determination was made we needed to form our own skilled teams willing and able to deploy, which is where Turtle Island NOMADS, War Party Movement, and Aquiline Drones came in. 
In November 2022, four Spartacus Hurricane II drones were received from Aquiline Drones and its CEO, Barry Alexander. We immediately nominated team leads in the most affected areas and sent them out to New Mexico, Oklahoma, South Dakota, and California.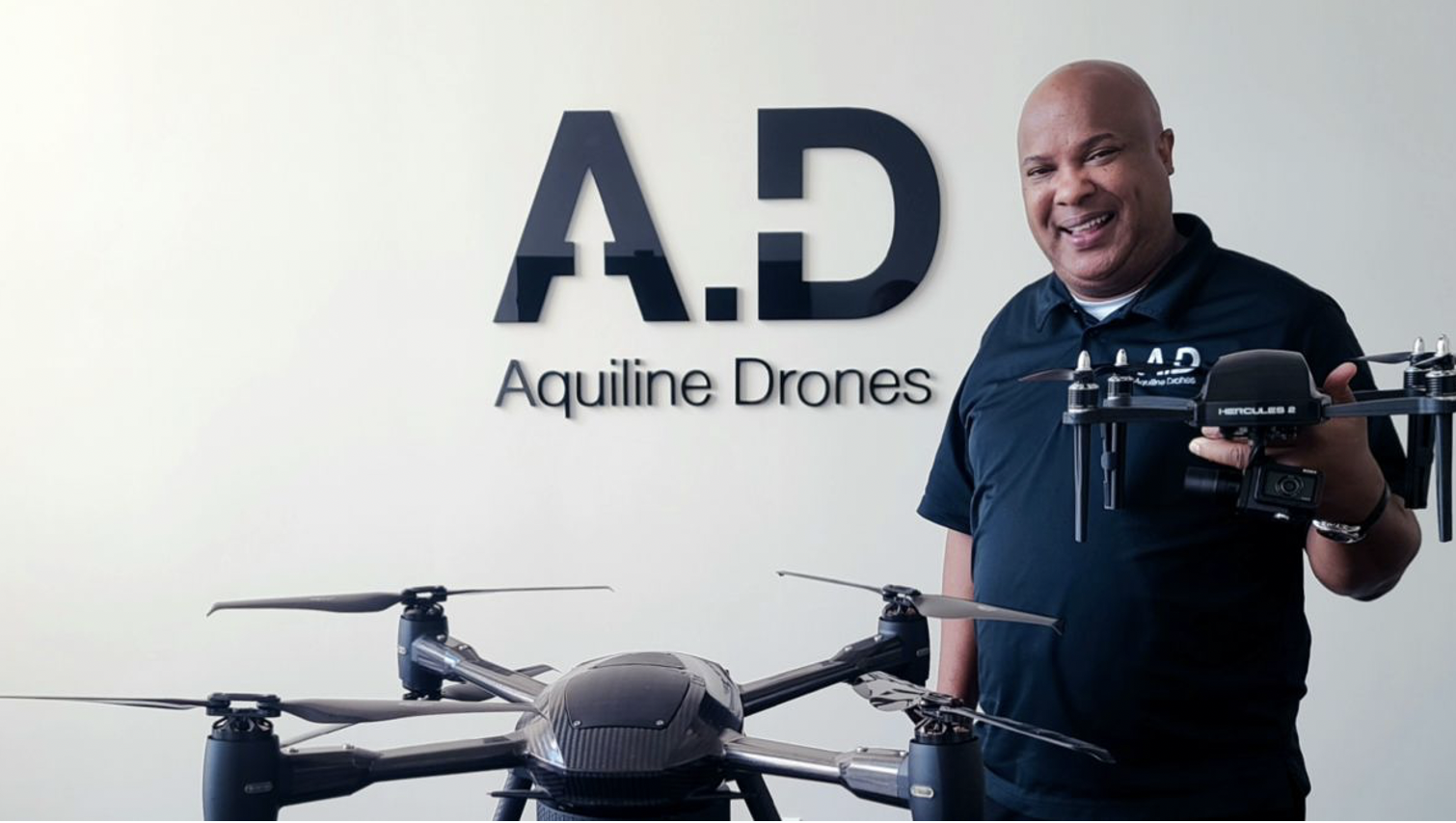 Barry Alexander, CEO Aquiline Drones.
"We really had to step it up, because Barry and Aquiline Drones provided a resource that we have been seeking for a long time," says Brandy Martinez (Mourning Dove), CEO, Look For Me. "The training is also essential in building foundation. It shows us that we are on the right path. Drones are needed for more than SAR, but this is the greatest need for them right now, and that is where they are going. To the people. This is such a humbling experience. We are forever grateful to Barry and Aquiline Drones, WPM, American Sentinels, and all the good ones out there, who arre helping us bridge the gap between the old and the new." 
Turtle Island NOMADS was formed on December 31, 2022, in direct response to build independent, grassroots teams to bring experienced instructors, a train-the-trainer program, and facilitate getting the drones and equipment to the most affected areas in need of solutions. Through Aquiline Drones, we are able to bring the training and FAA licensing included in the package offered by Aquiline Drones called Flight To The Future, that will bring the long-term high-paying careers that our Nations most desire.
With the independence that Aquiline Drones have been offering with our own independent modifications, we can grow economic markets that can be marketed between or shared Inter-Tribally for systems additions or modifications, or sold abroad to the world markets. The possibilities are endless.
"We as a People are grateful to the Team at Aquiline Drones for the partnership to educate, manufacture, assemble, and use-in-the-fields technology for ending the suffering of human and sex trafficking within our Nations and Territories," says White Owl Thin Elk, founder of Turtle Island NOMADS. "Understanding the magnitude of what Barry Alexander and Aquiline Drones have done for the grassroots—it sets the bar for how much more endeavors from other corporate citizens we can gain the same resource and technological support to help all Native Nations across the United States and beyond. Aquiline Drones has proven to want to see a correction to the mistreatment of Indigenous People of North America, and we are beyond honored to have such a privilege to work with such an incredible company as Aquiline Drones."  
As of January 26, 2023, Aquiline Drones has generously donated eight Spartacus Hurricane II Drones to be used in MMIR searches and recovery efforts across Turtle Island (an Indigenous Peoples term for North America), and to be able to start an educational platform for the betterment of the communities at most risk.
The Spartacus Hurricane drones are top of the line and made in America. They have also offered their training package. Flight To The Future, for our operators. This training is much more than FAA preparation and drone operating. Barry Alexander is also aware of the struggles of Native people, and the extreme need for action. Because of this, they have stepped up to be the example to big corporations, that they can and will choose to do what needs to be done to aid the empowerment in a major way. By doing this, not only do they show the people that they care, but that they are willing to aid with resources purely for the benefit of the people.
War Party Movement and its founder, Jeremiah Wilber have been instrumental in several life-saving operations both independently and in collaboration with Look For Me and Turtle Island NOMADS. As a former Green Beret, he served in 3rd Special Forces Group as a Special Forces Communications Sergeant and in the 10th Special Forces Group as a Special Forces Operations (Team) Sergeant with multiple combat rotations to Iraq, Afghanistan, and Africa.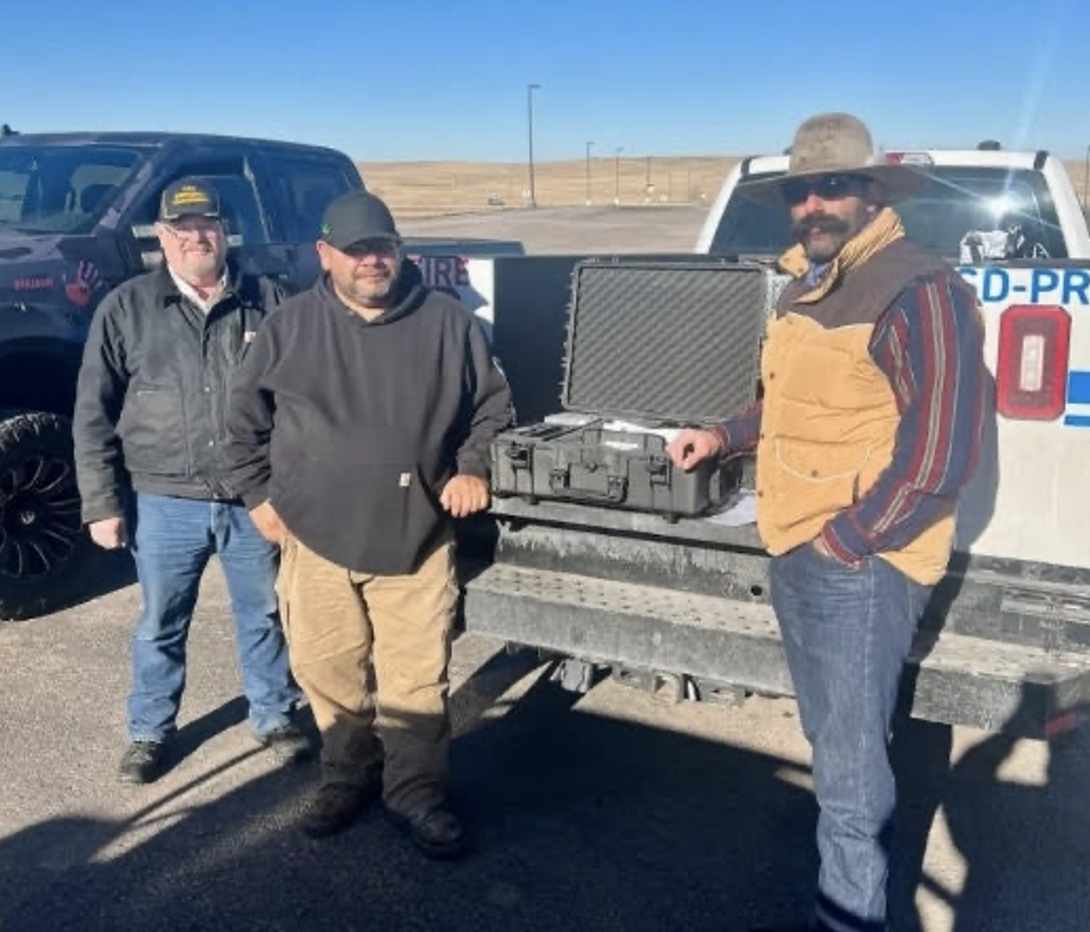 Pine Ridge Emergency Management Services. At right, Jeremiah Wilber, founder War Party Movement.
War Party Ranch is the next big project for this amazing group. Wilber's life experience is invaluable. His group is fully aware of the issues at hand, and is willing to help and support where it can—many of them becoming drone operators in collaboration with Turtle Island NOMADS and Aquiline Drones to help with training, organization, skills, and support. Wilber has personally delivered the donated drones from Aquiline Drones to team leads around the country. The need for drone technology and knowledge becoming skill sets have been among many discussions we have had in developing solutions to the MMIR crisis. This is why we cannot simply have one or two trained teams in a single area.
"American Sentinel is extremely proud to work with the Look For Me non-profit foundation, Turtle Island NOMADS, War Party Movement, and Aquiline Drones," says Warcloud. "We're blending tactical concepts and curating standard operating procedures for drone first responders. We believe drone operators are the ultimate supplemental force to completing any mission. As current first responders and former special operations veterans, we have learned what it takes for search and rescue operations. It is our mission to enable public-service personnel and volunteers with relevant solutions addressing the challenges of MMIR and their area of operations. American Sentinel covers the full spectrum of mission support through specialized engineering, innovation, and comprehensive training in support of industry and charitable initiatives. We can't wait to see what comes next with this all-star of a team's incredible impact."
"In the middle of the search for a missing elder, I learned quickly how effective drones were," adds Dylan Bernal of WPM and Turtle Island NOMADS. "The Sheriff's Department had brought a drone to the center of where we were searching, and it covered a ton of ground very quickly and very clearly. This saved our search party a substantial amount of time and effort. So when I had recently learned that Brandy from Look For Me Network and White Owl from Turtle Island NOMADS were sending out drones to areas for searches, I couldn't help but reach out and offer my help again. I am looking forward to receiving the drone from Aquiline Drones and having the capacity and resources to do more—and more effectively—for the MMIR crisis. Americans need to understand two things. The crisis of Missing and Murdered Indigenous People is very real, and happening every day and all around us. It is a hard reality to swallow and accept. And non-Natives people need to understand that getting involved is as easy as a direct message."  
A critical solution to our Missing and Murdered Relatives crisis, is the use of technology to help serve our people. The Aquiline Drone systems are the latest up-to-date way to ensure effective searches and operations when a loved one goes missing. Incredible work by American Sentinel will ensure a tight functional unit. By being able to have a corporation willing to provide the units and the lasting education to enable careers to find long-lasting impacts for all Nations is not just a temporary fix, but a sustainable solution. Aquiline Drones is helping us do that.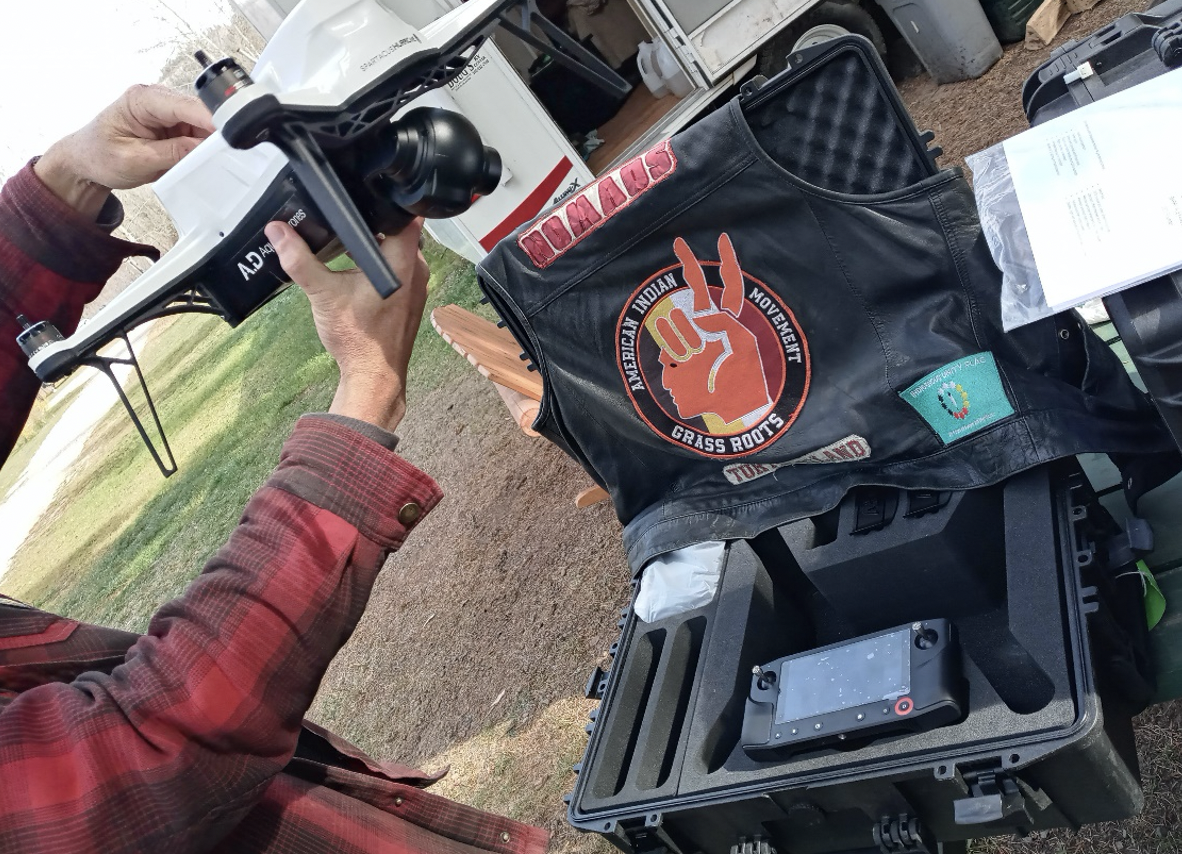 Aquiline Drones Spartacus Hurricane II deployed in the field.
We believe the use of drones—in addition to proper training—will significantly increase the statistics of finding missing Relatives faster than ever. This is also a pathway to prevention by introducing resources for career paths as drone operators, learning from the best, and with the best equipment. The possibilities are endless.
How You Can Help

We believe in Aquiline Drones training program Flight To The Future, and we are promoting Project Pre-Flight. This will give participants a chance to win one of five Flight To The Future training packages. The top three prize winners will also receive free swag in addition to the training package. For more information on the Project Pre Flight contest—deadline for entries is 4:20 pm (MST) on April 19, 2023—please email White Owl Thin Elk or Brandy Martinez.
You can also support GoFundMe campaigns for Look for Me and SAR Drone Teams of Turtle Island.