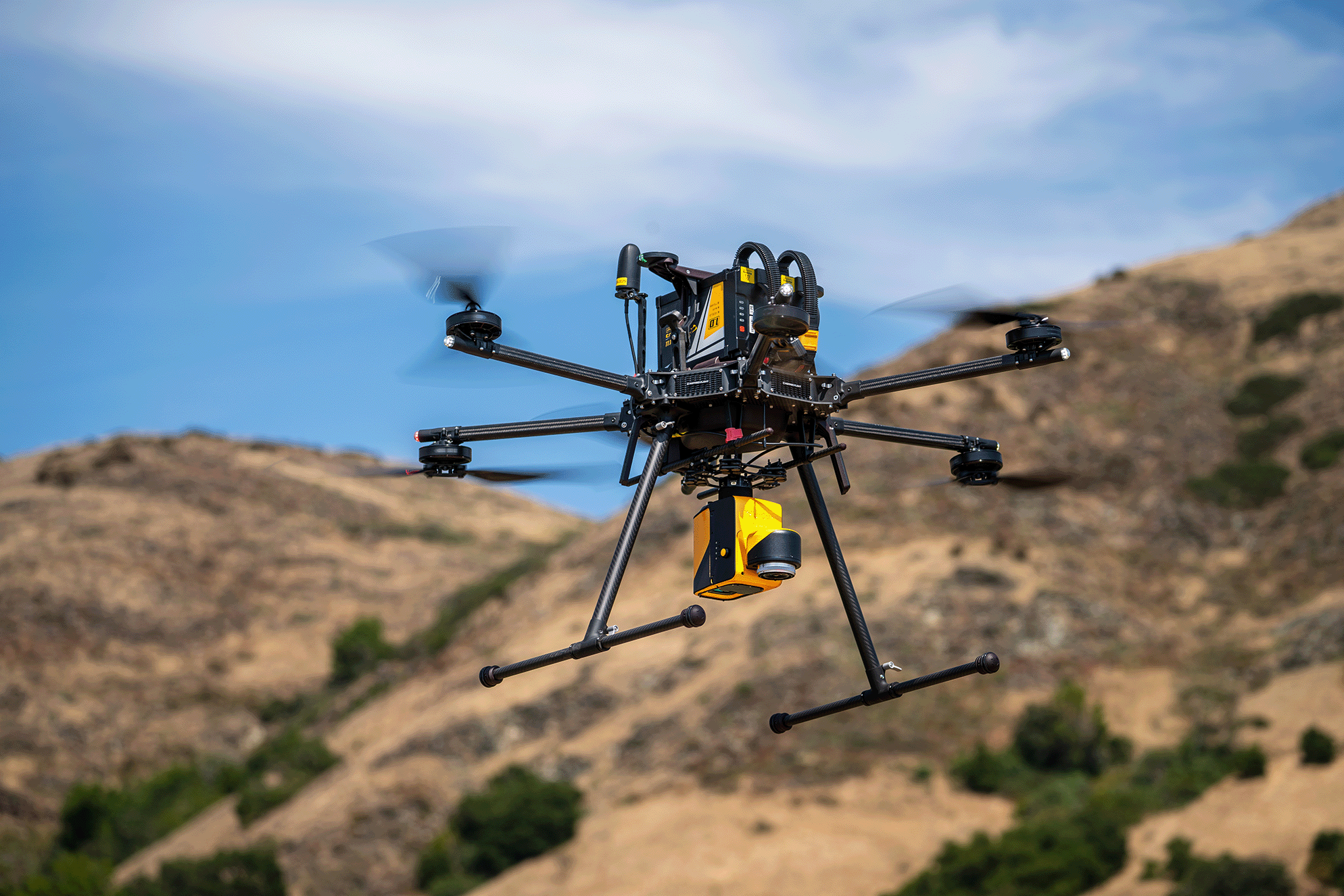 ---
04 August 2023
YellowScan designs, develops, and builds drone LiDAR solutions for professionals that require performance, robustness, and accuracy.
Offering easy-to-use data collection tools to a wide array of industries, YellowScan's portfolio of hardware and software products provide key insights into the fields of surveying, construction, civil engineering, defense, energy, public-safety, asset management, risk assessment, and more. Each solution is strategically designed to meet the highest industry standards for drone integration.
Founded in France in 2012, YellowScan has grown into a multi-national enterprise focused on innovating the field of drone LiDAR through global partnerships and international collaboration. The company operates with five main offices located in Europe, North America, and Asia Pacific, and facilitates technical and commercial operations via 50+ distributors and resellers worldwide.
"The DNA of our company is rooted in global collaboration," says Justin Wyatt, General Manager of YellowScan Incorporated. "From the genesis of YellowScan, we wanted to build a company that served the drone market with best-in-class solutions. We recognized that a key component of this would be to incorporate the demands of the global market and would require experts from around the world."
We met up with Wyatt at this year's AUVSI Xponential conference and exhibition to learn more about YellowScan and what sets it apart from other LiDAR providers in the industry.
"The drone LiDAR market can be confusing," says Wyatt, who has focused his career on LiDAR and 3D reality capture technologies for over 12 years. "I've worked for many companies in this industry, and very few are on a trajectory to truly innovate the space. What organizations and individuals should understand, is that a drone LiDAR solution is comprised of many technological components. These components are produced by various vendors and ultimately need to be integrated together to produce a functional solution. In this sense, most drone LiDAR companies are integrators; they are purchasing these components off-the-shelf and merging them together. Some even work through contract manufacturers to produce the entire solution and are not involved in the design or engineering of the solution at all! YellowScan is different. While we are certainly integrating components, we are also uniquely innovators; designing, developing, and producing our own technological components to be integrated into our solutions. This gives YellowScan the unique ability to lead the industry in the formation of the next generation of drone LiDAR technology."
The most recent example of this manifested in 2021 with the introduction of the YellowScan Explorer; a long-range high-performance drone LiDAR solution. Rather than using an off-the-shelf LiDAR sensor, YellowScan engineered its own proprietary sensor in consortium with AIRBUS and the European Union. Rethinking drone LiDAR and its various applications from the ground up (no pun intended), YellowScan designed a purpose-built LiDAR sensor that boasts a range of 600 m and acquires 500k points per second that is unparalleled in its simplicity from acquisition to data-processing. Customers quickly recognized the advantages in performance the Explorer offered, and users of the solution worldwide have celebrated YellowScan's success in advancing the industry forward.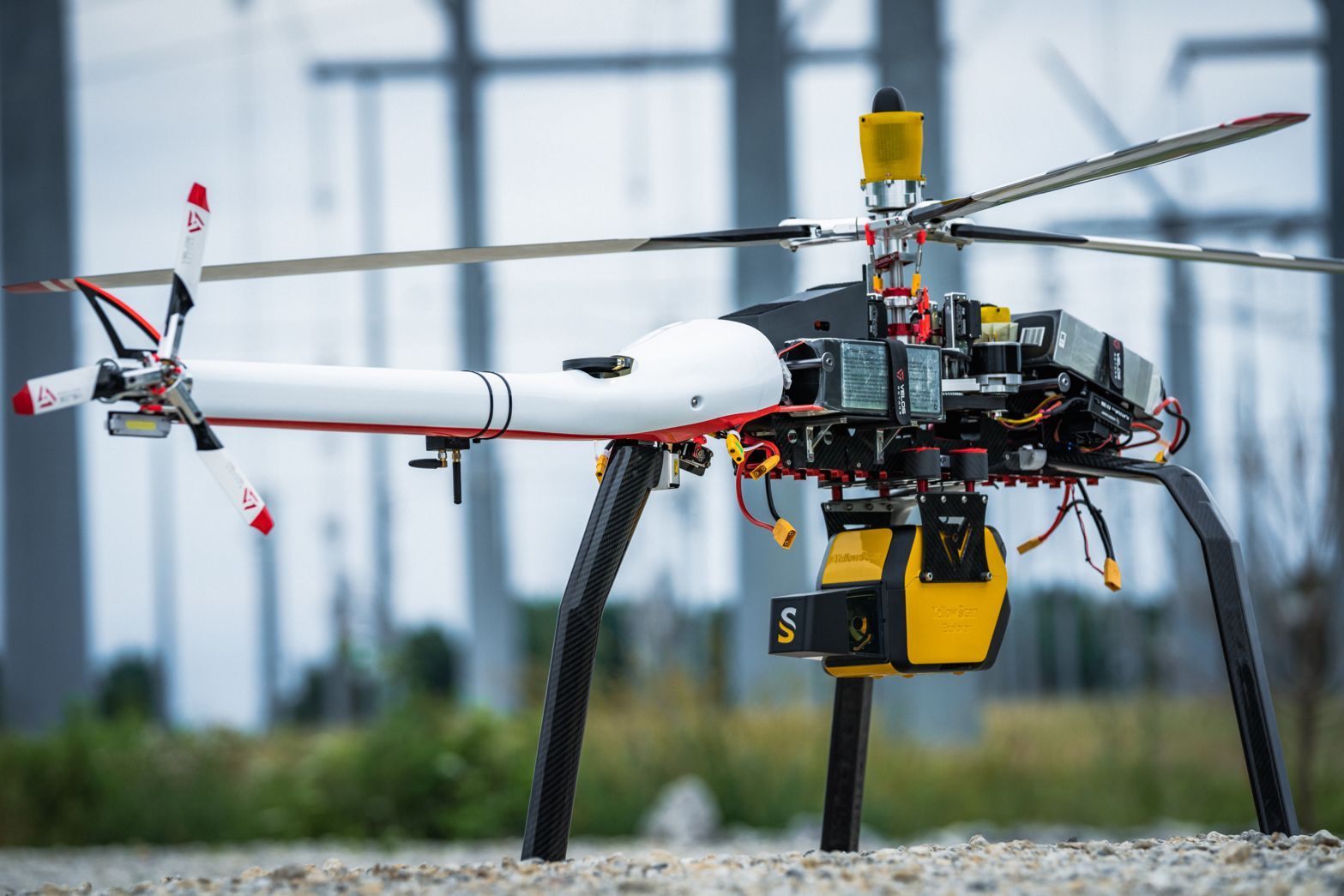 YellowScan Explorer.

"The Explorer is just the beginning," comments Wyatt, "In 2023, we will announce our second proprietary product, Voyager. With no exaggeration, our next solution will completely revolutionize the drone LiDAR landscape. We encourage organizations and individuals who are interested in this technology to stay-tuned, as this is something that will undoubtedly disrupt drone LiDAR as we know it."
In addition to its unique position as an innovator of the next generation of aerial lidar technology, YellowScan has produced a program for UAV manufacturers that are able to directly engineer their lidar payloads into the final designs of their aircraft, offering seamless compatibility between flight and mapping solutions:

Understanding the challenges faced by UAV manufacturers when integrating complex payloads, Yellowscan launched the UAV-Manufacturer Program to revolutionize the industry. Historically, manufacturers have focused on building the best drones while partnering with various payload providers for specific customer requirements. As drone lidar has gained increasingly in popularity, manufacturers face the daunting task of replicating technical integrations from scratch for every new payload and customer. This led to unreliable integrations, a lack of in-depth customer knowledge, and a disconnection from market dynamics. Building a reliable lidar-centric mapping solution required significant time and effort, diverting the manufacturer's focus from their core competency of drone design and development. Consequently, the overall product introduction process suffered, leading to slower time-to-market, reduced brand recognition, and limited customer satisfaction.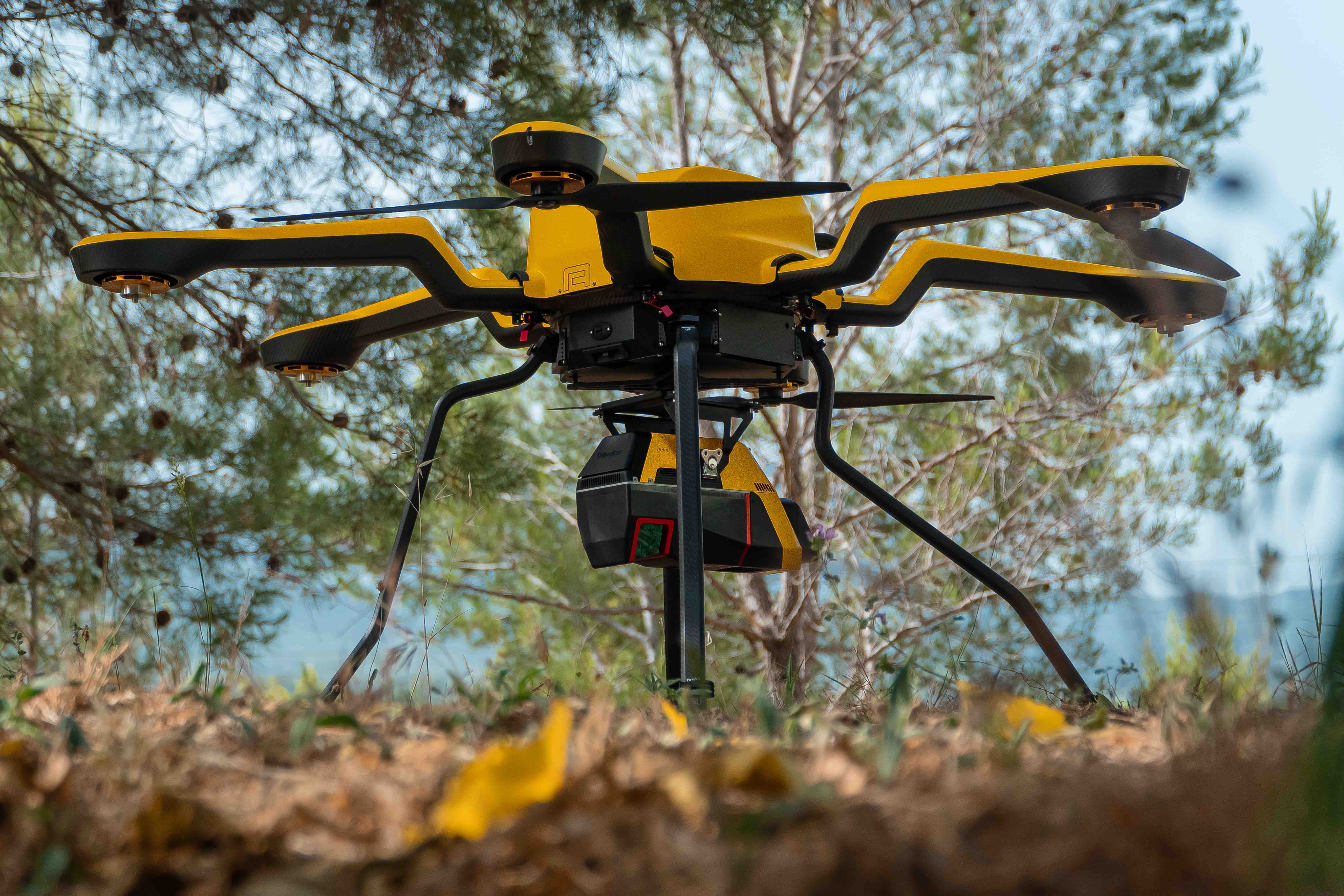 New for 2023: The Yellowscan Voyager.
Building a reliable lidar-centric mapping solution required significant time and effort, diverting the manufacturer's focus from their core competency of drone design and development. Consequently, the overall product introduction process suffered, leading to slower time-to-market, reduced brand recognition, and limited customer satisfaction.
A Solution for the Industry
To address these challenges and unlock the full potential of lidar-centric mapping, YellowScan introduced the UAV-Manufacturer Program. The program offers a family of ready-to-sell lidar and RGB camera payloads that are designed for quick installation and seamless integration into UAVs. By providing industrial-grade integration solutions, YellowScan enables UAV manufacturers to focus on their core expertise while effortlessly incorporating cutting-edge mapping technology into their drones.
Benefits for UAV Manufacturers
Faster Time-to-Market: With the Yellowscan UAV-Manufacturer Program, manufacturers can significantly reduce the time required to integrate new payloads into their UAVs. The pre-designed, plug-and-play lidar and RGB camera payloads streamline the integration process, enabling manufacturers to bring their products to market faster than ever before.
Enhanced Brand Recognition: By associating with Yellowscan, a leader in the lidar industry, UAV manufacturers gain a competitive edge and establish themselves as providers of state-of-the-art lidar-centric mapping solutions. The brand recognition boost helps manufacturers expand their market presence and attract more customers.
Smooth Product Introduction: The program's well-structured approach to integration ensures a smooth and efficient product introduction. Manufacturers can confidently offer advanced mapping capabilities without compromising the quality or reliability of their drones, thus earning trust and loyalty from their customer base.
Customer Support and Value Addition
In addition to the technical benefits, the Yellowscan UAV-Manufacturer Program includes a comprehensive customer support scheme. This scheme empowers UAV manufacturers to provide first-level support to their customers in 80% of cases, using minimal effort and basic geomatics skills. This level of support instills confidence in end-users, fostering stronger relationships between manufacturers and customers.
For more complex operational situations, YellowScan's Level 2 support comes into play. This support system provides expert assistance, ensuring that manufacturers can resolve challenging issues effectively and promptly. The seamless integration of technical support enables manufacturers to offer exceptional service and build lasting relationships with their customers.
Expanding Reach and Industry Impact
The success of the YellowScan UAV-Manufacturer Program is evident through its partnership with a plethora of renowned UAV manufacturers worldwide. Collaborations with prominent players such as Quantum-Systems, Censys, and Deltaquad have solidified the program's position as a transformative force in the UAV mapping industry. The program's continued growth and forthcoming partnerships with other major players indicate its wide-reaching impact on the market dynamics.
YellowScan continues to drive new innovations into the world of drone LiDAR. Through its commitment to innovating the space with new technologies, and primary objective of driving that technology through global collaboration, YellowScan is posed to revolutionize the space for years to come.
Learn More