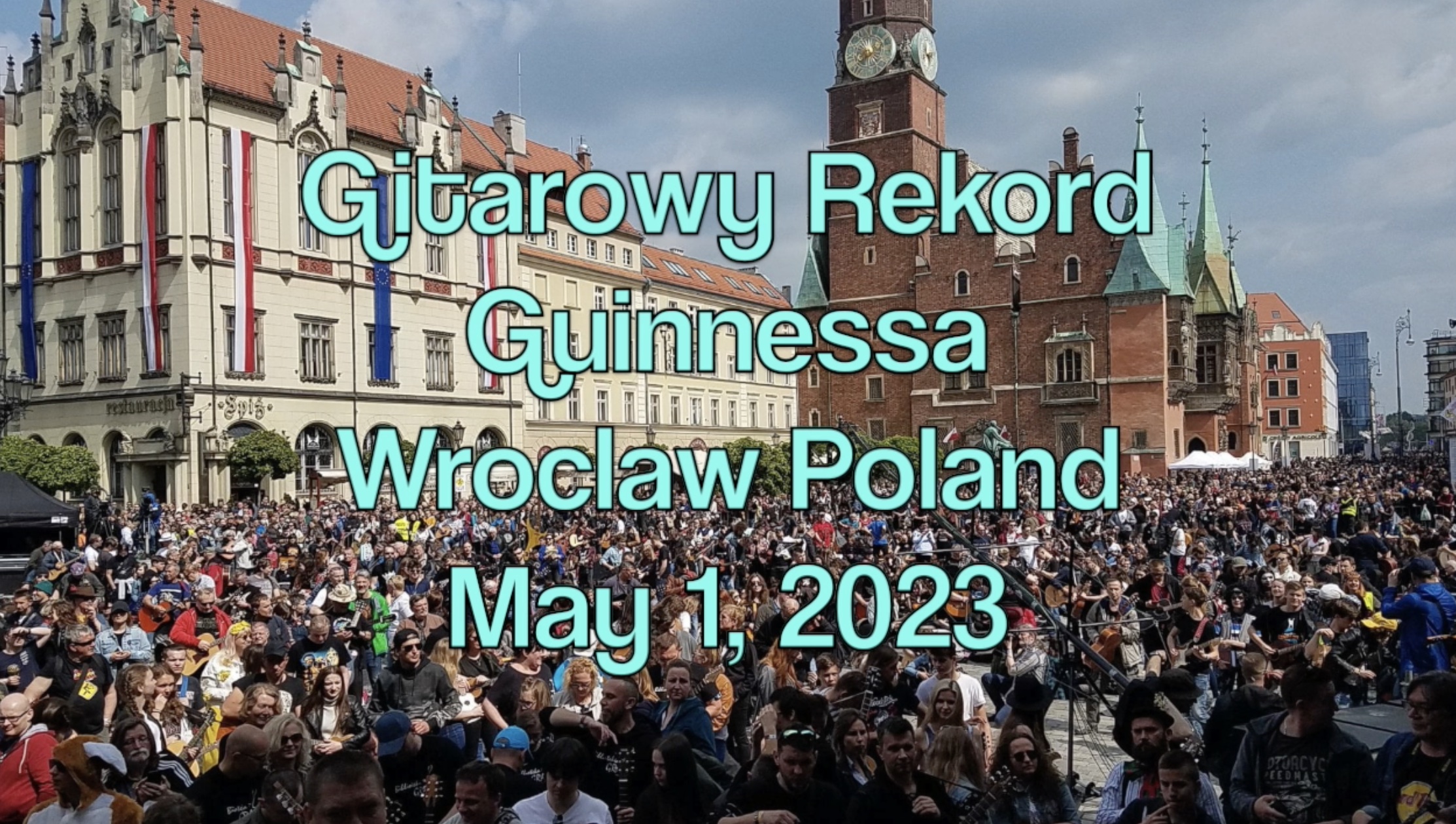 ---
24 April 2023
The Droning Company editor Michael Molenda has been invited to Wroclaw Poland to perform at Gitarowy Rekord Guinnessa on May 1.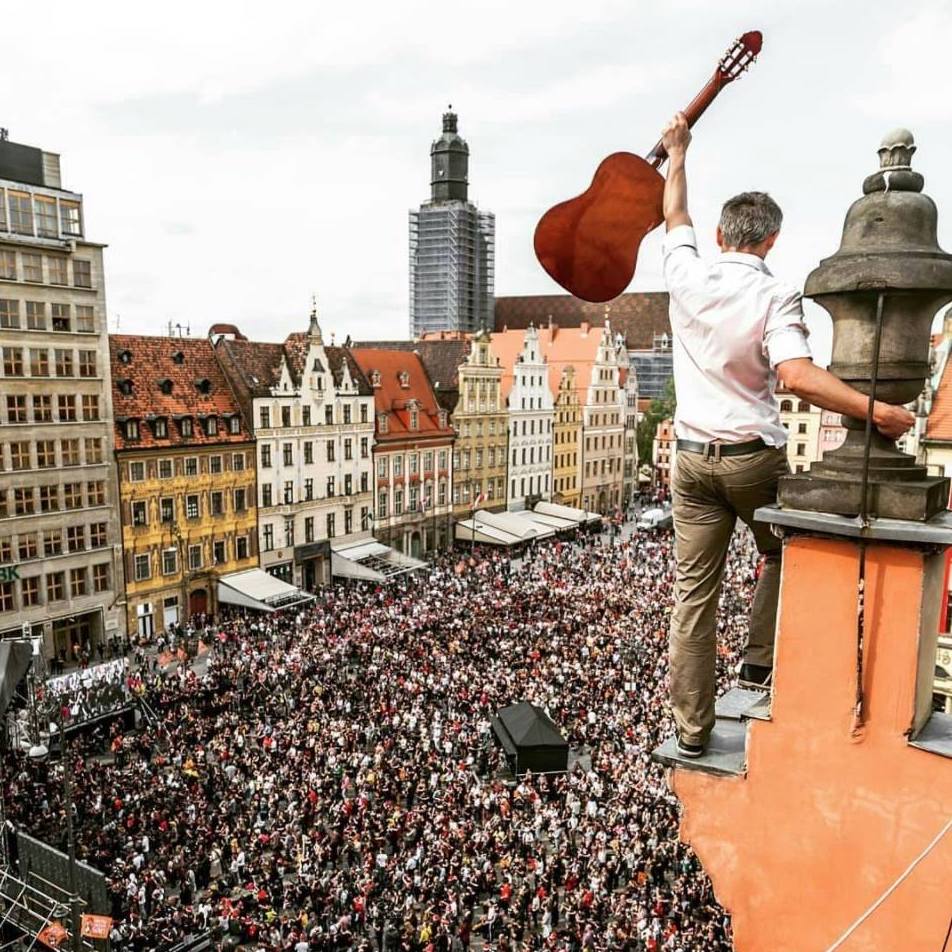 A (very) brave guitarist above the Gitarowy Rekord Guinnessa crowd at Wroclaw's Market Square.
It's not exactly a secret that The Droning Company founder Stuart Smith and Molenda bonded over their love of guitars, and both guitarists continue to participate in charity events, live shows, and recorded media to promote guitars, music, and creative communities.
Gitarowy Rekord Guinnessa is one of Molenda's favorite events to participate in, as it brings together thousands of people from all over Europe to celebrate the music of Jimi Hendrix, perform together in Wroclaw's beautiful Market Square, attempt to break the Guinness World Record for Largest Guitar Orchestra, and beam UNIVIBE (the universal vibration of music) across the planet.
Founded and conducted by blues guitarist—and Hendrix devotee—Leszek Cichonski in 2003, the festival has hosted international guitar virtuosos such as Steve Vai, Steve Morse, Jennifer Batten, Al Di Meola, Greg Koch, Scott Henderson, and others, who play "Hey Joe" along with multitudes of players of all ages to set a new Guinness World Record. Last year, 7,676 guitarists came together to break the record, and Cichonski hopes to shatter the record again for the 2023 festival.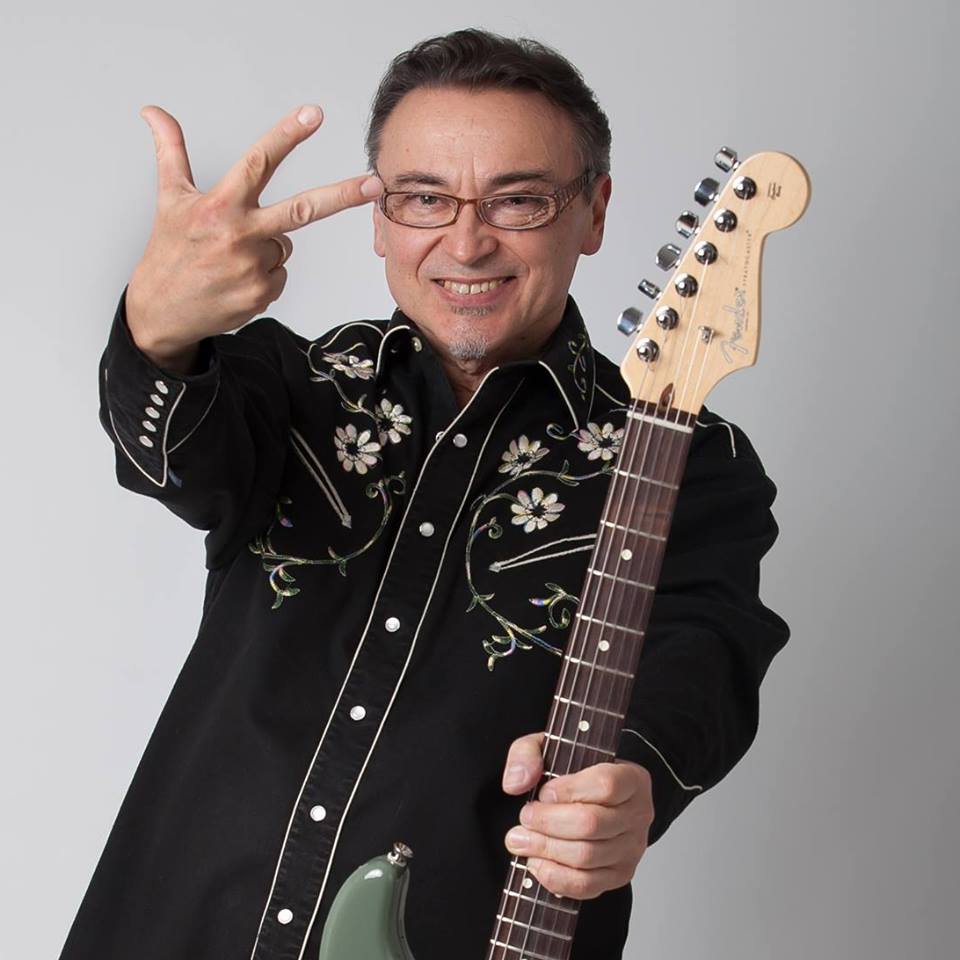 Leszek Cichonski
In the above photo, Cichonski is demonstrating the hand sign for UNIVIBE. Cichonski developed the sign and UNIVIBE concept as a more uplifting and harmonic alternative to the ubiquitous "devil's horn" hand sign made by rockers everywhere. 
"This is a brand-new idea I'm trying to promote to show the power of music and to unite us all," Cichonski told Guitar Player magazine in 2018. "The UNIVIBE sign with its three fingers on the right hand represents hope, faith, and love. In Poland, it can also mean 'Take care.' You see, so many things seek to separate us these days, but UNIVIBE is all about uniting us. I ask all guitarists and musicians around the world to show awareness for this sign. Let's change the world."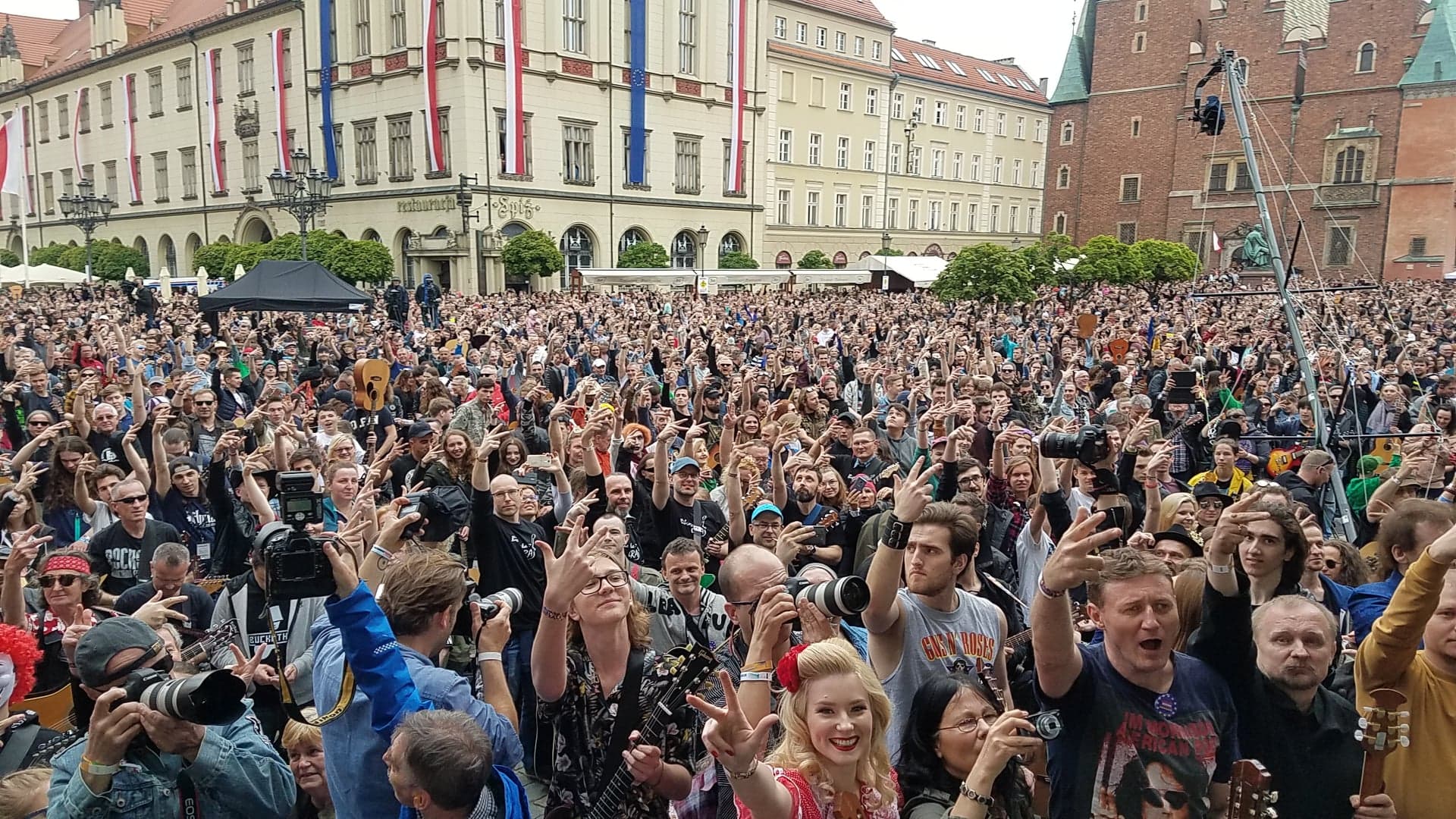 The Festival crowd sends out the UNIVIBE sign in 2019.
Due to travel restaints during the COVID-19 pandemic, Molenda has been unable to return to Gitarowy Rekord Guinnessa since 2019. (The 2020 festival was an online virtual event, and in 2021, audience participation was still impacted by health concerns.) 
"Obviously, I am overjoyed to return to Wroclaw for the 2023 festival," says Molenda. "This year, the celebrity guitarist will be Steve Vai—his second appearance at Gitarowy Rekord Guinnessa—and I'm thrilled to reconnect with him and the other stage guitarists, the European guitar community, and all of my friends in Poland. It's also a treat to share the stage with my wife, Cheryl Munoz, bag out 'Hey Joe,' try to beat last year's Guinness World Record, and send UNIVIBE to musicians and music lovers everywhere."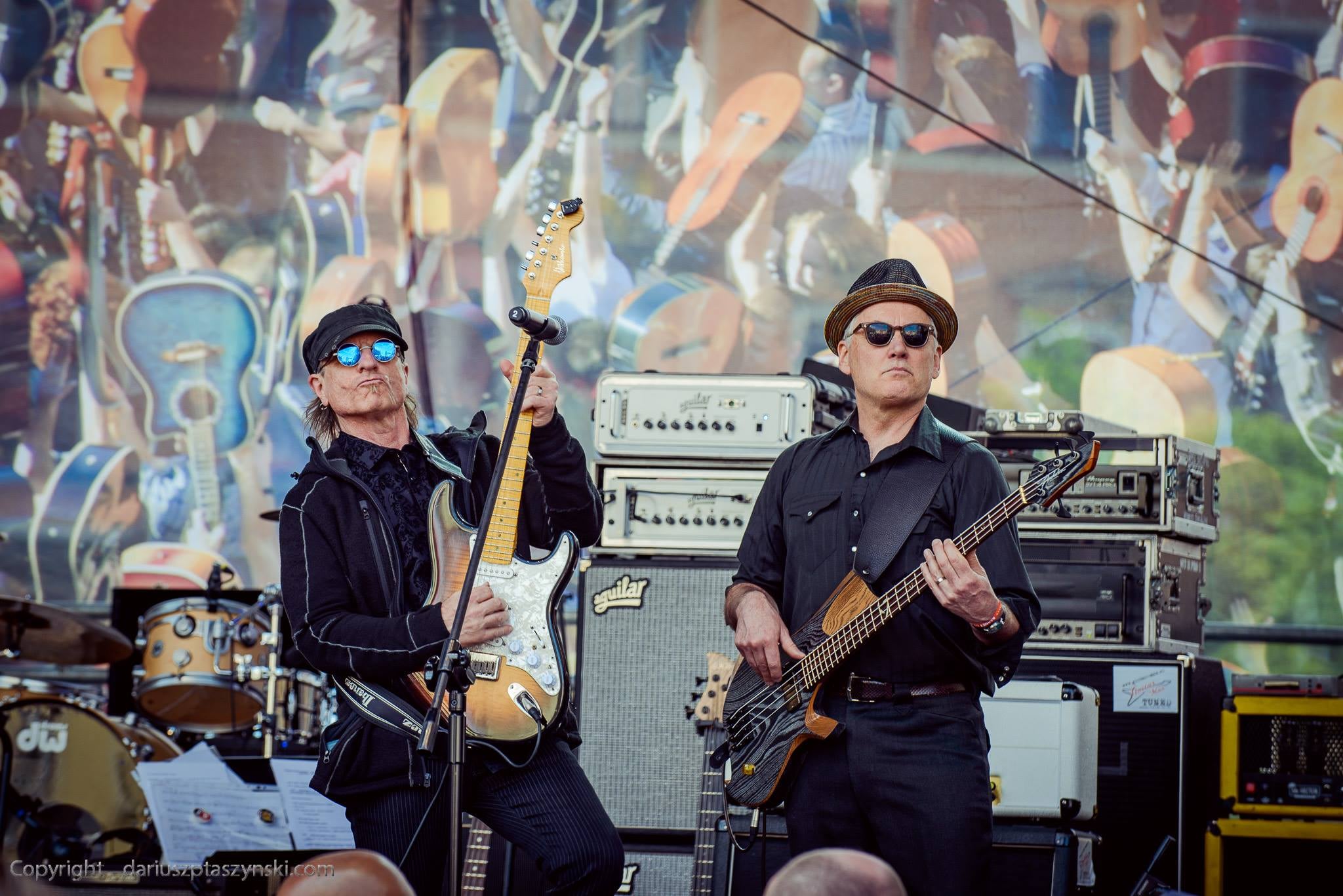 Molenda performing "Hey Joe" with bassist/actor David Price on the Wroclaw Market Square stage in 2018.
Watch Molenda Perform at the 2019 Festival